Volquez goes distance as Bucs bash Cards
Righty tosses second career CG for fourth straight win as bats erupt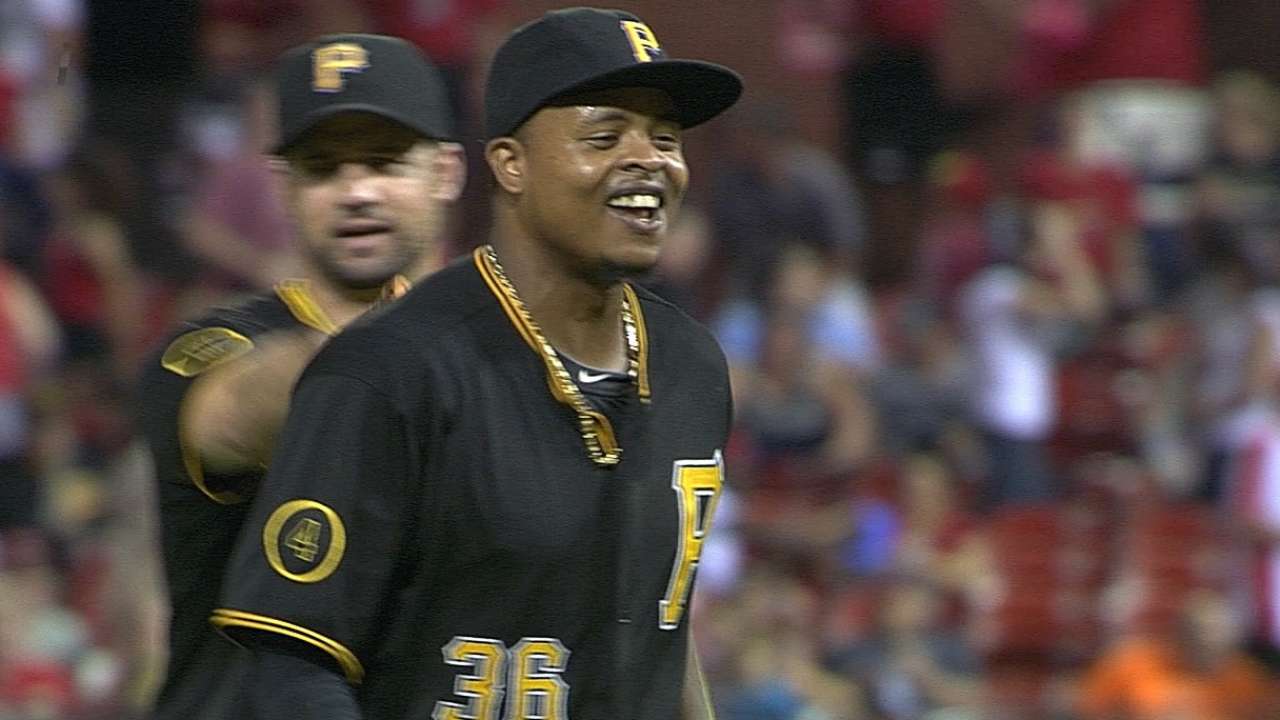 ST. LOUIS -- This must be why they show up and keep playing the game, as manager Clint Hurdle plainly put it the other day.
After getting flattened and being flat for three straight nights here, on the fourth night the Pirates made it all right with a 9-1 beating of the Cardinals.
Edinson Volquez sailed through all nine innings to win a fourth consecutive start for the first time in his career. It was the Pirates' first complete game since Francisco Liriano accomplished the feat last Aug. 14, also at Busch Stadium, and the second of Volquez's career in 172 starts (July 19, 2012, with the Padres against the Astros).
"I'm glad we won. I'm really happy we won tonight, after losing the first three games," said Volquez, who in pitching a masterful six-hitter merely followed the orders of his pitching coach.
Ray Searage had dismissed the usual pregame tactic meetings and just told Volquez, "Go pitch and win."
"I'm going, 'Really? That's it? What about the scouting report?' And Ray," Volquez said, "just repeated, 'Forget that. Go win.'"
Josh Harrison, Andrew McCutchen, Neil Walker and Russell Martin each drove in two runs to pace the Bucs' typical abuse of Cardinals righty Shelby Miller.
With the getaway win, the Bucs moved away from Busch Stadium in a better mood and put a move on each of the three teams in front of them in the National League Central. Pittsburgh remained fourth in the compressed division -- 3 1/2 games out of the lead, 1 1/2 games out of second and one length behind third-place Cincinnati, where starting Friday night they can take matters into their own hands.
And with the Cardinals visiting Milwaukee for their concurrent pre-break series, the look of the standings at the end of the ceremonial first half is up in the air.
"You're in position for anything that can happen," Hurdle had said prior to the game. "It's going to be exciting. It's going to be fun."
There was more fun than excitement for the Bucs on Thursday, when they tore the suspense off a 1-1 game with seven runs in the fifth and sixth innings combined.
The clutch, two-out blows in the tie-breaking three-run fifth were McCutchen's RBI single for a 2-1 lead, followed immediately by Walker's two-run double.
"If you don't do that on the road," Walker said of two-out knocks, "you'll have a tough time winning. Tonight, we had the same opportunities and were able to play our game."
The Bucs overall were 4-for-11 with men in scoring position Thursday -- not sensational, but certainly better than the 2-for-25 in the series' first three games, both of those hits of the infield variety.
"Better at-bats. Took advantage of some situations. Good to see," Hurdle said. "Hopefully, contagious."
Walker's hit extended his latest hitting streak to 12 games, matching McCutchen's June 4-17 run for the club's longest of the season. After coming off the disabled list on June 24 following his appendectomy, Walker managed six hits in his first 30 at-bats; since, he is 10-for-30.
The Pirates continued as Miller's unique nemesis. The four earned runs they put on him in five innings lifted his career ERA against them to 5.35, compared to his 3.17 against all other teams. The won-lost columns are even more out of whack: 2-6 versus the Bucs, 21-11 against the other guys.
"We fell behind a lot, and they did a good job of battling to some deep counts. I ended up walking some guys," said Miller, who walked a total of four and two in the critical fifth, both of whom scored. "They took advantage of the situations. It's a tough team and a tough outing for me."
"Actually, it was a very similar game for both pitchers, until the fifth," Hurdle pointed out, alluding to Volquez and Miller both pitching amid base traffic. "That's when we were able to crack [Miller]. He was battling, but we stretched him. In that one inning, he made some mistakes, and we hit them."
For Volquez, the only fifth-inning difference was that he began to sniff the finish line.
"That is one thing I've noticed about him: When he gets past the fifth, he smells the finish. It isn't like he's looking to give you five or six," Hurdle said.
"From the first, I'm pitching like it's a 1-0 game. I never changed my approach. I was able to throw all my pitches for strikes," Volquez said. "After the fifth, I was like, 'Go for it.'"
Jhonny Peralta, quite possibly Volquez's last batter regardless of the outcome of his at-bat, bounced his 114th pitch into a game-ending double play.
Tom Singer is a reporter for MLB.com and writes an MLBlog Change for a Nickel. He can also be found on Twitter @Tom_Singer. This story was not subject to the approval of Major League Baseball or its clubs.