Cards turned away in bid for four-game sweep
Miller, Lyons struggle amid sloppy defense; bats stifled by Volquez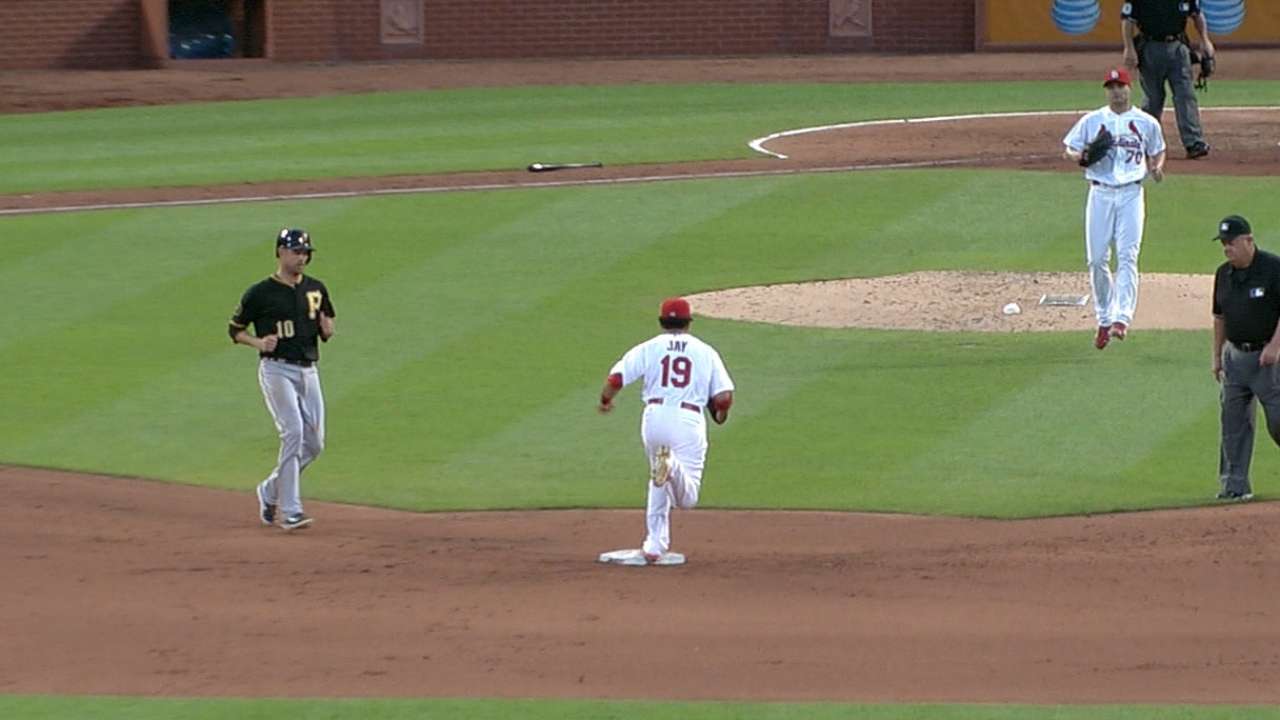 ST. LOUIS -- The Cardinals' scurry up the division standings hit a self-induced snag on Thursday, as sloppy play stunted their chance to pull off a four-game sweep of the Pirates.
The club's final homestand of the first half closed with a 9-1 loss at Busch Stadium, leaving the Cardinals two games behind the National League Central-leading Brewers with a three-game, head-to-head series between the two on tap this weekend.
Pittsburgh capitalized on the Cardinals' generosity, which included four walks from starter Shelby Miller and a comedy of errors in a four-run sixth that put this game away. The club was seeking its first four-game sweep of the Pirates in more than a decade.
"Strange game," Matt Carpenter called it.
"We just didn't look right from the beginning," added manager Mike Matheny, whose day started with the news that he'd be without All-Star catcher Yadier Molina (torn right thumb ligament, suffered Wednesday) until at least September.
Miller continues to be a conundrum for the Cardinals, who will see flashes of dominance but also periods in which the right-hander looks all out of sorts. Struggles to repeat his delivery led to several of Thursday's free passes, all of which contributed to the four runs scored off of him.
"It all happened with two outs, which is even more frustrating," added Miller, who allowed the Pirates to take a 4-1 lead behind RBI hits from Andrew McCutchen and Neil Walker in the fifth. "All this mess continues to happen with two outs. It's more just needing to finish those innings."
A 15-game winner as a rookie, Miller has not offered the same reliability. He hasn't finished six innings in any of his last four starts and has done so in only eight of his 19. Inefficiency has been behind several early exits, as Miller is averaging more than 16 pitches an inning.
On Thursday, he threw 21 in the first inning and 35 in his final one, the fifth.
"He came into this season looking to improve on that and be that guy that's going to go deeper in the game for us," Matheny said. "I thought we saw some good things from him today. He had a little movement on the fastball at times, saw some good breaking balls, even a couple good changeups. But it's the deep counts, those deep counts and walks are going to get you."
Miller will now get more than a week of rest to consider how to get back to where he was and where the Cardinals need him to be as they try to hold serve while Michael Wacha heals. At the midpoint of last season, Miller had a 2.92 ERA. Opponents were batting .225 off of him, and the Cardinals were 12-6 in his starts.
This year, Miller heads into the break with an ERA of 4.29, and an opponents' batting average of .259. The Cardinals have won just eight of his 19 starts.
"The All-Star break is a good time to think about the first half, think about what you need to work on, think about how you're going to get better and have a little bit of time to put it together and come back strong for the second half," Miller said. "I haven't felt as sharp as I can be."
The play regressed upon Miller's departure, too, as the Cardinals' defense turned careless in the sixth. The first two reached when reliever Tyler Lyons couldn't make a clean throw. A mental mistake then led Matt Carpenter to throw to a base no one was occupying. Luckily, an alert Jon Jay hustled to corral Carpenter's throw in center field and motor on to second base for a rare 5-8 forceout.
But Pittsburgh still took advantage by scoring four times off Lyons, who then found out after the game that he will be headed back to the Minors. The Cardinals need to clear roster room for returning starter Joe Kelly.
"That's a tough way for him to go there," Matheny said. "They're going to make you pay if you give them another chance, and we gave them a couple chances.
A sellout crowd, the 29th of the season at Busch Stadium, had little to laud on the offensive side either. Kolten Wong manufactured the Cardinals' only run with an infield single and stolen base in the third. The Pirates, one of four teams without a complete game this season, got it from Edinson Volquez, who hadn't thrown one since 2012.
After tallying 25 hits in their previous two games, the Cardinals finished this one with six, only two more than the number of double plays the Pirates turned. Jay was on the wrong end of three.
The Cardinals finished the seven-game homestand with four wins.
"You think about what's happened to us so far, and let's not forget we just won three out of four against a really good Pirates team," Carpenter said. "We've got a chance to go into Milwaukee and find a way to [move into first in the] division going into the All-Star break. That's the goal."
Jenifer Langosch is a reporter for MLB.com. Read her blog, By Gosh, It's Langosch, and follow her on Twitter @LangoschMLB. This story was not subject to the approval of Major League Baseball or its clubs.