Reds outlasted in 12 innings on costly day
Bailey exits early as Cincy learns Phillips' injury requires surgery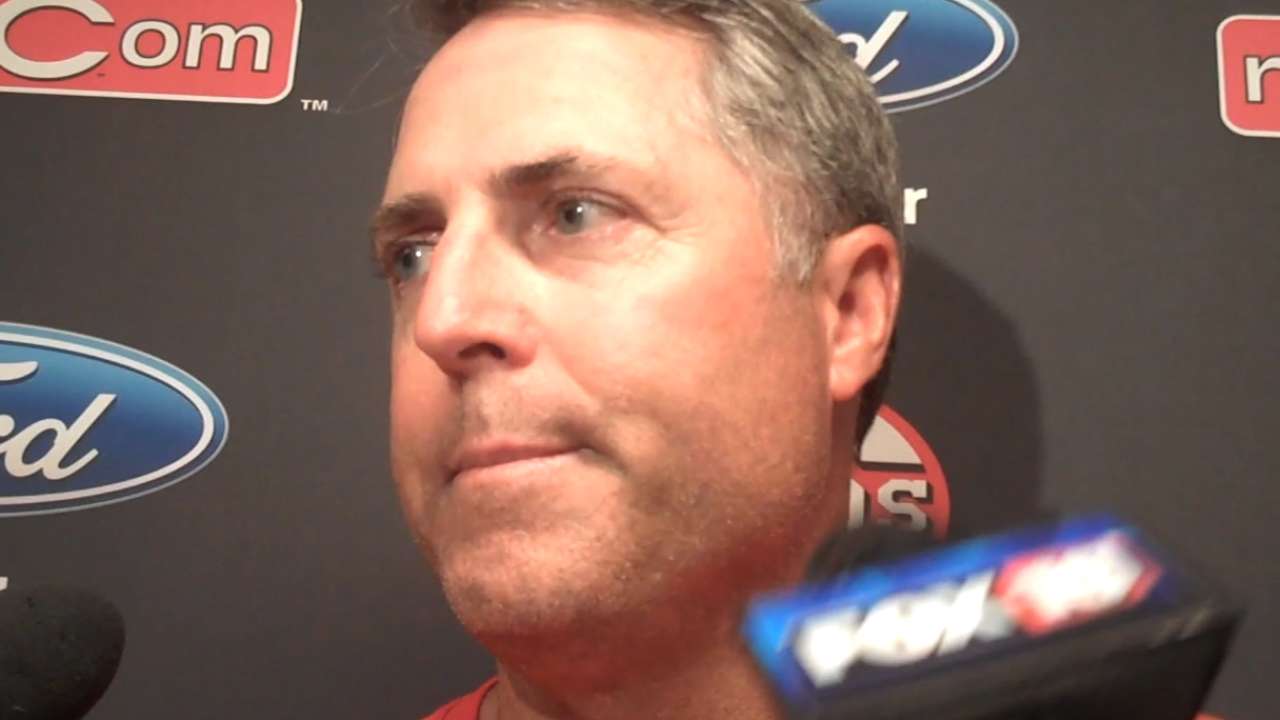 CINCINNATI -- The Reds lost much more than a game on Thursday afternoon in a 12-inning marathon at Great American Ball Park. They lost their starting pitcher due to knee pain and learned their starting second baseman needs surgery for a torn left thumb ligament. They were also nearly involved in a benches-clearing incident, but cooler heads prevailed before any further losses piled on.
On the field, the Reds' five-game winning streak was snapped in a 6-4 loss to the Cubs in the finale of a five-game series with Chicago.
With the game tied at 4 in the 12th inning, Arismendy Alcantara and Starlin Castro legged out infield singles and were both driven in by a Luis Valbuena triple off reliever J.J. Hoover to break the stalemate.
The ball Valbuena hit was just off the glove of a leaping Skip Schumaker in right, as Schumaker slammed into the wall trying to make the play.
"I should've caught the ball," Schumaker said, though the play was anything but routine. "I hit the wall pretty good, but I'm more upset I didn't catch it. … I don't think it could've done much different, other than fall in my glove right when I hit the wall."
Valbuena didn't hesitate and thought he had an inside-the-park home run, despite a 9-3-2 relay throw. The Cubs challenged the call, saying catcher Devin Mesoraco had violated Rule 7.13 and blocked the plate illegally.
But after a 2 minute, 45 second review, the call was confirmed and Valbuena was out.
Bailey joined a rapidly-growing list of banged-up Reds in the sixth, when he left the game after stopping mid-delivery as he prepared to throw a pitch to Castro. He sustained a slight strain of his right knee, but with the All-Star break around the corner, shouldn't miss his next start.
"We can put him on the back end of the rotation coming out of the All-Star break," Reds manager Bryan Price said. "It sounds like he should be good to go by that time."
The more worrisome news for Cincinnati is that Brandon Phillips will require surgery for the torn ligament in his left thumb after he hurt it on a diving play in Wednesday's 4-1 Reds win. He is scheduled to undergo surgery on Friday and miss approximately six weeks.
"It's a big blow," Price said. "He's a great two-way player, and he's been really consistent for us offensively. He's sat in the middle of the order, mostly No. 3 and 4 most of the year. And he's been spectacular defensively. So definitely a blow, but we'll weather it."
Before things went south both on the field and off, the Reds looked as though they were well on their way to their first five-game sweep of a series since 1976, and first sweep of the Cubs in a five-game set since 1931.
Cincinnati pounced on rookie right-hander Kyle Hendricks, who was making his Major League debut for Chicago, for three runs in the first.
Chris Heisey -- playing center field in place of Billy Hamilton, who left Wednesday's game with a tight left hamstring but flied out as a pinch-hitter in the 10th inning on Thursday -- led off with a walk. Schumaker followed with another walk and one out later, Brayan Pena doubled Heisey home for a 1-0 lead.
Ryan Ludwick and Ramon Santiago -- playing second for Phillips -- followed with back-to-back singles to make it 3-0.
After the Cubs got on the board with an Alcantara sacrifice fly in the third, the Reds got that run back when Ludwick belted his sixth homer of the year in the bottom half of the frame to make it 4-1.
But then the proverbial storm clouds began to gather on the horizon.
Alcantara drove in two more in the fifth with a double off Bailey for his first big league hit, cutting Cincinnati's lead to 4-3.
After Bailey exited, Sam LeCure and Manny Parra were able to hold the lead through the seventh, but Jonathan Broxton couldn't extend the Cincinnati bullpen's scoreless streak any further. With a two-out single up the middle by Starlin Castro that tied the game at 4 in the eighth, Reds relievers saw that streak snapped at 20 1/3 innings.
Then came the ninth, when tempers began to flare.
Aroldis Chapman came in and worked a scoreless frame, striking out Justin Ruggiano and Nate Schierholtz. With the appearance, he tied Hall-of-Famer Bruce Sutter for the longest streak of relief appearances with a strikeout since 1900, with 39.
But during that inning, he threw fastballs up and in to Schierholtz and John Baker. Earlier in the game, Bailey had beaned Anthony Rizzo and Baker, and Hendricks had hit Zack Cozart, though none of those pitches appeared to be intentional.
Rizzo and the Reds' bench exchanged words when the Cubs took the field for the bottom of the ninth, and Rizzo began approaching Cincinnati's dugout. The benches cleared, but no punches were thrown.
"It's a lot of testosterone out there on the field," Price said. "That's just how baseball is. We hit Rizzo, certainly unintentional. Cozart got hit on the hand; I'm certain that was unintentional. There were some pitches up and in with Chappy in there, and things got a little testy. But it's baseball. We're trying to win every game we can, as are the Cubs. I just think it was an overflow of testosterone and two teams that just wanted to win a ballgame."
Thursday was a day the Reds would like to forget. The choppy injury waters that tossed them to and fro earlier this season had calmed for a time and led to a run of 14 wins in 19 games entering Thursday. Now that those waters have been stirred again, Cincinnati remains confident.
"I think we have capable guys that have been here and done it before," Schumaker said. "A lot of these backups have had really good seasons in the big leagues, not just in the Minor Leagues. We've had guys step up this year already. … Guys are just going to have to produce until a couple of our big boys get back."
Manny Randhawa is an associate reporter for MLB.com. This story was not subject to the approval of Major League Baseball or its clubs.