Alcantara sparks offense, Valbuena wins it in 12th
Rookie goes 4-for-5 with three RBIs; third baseman hits two-run 3B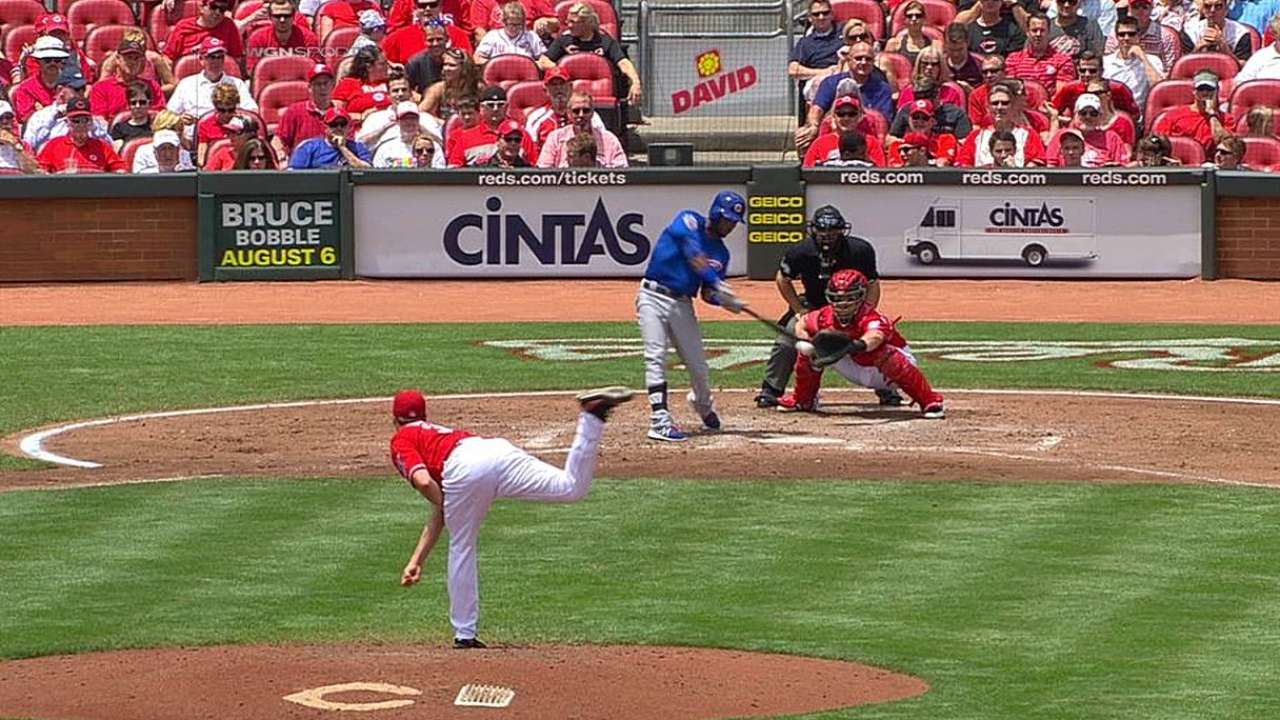 CINCINNATI -- Arismendy Alcantara expected to be headed back to Triple-A Iowa, but instead he sparked a Cubs win and earned a few more days in the big leagues.
Alcantara had four hits and three RBIs in his second Major League start and Luis Valbuena smacked a two-run triple with two outs in the 12th inning to lift the Cubs to a 6-4 victory over the Reds Thursday to snap a six-game losing streak.
The Cubs promoted Alcantara to take Darwin Barney's place while he was away on paternity leave. Rather than send Alcantara back to Iowa, the Cubs decided to demote pitcher Kyle Hendricks, who started the game. The Cubs don't need another starter until after the All-Star break.
Alcantara was surprised by the news.
"Like I said, you just have to do your job, play your game and see what happens," Alcantara said.
With the game tied at 4 and one out in the Cubs' 12th, Alcantara reached on an infield single, his fourth hit of the day. One out later, Starlin Castro singled to set up Valbuena's hit into the right-field corner. Valbuena didn't hesitate and thought he had an inside-the-park home run, despite a 9-3-2 relay throw. The Cubs challenged the call, saying catcher Devin Mesoraco had violated Rule 7.13 and blocked the plate illegally.
But after a 2 minute, 45 second review, the call was confirmed and Valbuena was out.
"They said there was no violation of the rule," Cubs manager Rick Renteria said. "I can argue and can get tossed, but two days in a row, that's not good."
Renteria was ejected for the fifth time this season on Wednesday.
Hendricks made his Major League debut in his audition for one of the vacancies in the Cubs' rotation created by last Friday's trade of Jeff Samardzija and Jason Hammel to Oakland. Was Hendricks nervous? Maybe. He threw seven straight balls and walked the first two batters he faced. One out later, Hendricks served up three straight hits as Brayan Pena hit an RBI double and Ryan Ludwick and Ramon Santiago each hit RBI singles for a 3-0 lead.
"I thought he was throwing pretty well," Renteria said. "I thought the zone was pretty small -- nothing against the umpire."
Hendricks reached on a fielder's choice in the third, advanced to third on Chris Coghlan's double and scored on Alcantara's sacrifice fly for his first Major League RBI.
Ludwick made it 4-1 with a solo homer with one out in the third, launching an 0-1 changeup from Hendricks into the left-field seats. For the game, Hendricks scattered five hits over six innings and struck out seven, including pinch-hitter Jay Bruce with two on and two out to end the sixth.
"You give him credit -- he kept them in the game," Skip Schumaker said of Hendricks, who had about a dozen family and friends at Great American Ball Park. "But we should have been better against him. But he's a Major League pitcher now, and he got through the lineup when he needed to. I felt we should have done a better job and we just didn't."
Baker was hit by a pitch and Coghlan walked to set up Alcantara's two-run double with two outs in the Chicago fifth. It was Alcantara's first Major League hit.
The rookie infielder scored the tying run in the eighth. Alcantara reached on an infield single that deflected off pitcher Jonathan Broxton and reached third on a throwing error by Pena before scoring on Castro's single.
It's been a long and eventful road trip that began with a sweep of the Red Sox in Boston and ended with the Cubs players celebrating the news that Anthony Rizzo had won the National League Final Vote and was going to the All-Star Game.
Rizzo left an impression on Cincinnati fans as well. He got into a shouting match with someone in the dugout in the ninth, sparking a benches-clearing incident. No punches were thrown.
"It'll be nice to be teammates next week [at the All-Star Game] and joke about it," Rizzo said.
Alcantara admitted he felt more comfortable in his second big league game. He missed hitting for the cycle by a home run.
"I just tried to make contact," he said. "That's what I had in my mind, was make contact."
Carrie Muskat is a reporter for MLB.com. She writes a blog, Muskat Ramblings, and you can follow her on Twitter @CarrieMuskat. This story was not subject to the approval of Major League Baseball or its clubs.