Phillies rally with seven-run eighth to sweep Crew
Rollins leads charge to flip script; Buchanan superb over seven frames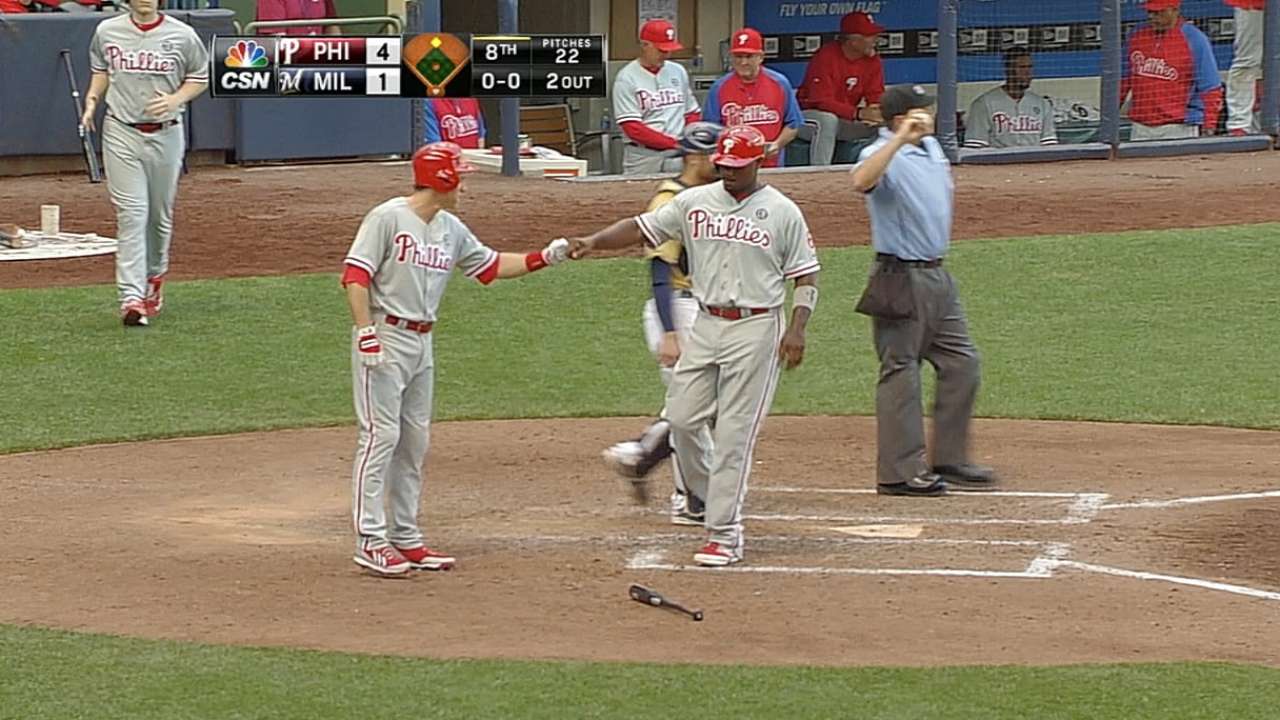 MILWAUKEE -- The last time the Phillies had a series like this, they had Roy Halladay, Cliff Lee, Cole Hamels and Roy Oswalt pitching their team to a franchise-record 102-win season.
It seems like forever ago.
Thanks in part to a seven-run eighth inning and a strong start from rookie David Buchanan, the Phillies beat the Brewers on Thursday afternoon, 9-1, to sweep a four-game series at Miller Park. It was the first time they swept a four-game set since Aug. 29-Sept. 1, 2011, when they swept the Reds at Great American Ball Park. Halladay, Lee, Hamels and Vance Worley had a combined 1.63 ERA (five earned runs in 27 2/3 innings) in that series.
This sweep featured Hamels, Kyle Kendrick, Roberto Hernandez and Buchanan, a little bit of a different look with a team with a much different future. They had a combined 3.29 ERA (10 earned runs in 27 1/3 innings).
"It's crazy," Phillies shortstop Jimmy Rollins said of the team's play this week. "You can't explain it. You just hope it's good-crazy and not bad-crazy. We've been a lot of bad-crazy."
A sweep against the National League Central-leading Brewers normally would be something to celebrate. But the Phillies finished 5-5 on a 10-game road trip through Miami, Pittsburgh and Milwaukee to return home to a 41-51 record with three games remaining before the All-Star break and 16 games remaining before the July 31 non-waiver Trade Deadline.
They remain in last place in the NL East, 9 1/2 games out of first place.
"That's something we can build on," Phillies manager Ryne Sandberg said. "To see the offense come alive in a four-game series against good pitching, it's a step in the right direction. These guys have good starting pitching and bullpen. That's a good sign for the group."
Of course, the Phillies finish the break with three games at home against the Nationals. Philadelphia is 18-27 at Citizens Bank Park.
"I don't know what it is, honestly," Rollins said about the team's play at home. "But, good thing we have the All-Star break coming up so we can reverse that."
Buchanan had one of his best starts of the season. He allowed four hits, one run, one walk and struck out five in seven innings. He allowed his only run in the sixth inning, when Carlos Gomez crushed a 2-1 fastball to left field for a solo home run to hand the Brewers a 1-0 lead.
Buchanan is 5-5 with a 4.40 ERA in 10 starts since replacing injured left-hander Cliff Lee, who is expected to rejoin the rotation after the break. Sandberg said Buchanan's future in the rotation will be decided at that point.
"When Cliff comes back, whatever happens, happens," said Buchanan, who could be competing with Hernandez to keep a job in the rotation. "I've enjoyed my time here. It's been a great experience for me. Being taught by these guys every day, day in and day out is huge. I've learned so much and I feel like I've definitely taken strides in my game."
Brewers right-hander Matt Garza dominated through six, allowing only one baserunner when he walked Marlon Byrd in the fifth.
Rollins broke up Garza's no-hitter with a single to start the seventh. Chase Utley followed with a single to put runners on first and second with no outs, but the Phillies would not score.
Things got crazy in the eighth. Cameron Rupp hit a one-out double down the right-field line against Garza to get things going. Pinch-hitter Cesar Hernandez worked a walk to put runners on first and second. A fielder's choice advanced pinch-runner Ben Revere and Hernandez as Brewers left-hander Will Smith replaced Garza.
Rollins singled to left field with two outs to score Revere and Rupp to hand the Phillies a 2-1 lead.
Utley walked and Ryan Howard, who later hit a two-run homer in the ninth, hit a ground-rule double down the left-field line to make it 3-1. Smith intentionally walked Byrd to face Cody Asche, who hit a ground-rule double to right-center field to make it 5-1.
Brandon Kintzler replaced Smith, and Domonic Brown singled to score two more runs to give the Phillies a six-run lead.
The seven-run outburst in the eighth represented the most runs the Phillies had scored in a single inning since July 19, 2013, when they tallied seven in the third inning against the Mets at Citi Field.
"Baseball is a funny game. You hear it a lot and it's very cliche, but it is," Rollins said. "It's weird. A guy goes from a no-hitter to getting a loss. And from the other side, we're getting no-hit, but dang, one run might win it today. And we score seven and two [in the eighth and ninth innings]."
Todd Zolecki is a reporter for MLB.com. This story was not subject to the approval of Major League Baseball or its clubs.