Giamatti: Trade, All-Star slam indelible Lynn memories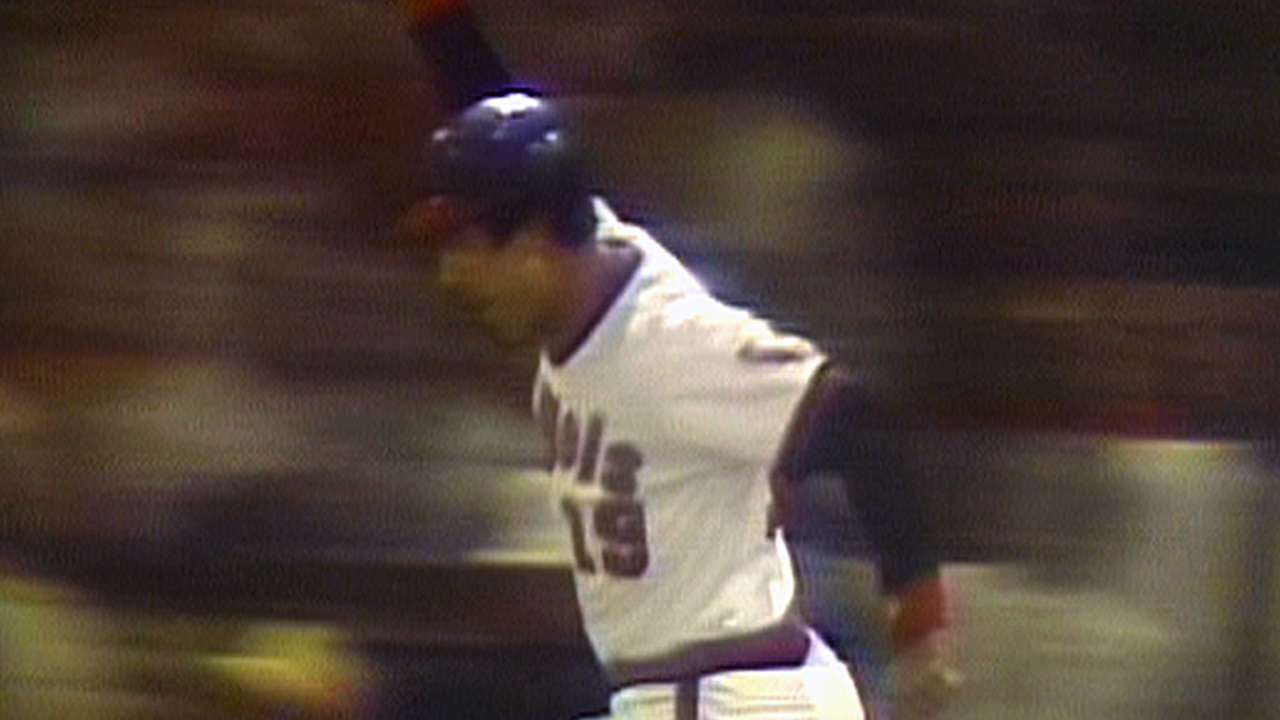 My father called me downstairs into the living room, and told me to pull up a chair.
Placing a hand on my shoulder, he looked me in the eye and broke the news. The Red Sox had traded Fred Lynn to the California Angels. I lost consciousness for a few seconds. When I came to, my father was still there. I searched his face for an answer, praying that he would break -- and let me in on the joke. There was no such luck. Somehow I got to my feet. He patted me on the back, and without another word, turned and walked away. I heard the back door slam as he left the house.
I found myself a few minutes later in a dark storage room in our basement ... where I put my head in my hands and cried.
I was well into high school at this point. Girls, the Grateful Dead and all things rock 'n' roll were at the forefront of who I was and who I wanted to be.
But the Red Sox were never far behind.
That day, the day they traded Fred Lynn, I lost my baseball innocence. Fred was one of my heroes. That he would always be there, beneath Fenway's center-field wall, was one of life's universal truths. I just didn't get it. I just could not wrap my head around the loss.
But I remained a dedicated fan of this great player. Because from that moment on, no matter where Fred played, he took a little piece of me with him.
Fast-forward to the 50th anniversary of the All-Star Game -- July 6, 1983 -- Comiskey Park in Chicago, the town where Fred was born. This was his ninth trip to the Midsummer Classic. The National League had been on a long winning streak -- the American League had not won since 1971.
With the AL up, 3-1, in the top of the third, Atlee Hammaker of the Giants walked Robin Yount to load the bases to get to Lynn -- creating a lefty-on-lefty situation. This did not sit well with him, Fred told me recently. It never does for a hitter. Especially on that stage.
Fred launched Hammaker's fourth pitch into the right-field bleachers. A grand slam. So satisfying to put a hole in someone's game plans like that. And more importantly, he told me, it helped to get the monkey off the AL's back. They would win the game, 13-3, and go on a 20-6-1 run.
When Fred got back to the dugout, someone offered him $500 for the bat. He had no idea why. Later, Lynn was informed that it was the first time in All-Star Game history that anyone had ever hit a grand slam. No one has done it since. In nearly 80 years of All-Star competition, it has only happened once. Think about it. With all of those incredible hitters throughout baseball history -- it has only happened once. Mark McGwire came close a few years ago in Denver. Fred figured if anyone was going to do it, it might as well be a fellow USC Trojan.
But no dice.
Few people remember it much anymore, Lynn said. And besides, no one has even come close to loading the bases recently, so he hasn't had to put the "whammy" on anybody. But it remains a moment of great pride. It happened on that enormous baseball stage -- surrounded by the best players on the planet -- playing at his best. And above all, beating the best. It ranks as Lynn's No. 1 offensive accomplishment. If someone were to ever hit another one, he'd just smile and say, "Nice job." But he won't be disappointed.
Oh, and Lynn also loves to watch the teams he played for go head-to-head, he told me, and he said he'd leave it up to me to decide who I think he pulls for. The kid in that dark basement room thinks he knows.
Which brings a smile to his face.
And peace to his baseball heart.
Marcus Giamatti is an actor who was a regular cast member of the television drama "Judging Amy." His father, the late A. Bartlett Giamatti, was Commissioner of Baseball in 1989 and National League president from 1986-89. This story was not subject to the approval of Major League Baseball or its clubs.