Brewers fall on big inning after Garza's no-hit bid
Gomez supplies offense with homer; bullpen allows seven in eighth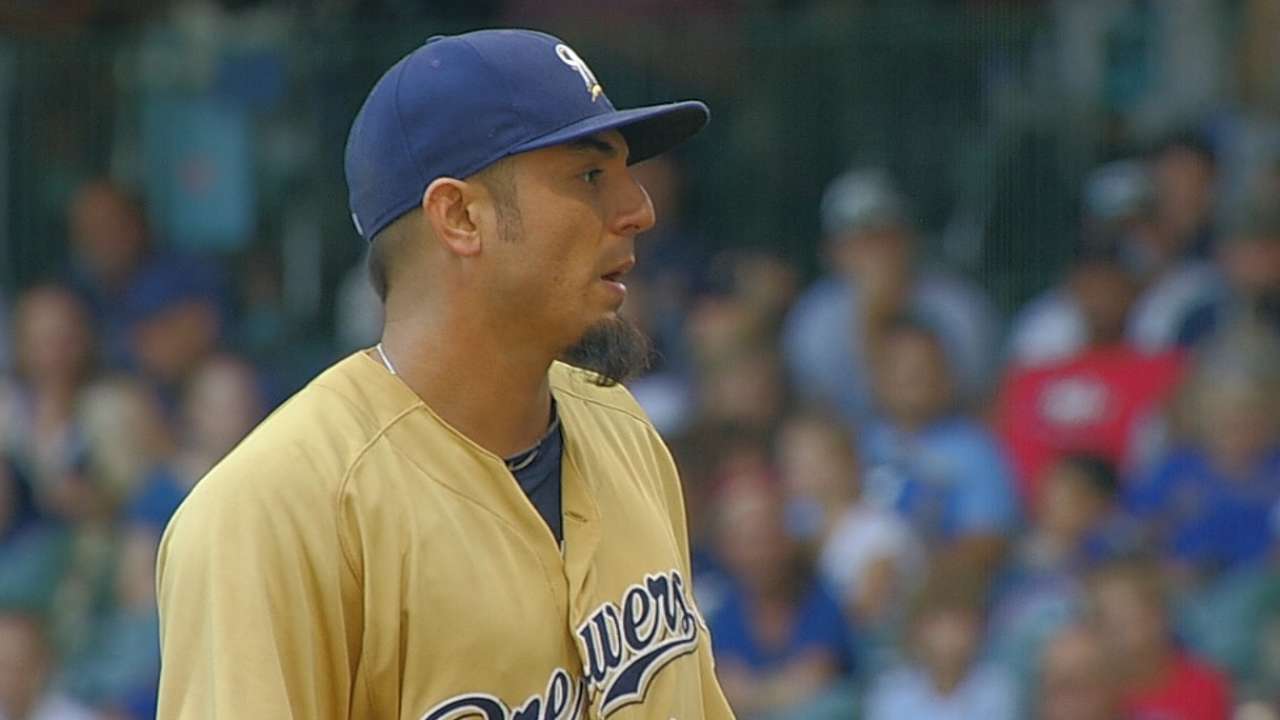 MILWAUKEE -- All the slumping Brewers had to show after Matt Garza's masterful starting performance was another loss, thanks to a huge collapse by the bullpen.
Jimmy Rollins greeted reliever Will Smith with a two-run single with two outs to key a seven-run eighth inning as Philadelphia rallied for a 9-1 victory on Thursday afternoon at Miller Park and a sweep of the four-game series.
"That's what bothers me," said Brewers manager Ron Roenicke, whose team lost for the ninth time in 10 games. "I look at that final score and that's ridiculous. We're way too good of a team, way too good of a bullpen to let that game get away like that.
"OK, Will comes in, he gives up a base hit. We're down, 2-1, and we've still got two at-bats in the eighth and the ninth. That inning should not end up 7-1."
The Brewers' lead in the National League Central has shrunk from 6 1/2 games on July 1 to 1 1/2 games over St. Louis prior to the Cardinals game Thursday night vs. the Pirates. Garza accounted for Milwaukee's only victory in the recent skid with a two-hit, 1-0 shutout of Cincinnati in his previous start.
Garza appeared on the verge of repeating his performance, taking a no-hitter and a 1-0 lead into the seventh before getting into -- and out of -- a jam.
Garza couldn't escape the eighth, however. Phillies catcher Cameron Rupp started the rally with a one-out double into the right-field corner. Ben Revere ran for Rupp and pinch-hitter Cesar Hernandez walked. Both runners advanced on a groundout by Tony Gwynn Jr., bringing on the left-handed Smith from the 'pen.
Rollins then lined a 2-1 pitch into left to put the Phillies up, 2-1. Chase Utley walked and Ryan Howard followed with a ground-rule double, scoring Rollins to make it 3-1. Marlon Byrd was walked intentionally to load the bases, and Cody Asche followed with another ground-rule double that bounced over the right-field wall, extending the lead to 5-1.
"I already knew they were going to bring in a lefty," Rollins said. "I wasn't prepared to face Garza. I knew that was going to happen. They always go after me. That's what they're supposed to do.
"Chase is a good hitter. So, my job in that situation is to make sure they don't face the lefty. I was able to do that today."
Brandon Kintzler came on in relief and Domonic Brown responded with a two-run single to make it 7-1.
"It happens. My job is to not get guys on base. You leave two guys on, especially two guys with speed, and you pay for it," said Garza, who wanted to remain in the game. "Really tough, but it's not my call. I did what I could do and that's it. I shouldn't have let those guys get on base."
Philadelphia added two runs on Howard's 15th homer, which came off Wei-Chung Wang in the ninth inning.
Phillies starter David Buchanan was almost as effective as Garza, allowing only one run on four hits in seven innings.
Until the Phillies' outburst, Carlos Gomez had accounted for the only run when he opened the sixth inning with his 14th home run, his first since June 28.
Rollins also ended Garza's no-hit bid when he opened the seventh inning with a single past diving first baseman Mark Reynolds. Utley then singled and both runners advanced on Howard's groundout to first.
Garza escaped when shortstop Jeff Bianchi fielded Byrd's one-hop liner and threw out Rollins at home. Asche then flied out to the warning track in left-center.
Milwaukee is still the second-highest-scoring team in the NL, but in six of their last seven games, the Brewers have scored two runs or fewer.
"They're all pressing. I can see it," Roenicke said. "They're trying to all get something going. You need one guy to get hot, and then hopefully your other guys get hot, and then here we go and we take off again."
Jim Hoehn is a contributor to MLB.com. This story was not subject to the approval of Major League Baseball or its clubs.