Astros jump on Darvish to complete sweep of Rangers
Grossman collects four hits to spark Houston in series finale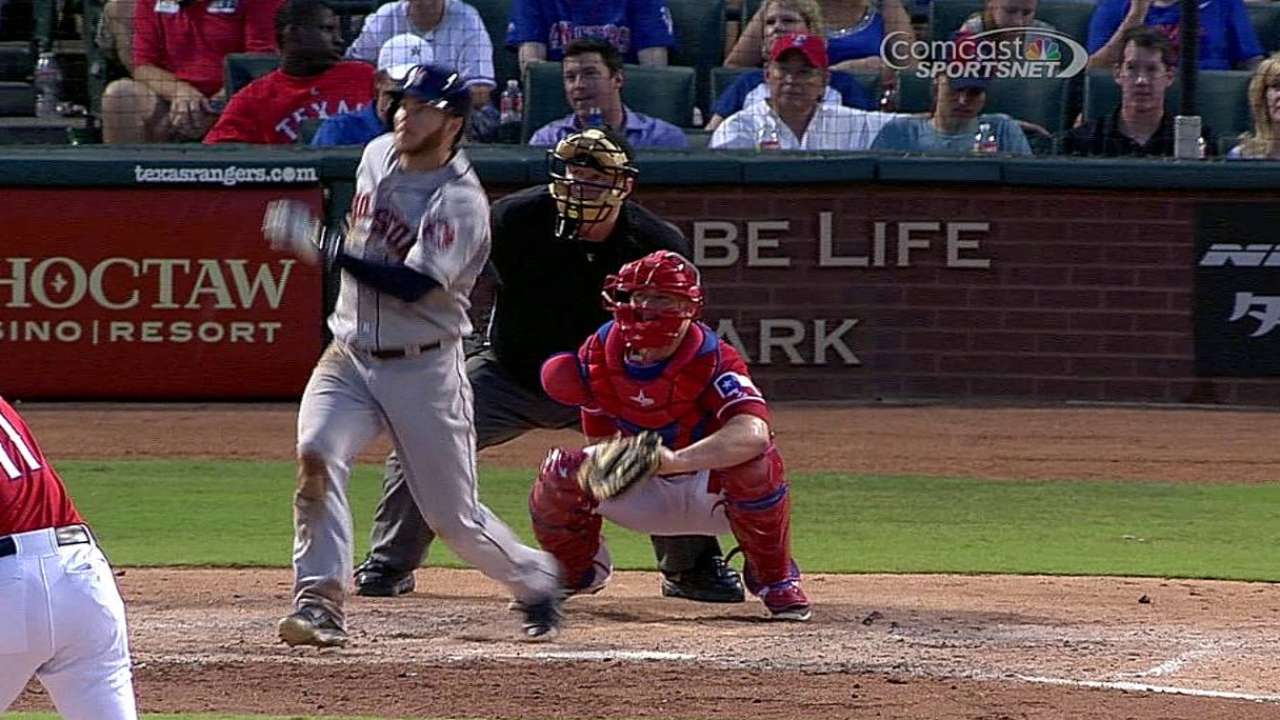 ARLINGTON -- Astros outfielder Robbie Grossman was asked if his team's sweep of the Rangers carried any extra significance since it was only the second time his team had accomplished that feat.
"Oh, for sure," he said. "It's always good to beat the Rangers."
Why's that?
"Because they're the Rangers."
Grossman, who grew up in Houston, certainly knows how the Rangers have owned the Astros for the past decade, including a 17-2 record against them last year. But Wednesday's 8-4 win at Globe Life Park to polish off a three-game sweep was a benchmark moment for the Astros.
The sweep allowed them to pass the Rangers in the American League West standings by only the slightest of percentage points (.419-.418) and climb out of last place. It's the first time they haven't been in last place this late in the season since 2010.
"They've beaten us up the last couple of years and they've been the big brother of sort," said Astros starter Dallas Keuchel, who grinded out 6 2/3 innings to win his ninth game of the season.
Yu Darvish, who has dominated Houston in his career and nearly threw a perfect game against them last year, was rocked for 10 hits and six runs in six innings. It's the most runs Darvish has allowed in eight starts against the Astros.
For the series, the Astros hit .362 with 42 hits, including seven homers, and scored 28 runs.
"I think their approach hasn't changed much but I think individually they're playing good baseball and in a lot of key situations, they're hitting the ball," said Darvish, who gave up six runs and 10 hits in six innings.
Grossman, playing his second game since getting called up from Triple-A, set a career high in hits by going 4-for-5, including a homer, to snap an 0-for-28 drought. George Springer also homered for the Astros, as well as making an incredible catch while crashing into the wall in the third.
"I'm happy I'm here and I can help this team win a ballgame," Grossman said. "I was trying to get ready early. I had faced him a couple of times and glad I finally had some success off him. I saw the ball well off him and he gave me a couple of pitches to hit and I hit them."
The Astros reached 100 homers prior to the All-Star break for only the fourth time in their history.
The big night on offense helped Keuchel (9-5) snap a two-game losing streak with his first win since June 11. Keuchel allowed four runs and eight hits and kept the Rangers off the board after allowing three runs in the second.
"Tonight he proved why he's one of the best pitchers in the American League and one of the best pitchers in baseball," Astros manager Bo Porter said. "To give up [four early runs] and grab back control of the game and go 6 2/3 innings and keep their offense right there, speaks volumes to his maturity and the type of season he's having."
The Rangers led, 4-2, after two innings before the Astros chipped away. Grossman brought the Astros within one run with a single in the third, and his fifth-inning homer tied the game at 4. A two-run double by Carlos Corporan in the sixth pushed the lead to 6-4, and Springer added a two-run, opposite-field blast in the seventh.
"I think this is getting back to how we were playing in May and early June, and obviously when you're swinging the bat, you're always in the game," Springer said. "We've got three good starts from our guys and they held an extremely good team over there to three, four, five runs, and that's obviously big."
And now the Astros are looking down at the Rangers in the standings, even if by the smallest margin.
"That's a little weird based on the fact we haven't been pretty good the last couple of years," Keuchel said. "I think we're turning the corner slowly, but they've had a lot of injuries. Just to be where they're at is a compliment to them. You never know what we're going to do the second half of the year."
Brian McTaggart is a reporter for MLB.com and writes an MLBlog, Tag's Lines. Follow @brianmctaggart on Twitter. This story was not subject to the approval of Major League Baseball or its clubs.