Rangers strike early, but fall to Astros in finale
Darvish tagged with rocky outing as Texas falls to last place in AL West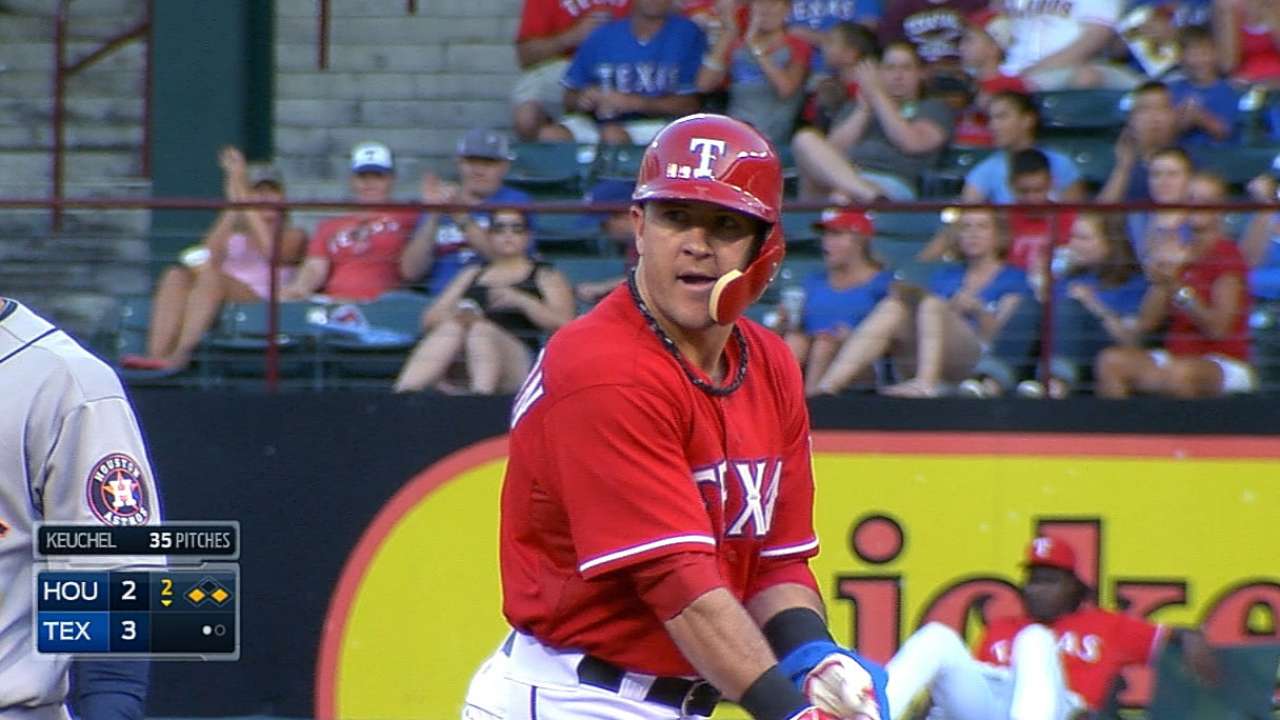 ARLINGTON -- It's been nearly seven years since the Rangers reached a point when they were a daunting 15 games under .500.
That bleak past is now a reality again -- perhaps in worse form now, than ever before.
With an 8-4 loss to the Astros on Wednesday, the Rangers' .418 winning percentage is officially the lowest of all 30 Major League clubs. They dropped their fourth in a row and their 18th in 21 games to put them 15 games under .500 for the first time since Aug. 25, 2007. And with five consecutive losses in the season series, the Rangers now have their longest-ever losing streak against their in-state rivals.
"You don't expect the kind of things that happened to happen," Alex Rios said. "This is a season that I believe we're all going to remember. In a bad way."
Contrary to the previous nights against the Astros, the Rangers were the ones who took command of the game first this time. But in the end, it wouldn't matter.
In the first inning, Rios doubled to left field and was brought home by cleanup hitter Adrian Beltre, who singled to right, before he was put out on his way to second. The Rangers went up, 1-0.
The Astros tied it and took a one-run advantage in the second when Enrique Hernandez tripled to deep left, scoring Carlos Corporan, who had doubled to right. Hernandez scored moments later from third, when the usually accurate Rangers starter Yu Darvish threw a wild pitch.
Darvish's unconventional struggles led him to giving up six earned runs -- a season-high -- and 10 hits, despite striking out eight in six innings.
"Fastball, four-seam, two-seam and also slider, they were all good," Darvish said. "But I just didn't execute and they had a really good chance, and they cashed in on that opportunity."
The Rangers regained the lead in their half of the second, scoring three runs. Jake Smolinski and Chris Gimenez sent back-to-back singles to left and right respectively to open the inning. Rougned Odor then walked and Adam Rosales reached first on a fielder's choice. With the bases loaded, Daniel Robertson sent a two-run double to left, scoring Gimenez and Odor for the 3-2 advantage. Rosales scored from third to make it 4-2 on a Shin-Soo Choo sacrifice fly to left field.
The seesaw nature of the game ensued until the Astros broke it open for good.
The Astros cut the deficit to 4-3 in the third when Jose Altuve led off with a double to center and scored on a Robbie Grossman RBI single to center. They tied it when Grossman struck again, this time with a homer over right field in the fifth.
"Usually when we put runs on the board for Yu, Yu doesn't turn around and give them right back," Rangers manager Ron Washington said. "We put one on the board, they get two. We score three, they come back and get one. And then he gives up a solo. He usually doesn't do that type of stuff."
But Darvish's struggles continued into the sixth, after which he was pulled.
Meanwhile Houston starter Dallas Keuchel got the win, pitching for 6 2/3 innings with eight hits, four earned runs and three strikeouts.
"They've beaten us up the last couple of years and they've been the big brother of sort," Keuchel said. "But we swung the bats well this series."
The Astros scored two runs in the sixth when Corporan doubled to score Jon Singleton and Chris Carter, and then two in the seventh when George Springer sent his 19th home run of the season to right-center field to score Grossman.
"The team is in a skid, but I'm telling you, they're playing," Washington said. "We just don't have a sustainable offense. We're not pitching very well, and in the American League, you've got to pitch."
Rios said he wouldn't wish the spot his team is currently in upon anyone. Never did he anticipate a single season to present so many challenges, such an unparalleled amount of adversity.
"I was not expecting this at all," Rios said. "At the beginning of the spring, we had a great team coming into the season and you expect good things to happen."
But that was then. This is now.
Grace Raynor is an associate reporter for MLB.com. This story was not subject to the approval of Major League Baseball or its clubs.