Elias gives up seven runs in shortest outing of season
Offense wastes chances and manages just one run on a Cano double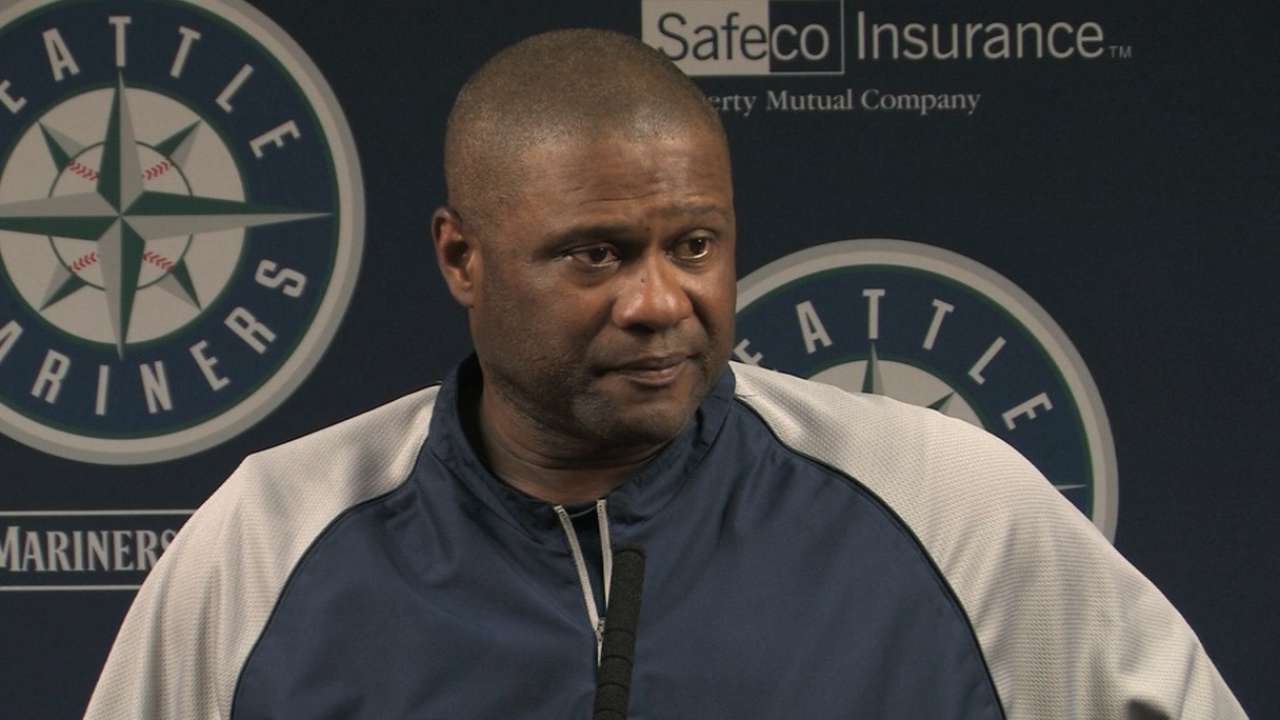 SEATTLE -- With an all-bullpen outing planned for Thursday's series finale with the Twins, the last thing the Mariners needed Wednesday night was a short outing from starter Roenis Elias.
But the rookie left-hander picked a bad time to throw out a clunker as he equaled his season's shortest outing with 3 1/3 innings while allowing seven runs (six earned) on seven hits while the Twins rolled to an 8-1 victory at Safeco Field.
Elias, who made the jump from Double-A ball this year, fell to 7-8 with a 4.54 ERA in 19 starts. He's 0-3 with a 10.04 ERA in his last three outings, but still wraps up his first half with the second-most strikeouts ever by a Mariners rookie prior to the All-Star break and is tied for the third-most innings and fourth-most wins.
"It's been tough," said Seattle skipper Lloyd McClendon. "One thing we forget with young players and pitchers in particular, this game can be really tough and really cruel sometimes. I told him he'll get through these growing pains and we'll be with him every step of the way. It was a tough night for him in a lot of different ways, but he'll bounce back."
The Mariners dropped their second straight to the Twins, but will try to bounce back to pull out a series draw Thursday when they start reliever Tom Wilhelmsen in what will be a bullpen day after Felix Hernandez's start was pushed back to Friday against the A's.
But Wednesday turned into an early bullpen day as well after the Twins jumped on Elias for five runs in the first two innings on six hits, including four doubles, then had two on with one out in the fourth when McClendon called in reliever Stephen Pryor for his season debut.
McClendon said Elias has been troubled by poor fastball command his last few outings.
"His stuff is pretty darn good," McClendon said. "But I don't care who you are. You've seen guys like Justin Verlander go through it. When you don't have command of the fastball, I don't care how hard you throw or how good you think your stuff is, you're going to get hit. And he just has not had command."
McClendon pulled the 25-year-old Cuban aside in the dugout after his rough outing and offered encouragement, with ace Hernandez helping with the translation.
"He was just being supportive," Elias said through interpreter Fernando Alcala. "He was just saying he knows the kind of pitcher I can be. Like my parents say, it's not the number of times you fall down, but the number of times you get up after that."
After Pryor gave up just an unearned run in 1 2/3 innings, the Mariners wound up also using rookie Dominic Leone for 1 1/3 innings and Brandon Maurer for the final 2 2/3 in the lopsided affair.
Thanks to some solid work from that trio, McClendon said the bullpen is still in decent shape as Pryor was optioned back to Triple-A Tacoma after the game so lefty Lucas Luetge can be added on Thursday. And five other relievers -- Joe Beimel, Charlie Furbush, Yoervis Medina, Danny Farquhar and Fernando Rodney -- didn't get used Wednesday, so they'll be available behind Wilhelmsen.
Leone said he's ready to throw again if needed and indicated the bullpen is taking extra pride in being called upon to soak up extra work. The relievers have posted a 0.77 ERA over the last 18 games, lowering their American League-low mark to 2.38 for the season.
"We've been a strength all year and we want to continue to be a strength," Leone said. "We want the ball. Everybody in that pen is not afraid of any situation. We're ready to attack and that's been a huge help for us."
But Seattle continued struggling to score runs as right-hander Kyle Gibson scattered seven hits over six shutouts innings in improving to 8-7 with a 3.92 ERA.
The Mariners finally crossed the plate against Twins reliever Caleb Thielbar on Robinson Cano's two-out double in the seventh. Cano went 3-for-5 as the Mariners totaled 12 hits, but managed just the one run as they stranded 12 runners.
Seattle has totaled seven runs in its last six games and gone 3-for-44 with runners in scoring position in that span, including 1-for-8 on Wednesday.
"We got some hits, but weren't able to capitalize when guys were on base in scoring position," Kyle Seager said after a 2-for-4 night. "[Gibson] had a good sinker going and we just beat it into the ground."
The Mariners are still 49-42 with four games remaining before the All-Star Game as they're looking to hit the 50-win mark by the break for just the fifth time in club history and first time since 2003.
"I've said it time and time again. From an offensive standpoint, we're going to be challenged some days," McClendon said. "It won't look good. But I'll take the whole picture and I think we're doing OK. I think all in all, we're going to be OK. It's just a tough couple days for us."
Greg Johns is a reporter for MLB.com. Follow him on Twitter @GregJohnsMLB as well as his Mariners Musings blog. This story was not subject to the approval of Major League Baseball or its clubs.