Gibson rebounds nicely with solid start in rout
Starter throws six scoreless as offense jumps all over Elias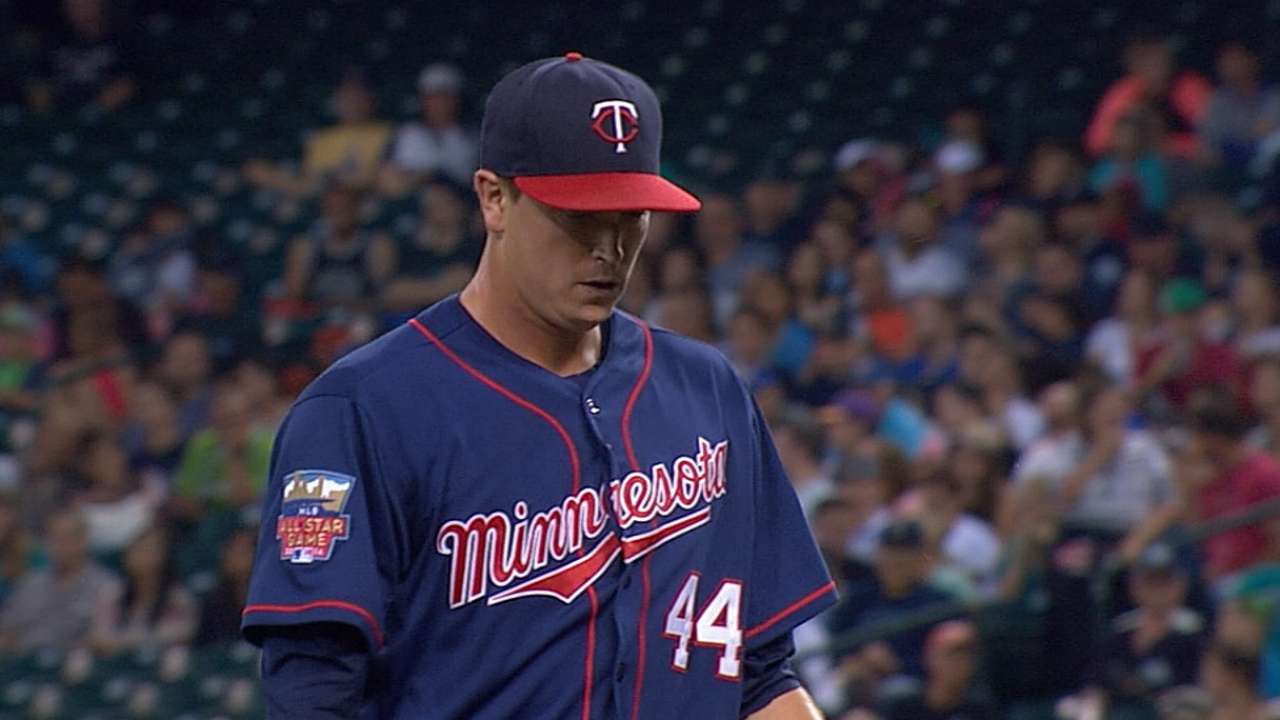 SEATTLE -- When Kyle Gibson takes the mound, it's hard to predict which version of the second-year right-hander you'll see.
Gibson has either been hot or cold this season, but bounced back from a rough outing to throw six scoreless innings, and the offense did the rest to lead the Twins to an 8-1 win over the Mariners on Wednesday night at Safeco Field.
Gibson, who lasted just two innings in his last outing, turned in a strong outing after being staked to an early five-run lead. The right-hander scattered seven hits and a walk while striking out three to get his eighth win of the year, getting positive results even though he thought his stuff was only OK.
"Pitching with a lead really helped me tonight," Gibson said. "I didn't have my best stuff tonight. My fastball command was really good. I came in here laughing because I love pitching here but they put the first-pitch strikes on the scoreboard, so to see I threw first-pitch strikes to only six guys was pretty embarrassing."
Gibson also improved his ERA to 3.92 on the season, and continued his trend of either pitching really well or pitching poorly. In Gibson's eight wins, he has a 0.83 ERA, and in his seven losses he has a 13.16 ERA.
His sinker helped him get his fair share of groundballs, and the defense helped him with several impressive plays from second baseman Brian Dozier.
"He's got that sinker so he got a lot of ground balls," Mariners third baseman Kyle Seager said. "He had a good sinker going and we just beat it into the ground."
It marks the first time the Twins have won back-to-back games since winning four straight against the White Sox from June 19-22. The last time the Twins won consecutive road games was from June 13-14 against the Blue Jays and Tigers.
"Before we left before this road trip [Twins manager Ron] Gardenhire stressed to make it a good one and head into the break on a positive note," Gibson said. "So I think as a starting pitcher the last outing before the break is a big one. I wanted to go out and through the ball well and have some momentum going into the second half."
The Twins roughed up Mariners left-hander Roenis Elias, who allowed seven runs (six earned) on seven hits and three walks over 3 1/3 innings.
Minnesota scored early and often, including a run in the first on a two-out double from Kendrys Morales to score Dozier, who led off the game with a double. They added four more runs in the second with five straight batters reaching base to open the frame.
"We finally put some runs on the board," Gardenhire said. "We strung together some hits, some good at-bats, some walks. And we got some big hits when we had to."
Chris Colabello plated two runs with a double to right field before scoring on a single from Sam Fuld. Morales brought home another run with a sacrifice fly to right field.
The Twins broke open the game with three runs in the fourth inning keyed by a two-run error by first baseman Logan Morrison. After Elias gave up a one-out single to Eduardo Nunez, reliever Stephen Pryor came into the game and walked Trevor Plouffe to load the bases.
Morales hit a grounder under the glove of Morrison at first base to score two runs before Josh Willingham added a sacrifice fly to cap the scoring for the Twins. Morales had three RBIs on the night against his former team.
"I think he's getting it on the good part of the bat a lot right now, Gardenhire said. "It looks like his timing is getting there. He put some really nice swings out there. That's going to be big for us."
Seattle didn't get on the board until the seventh on a two-out RBI double from Robinson Cano off reliever Caleb Thielbar.
The added benefit of the rout for the Twins is that the Mariners are using strictly relievers Thursday in the series finale, as ace Felix Hernandez's start was pushed back a day. The Mariners had three relievers go more than an inning after Elias exited, so it could play to Minnesota's advantage in the series finale.
"We'll see how that all works out tomorrow," Gardenhire said. "They have a plan. We were just trying to do our thing tonight."
Rhett Bollinger is a reporter for MLB.com. Read his blog, Bollinger Beat, and follow him on Twitter @RhettBollinger. This story was not subject to the approval of Major League Baseball or its clubs.