Lohse strong but Milwaukee bats stay silent
Brewers manage three hits, righty fans eight in eight solid innings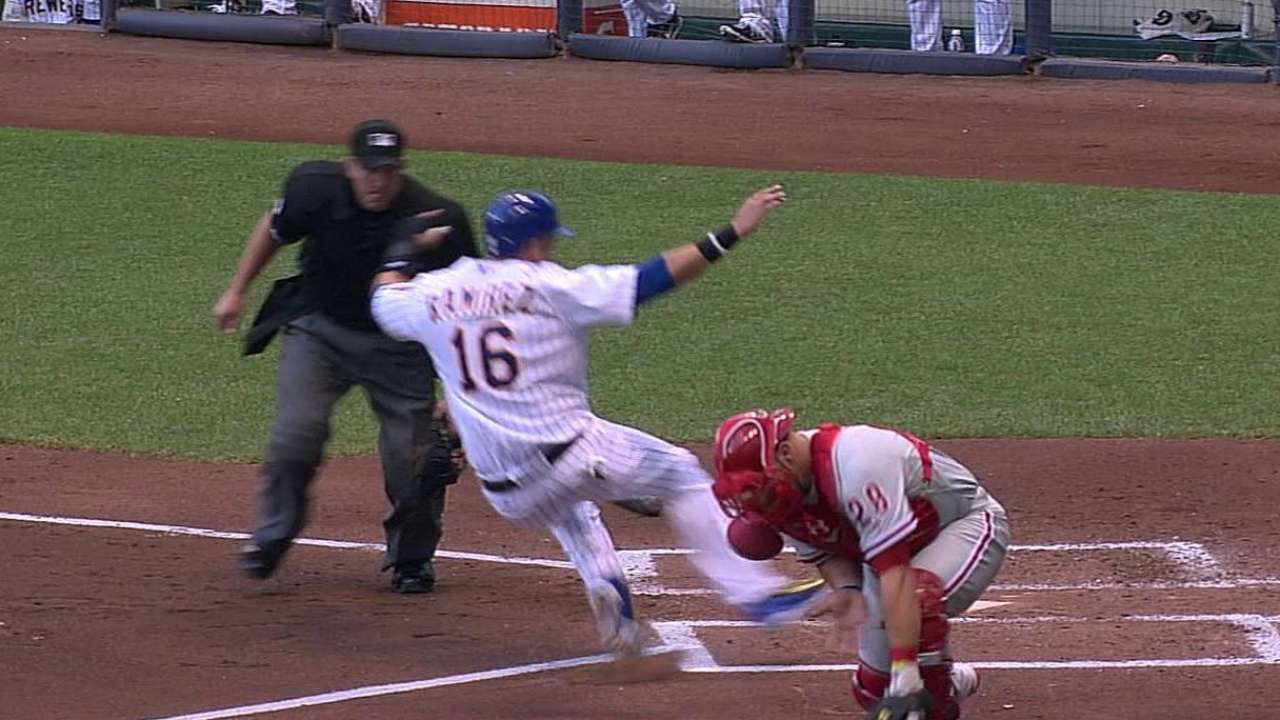 MILWAUKEE -- In little more than a week, the suddenly offensively challenged Brewers have watched their comfortable lead in the National League Central all but vanish.
The slumping Brewers managed just three hits en route to their eighth loss in nine games, a 4-1 defeat at the hands of Roberto Hernandez and the Phillies on Wednesday night.
The Brewers, who have been in sole possession of first place in the National League Central since April 9 and had a 6 1/2-game lead a week ago, saw their division lead continue to shrink. St. Louis defeated Pittsburgh, 5-2, on Wednesday to pull within two games, while Cincinnati defeated the Cubs, 4-1, to move within 2 1/2 games.
"I expect our offense to do a better job, and I think we will," said Brewers manager Ron Roenicke, whose team was a season-high 19 games above .500 before the skid. "We're in a funk right now. I don't know how to put it any other way. The pitches, the mistakes we miss, they are not missing … We need to get big hits like they're getting big hits."
Jimmy Rollins and Chase Utley homered off starter Kyle Lohse to pace the Phillies to their third consecutive win in the series at Miller Park. Philadelphia came into Milwaukee Monday after being swept in a three-game series by the Pirates and losing 13 of 16.
"It's been tough," said Lohse, who allowed four runs on seven hits in eight innings. "You're going to go through times like this. It just seems like a lot of breaks are going the other way. That's how it goes. We've just got to battle our way through it and try to head into the break on a little better note."
Aside from their second-inning run, the Brewers managed to get just one other runner in scoring position against Hernandez, who entered the game with a 4.48 ERA but allowed just three singles in a season-high eight innings. Jonathan Papelbon pitched a perfect ninth for his third save of the series and 22nd in 24 chances.
"He used some of their aggressive approaches to his advantage," Phillies manager Ryne Sandberg said of Hernandez. "He made quality pitches and they put them in play for outs. That worked well for Roberto."
Rollins snapped an 0-for-20 skid with his first home run since June 7 to put the Phillies up, 3-1, in the sixth. Lohse had retired 13 straight before Cameron Rupp singled to open the sixth. He advanced to third on a sacrifice by Hernandez and groundout by Ben Revere. Rollins then drove a 2-1 pitch over the right-field wall for his ninth home run.
The Phillies stretched the lead to 4-1 in the seventh when Marlon Byrd and Cody Asche reached on consecutive one-out singles. After Domonic Brown flied out, Rupp singled to shallow center, scoring Byrd who was running with the pitch.
"They capitalized on a couple mistakes," Lohse said. "It doesn't take much. I missed out over the plate a little bit to Utley and a curveball came back a little too much to Rollins. You can't do much about that last run. I was trying to pitch around him, just got a ball that was down off the plate. I made a couple good pitches that resulted in hits that inning. Other than that, you can't do much. I wouldn't change a whole lot more out of that."
Utley staked the Phillies to a 1-0 lead in the first, lining a 1-2 pitch into the right-field seats for his eighth home run. Utley is 6-for-11 in the series with two homers and six RBIs.
The Brewers answered with a run in the second when Aramis Ramirez beat out a single deep into the hole at short, moved to second on Khris Davis' groundout and came around on Lyle Overbay's single to center.
After Thursday's series finale against the Phillies, the Brewers close the first half with a three-game series at home against the Cardinals.
"We've got one more with these guys," Lohse said. "We've got to come out tomorrow ready. Then we've got St. Louis coming up. Obviously some people are going to make a big deal out of that. We're just taking it like we do, a game at a time."
Jim Hoehn is a contributor to MLB.com. This story was not subject to the approval of Major League Baseball or its clubs.