Phillies back stellar Hernandez with power
Utley, Rollins go deep as righty tosses season-high eight innings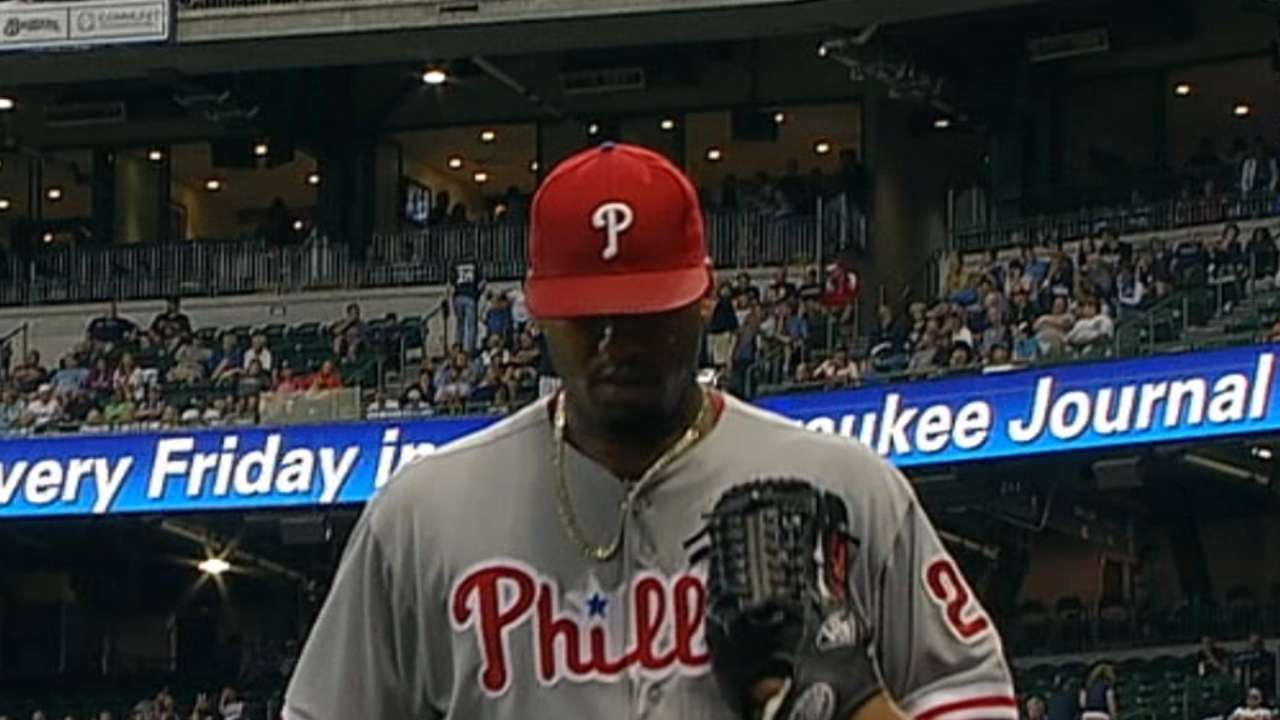 MILWAUKEE -- Can somebody please explain this?
The Phillies limped into Milwaukee on Monday as losers of 13 of their previous 16 games, falling into last place in the National League East and careening toward the July 31 non-waiver Trade Deadline with nearly everybody on their roster available.
But the Phillies have won the first three games of their four-game series against the NL Central-leading Brewers at Miller Park, including Wednesday's 4-1 victory. It took them just 2 hours, 15 minutes to play, making it their shortest game of the season. It was quite an accomplishment, considering the Phillies are third in baseball in average time of game this season at 3 hours, 15 minutes.
"What a deal," Phillies manager Ryne Sandberg said.
The Phillies can sweep the series with a victory Thursday afternoon.
The Brewers entered Wednesday ranked second in the National League averaging 4.42 runs per game, but they had nothing going against Phillies right-hander Roberto Hernandez, who had his best start of the season. He allowed three hits, one run, two walks and struck out three in a season-high eight innings.
"I know that teams like to swing," Hernandez said. "The key for the game today was to keep the ball down, and the ball moved with every pitch. Ground balls ... That was the key for the game."
He threw just 84 pitches, but Sandberg chose to have Jonathan Papelbon pitch the ninth.
"I thought about it," Sandberg said about having Hernandez try for the ninth complete game of his career. "If we would have scored one more run, I would have sent him back out. Other than that, he did his job. Just let Papelbon have a fresh start."
The Brewers must have skipped the scouting report that said Hernandez will throw a ton of pitches, if they make him work a little bit.
He had averaged 17.5 pitches per inning this season, which ranked 90th out of 93 qualified pitchers in baseball. It is a big reason why he had pitched seven innings just twice in his first 16 starts.
But the Brewers are an incredibly aggressive team, so they continued to hack away. They saw just two pitches in 11 of 23 plate appearances against Hernandez through six innings, in which he threw 64 pitches.
"It just seems like when we kind of go in that funk, we kind of get a little too aggressive and swing at their pitch," Brewers first baseman Lyle Overbay said. "Hernandez had some pretty good sink tonight."
Chase Utley hit a solo home run to right field in the first inning to hand the Phillies a 1-0 lead.
It was his second home run in three games since getting a day off Sunday in Pittsburgh.
"It looks like a big difference to me," Sandberg said of Utley's performance at the plate following the rest. "Power stroke back. Quick bat."
They took a 3-1 lead in the sixth when Jimmy Rollins, who had a day off Monday, snapped an 0-for-20 skid with a two-run home run to right field against Brewers right-hander Kyle Lohse.
"He just had an off-day," Sandberg said. "Those seem to work well."
Cameron Rupp's single to center in the seventh scored Marlon Byrd to make it 4-1.
Todd Zolecki is a reporter for MLB.com. This story was not subject to the approval of Major League Baseball or its clubs.