Sale makes pitch, but bullpen squanders outing
Ace yields one run over 7 2/3 frames, but Petricka, Guerra struggle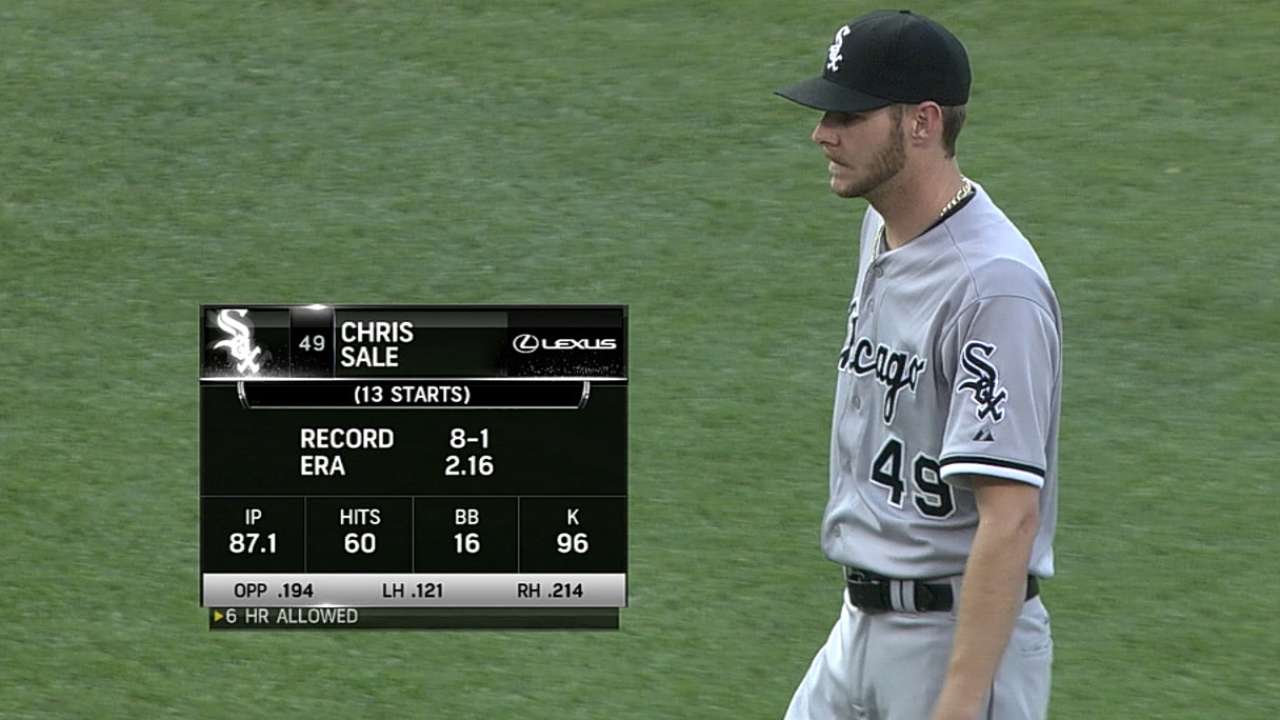 BOSTON -- Here's a quick example as to the pure talent possessed by White Sox starter Chris Sale, who finished with the toughest-of-luck no-decisions in a 5-4 Red Sox walk-off victory Wednesday night at Fenway Park.
Manager Robin Ventura readily acknowledged that Sale pitched a great game, but added that he wasn't as sharp as he has been in the past. Catcher Tyler Flowers echoed Ventura's great game sentiment, but described Sale as "effective enough" against the defending World Series champions.
Sounds as if it was a bit of a struggle for the lanky left-hander, who leads the AL Final Vote competition entering Thursday's last day, doesn't it? Quite the contrary.
Sale allowed four hits and one earned run over 7 2/3 innings, striking out six with no walks before Ventura pulled him at 107 pitches with Mookie Betts on third and two outs. Ventura felt that point was the right time for Sale to exit, with the right-handed-hitting Dustin Pedroia on-deck and potential closer-to-be Jake Petricka riding an 11-inning scoreless streak and holding a four-run lead.
If only the White Sox bullpen was as dependable as their staff ace.
Petricka didn't retire any of the four batters he faced, with three runs scoring to cut the lead to one. Javy Guerra (0-1) stranded runners at second and third in the eighth when he got pinch-hitter Mike Carp on a groundout to Jose Abreu, but he couldn't hold the lead in the ninth.
Guerra hit Betts with a 1-2 pitch, after Betts started the eighth-inning rally via a rare infield double, and then allowed pinch-hitter Daniel Nava's game-tying double. Brock Holt followed with his first career walk-off hit on a single to right.
After the bullpen squandered its 12th save opportunity in 31 chances, Guerra took full responsibility for the defeat.
"The way Chris threw the ball, I put that one all on me," Guerra said. "I've got to go out there and shut that door, make those pitches. I've got to do better. Tomorrow's another day, but I'll definitely look back at this one."
"Any time you have a lead that late and end up giving it up, it's tough," Ventura said. "It's tough on guys in there, because everybody is trying to do their part."
By allowing a single to David Ortiz in the first inning, marking just the seventh left-handed hitter to get a hit off Sale this season, the left-hander showed he was human. Otherwise, there were very few signs of giving the Red Sox (40-51) an actual chance.
Boston moved one runner to second through the first seven innings, even with Sale apparently having less than pinpoint sharpness. Sale said postgame that he felt good and is always disappointed when he leaves a game, whether the results are good or bad, but certainly wasn't pointing any fingers, despite not picking up his ninth win in 10 decisions.
"Obviously you want to win every game you're winning," Sale said. "Any time you lose a game like this it's tough, but this is baseball. This is what happens. We're not the first team this has ever happened to. Just try not to get too down on it and come back tomorrow ready to win."
"Once we got [Sale] out of there, things opened up a little more," Nava said. "He's one of those pitchers that whether he goes to the All-Star Game or not, he's an All Star. Not that our goal was to get to the bullpen, but our goal was to try to get some runs against him. Hopefully we'd be in a good position, but really winning in any way possible right now is all that matters."
Abreu got to Rubby De La Rosa with his eighth first-inning homer of the season and 28th overall. Conor Gillaspie opened the second with a blast to center, marking the first time in his career that he's homered in back-to-back games. The White Sox (44-48) added an unearned run in the fourth and Adam Eaton doubled home Tyler Flowers in the seventh. But it wasn't enough.
Factoring in Sale's one run allowed, White Sox starters have now yielded five earned runs in their last 43 1/3 innings. Sale has given up two earned runs over his 20 1/3 innings career-wise against the Red Sox. The White Sox bullpen matched that total in the eighth inning alone Wednesday, with the Red Sox finishing the job in the ninth during Sale's final first-half start.
"He started getting up there in pitches the fourth time through. You've seen this before," said Ventura of Sale. "We had Jake who has been great with righties and the way he's been pitching lately. You get him in there and you figure you are going to have a chance to get out of it. We just couldn't hold it."
Scott Merkin is a reporter for MLB.com. Read his blog, Merk's Works, and follow him on Twitter @scottmerkin. This story was not subject to the approval of Major League Baseball or its clubs.