Brock star: Rookie delivers walk-off single
Betts jump-starts three-run rally in eighth inning with rare infield double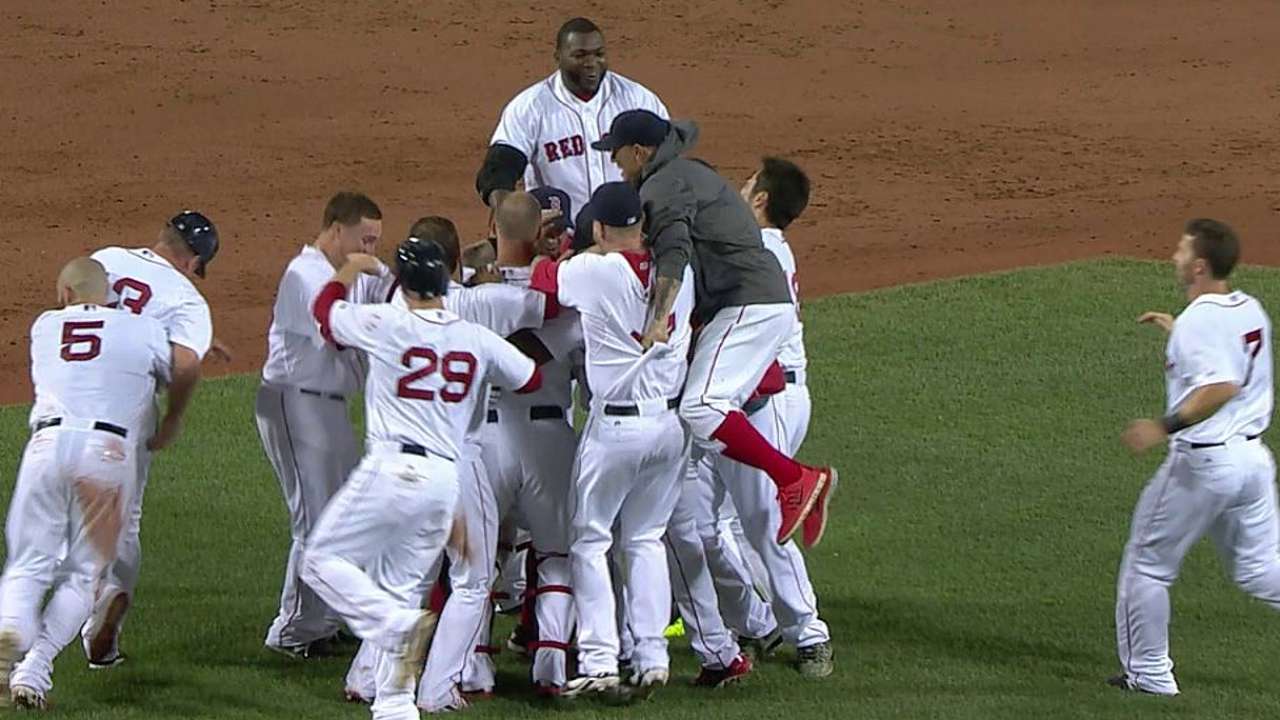 BOSTON --- Fenway Park was still full late into another sluggish performance by the Red Sox on Wednesday. Maybe it was the nice weather or youthful injection into the lineup.
Whatever the reason, few fans left the park, and it paid off. The Red Sox scored three runs in the eighth and then two in the ninth to beat the White Sox, 5-4, and snap a four-game skid. Entering the day 12 games below .500, the club designated A.J. Pierzynski for assignment and started five rookies for the first time since July 6, 1952.
"When you get into some roster changes, there's an unspoken message that is sent," manager John Farrell said. "Not in a threatening way, but it indicates that the way we've been going isn't acceptable. That doesn't change the competitive nature of every guy in uniform, and I think that played out tonight, clearly."
In the ninth, Javy Guerra hit Mookie Betts with two strikes and one out. Then Daniel Nava, pinch-hitting for catcher Christian Vazquez, hit an opposite-field double off the Green Monster to tie the game. Brock Holt ripped a line-drive single to right just past Chicago second baseman Gordon Beckham to score Nava and give Boston its seventh walk-off win of the year.
"My job was the easy one, I guess. I think Nava had the tough one," Holt said. "I got a fastball to hit and put a good swing on it, and fortunate to get it in the outfield there."
Betts had two doubles for the Red Sox, including an infield two-bagger in the eighth when he realized the White Sox had no one covering second after he grounded a ball to the left side of the infield and beat the throw to first. With Boston trailing, 4-0, it started the rally.
"It was a big gamble, but Farrell says be aggressive the same way I've been my whole career," Betts said. "I saw the second baseman going to back up and I know the shortstop had to come in on it."
Dustin Pedroia knocked in Betts with a two-out single off Jake Petricka, who took over for a dominant Chris Sale. David Ortiz then doubled off the Monster to bring Pedroia home.
Mike Napoli followed with a walk and then Jonny Gomes ripped a double down the left-field line to bring home Ortiz and cut the deficit to just one. But Guerra came on and got Mike Carp, pinch-hitting for Xander Bogaerts, to ground out to first to end the inning, despite some carnage that put Boston in a position to walk-off in the ninth.
"I think you're always disappointed when you come out of the game whether it's good or bad. You always want to get through that inning," said Sale, who exited after 107 pitches. "You're going to look at that and highlight that, but you always want to stay out there and finish what you start."
Junichi Tazawa and Koji Uehara worked scoreless eighth and ninth innings, respectively, for Boston to help set up a comeback. Uehara struck out the side and needed just 13 pitches to do it on the heels of the Red Sox's three-run eighth. That inning took about four minutes and 30 seconds and had Fenway rocking heading into the bottom of the ninth.
"Probably as clean of an inning as he's thrown in quite a while," Farrell said of Uehara.
Sale allowed four hits and one run while fanning six and walking none over 7 2/3 innings. It took his departure for Boston to finally break through.
"We were down to Chris Sale late in the game. Not feeling very good," Holt said. "Got him out, put some runs on the board and kind of gave us some life there. And we're able to finish it off. That's something that we haven't been able to do recently, so that's a good feeling."
Rubby De La Rosa allowed three runs on six hits over five innings for the Red Sox. He struck out three and threw just 84 pitches because he pitched for Triple-A Pawtucket on Sunday.
Jose Abreu smacked a changeup to dead center in the first inning to give the White Sox a 1-0 lead. In the second, Conor Gillaspie took a fastball deep to almost the exact same spot.
"When you miss a location," De La Rosa said with a laugh, "you pay the price."
In the fourth, Dayan Viciedo hit a sharp ground ball that went right through Napoli's legs to score Gillaspie, who had doubled. In the seventh, with Edward Mujica on the mound, Adam Eaton doubled home Tyler Flowers, who hit a double of his own the prior at-bat.
De La Rosa got some defensive help in the second from Jackie Bradley Jr., who laid out at full extension to snag a tailing line drive off the bat of Flowers with Alejandro De Aza on second.
"We may not even be in that situation if not for Jackie's catch," Nava said. "That's one of the best catches of the year."
Steven Petrella is an associate reporter for MLB.com. This story was not subject to the approval of Major League Baseball or its clubs.