Cards inch closer to first with win over Bucs
Victory comes at a cost, as Molina exits with sprained right thumb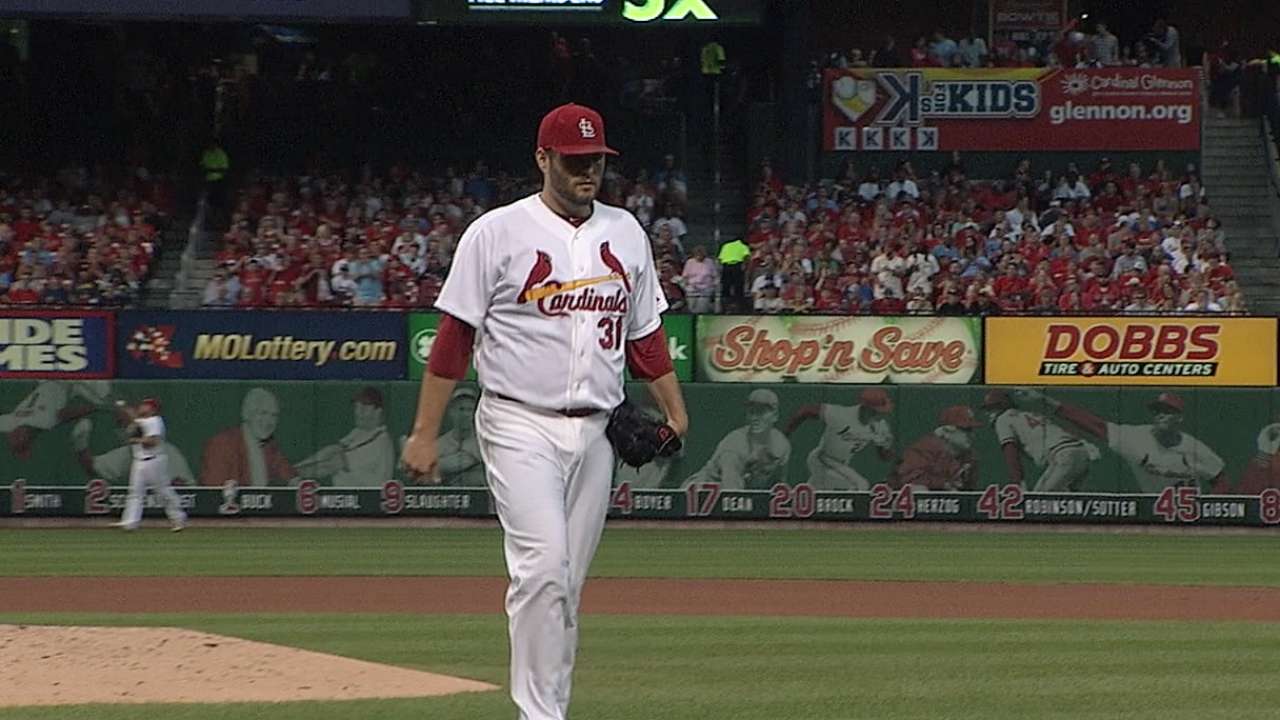 ST. LOUIS -- The Cardinals endured their share of bumps and bruises on Wednesday, but it was the Pirates who would be knocked down as St. Louis continues to surge with the All-Star break approaching.
Three wins in three days, the latest a 5-2 victory, have helped the Cardinals shave three games off the Brewers' lead in the National League Central. Milwaukee, now ahead by just two games, hasn't had such a loose grasp on the division since May.
"I've happened to notice," manager Mike Matheny admitted with a smirk.
This win would need no ninth-inning heroics, as the Cardinals pecked away to take an early lead and then added to it against a Pirates team that had won 12 of 15 before falling flat under the shadow of the Arch. Ten-game winner Lance Lynn was able to come through with 6 2/3 innings on a night when early inefficiency threatened to further tax a wearied bullpen.
Lynn's win also came with the distinction of making him the first Cardinals pitcher since Bob Gibson (1968 to 1970) to notch 10 before the All-Star break in three consecutive years.
"That's pretty awesome," Lynn said when made aware of the company. "To be in the same sentence as him in any category is quite an honor."
The pace of game was hardly desirable, as both Lynn and Pirates starter Brandon Cumpton worked deliberately at times. There were numerous stoppages, too, first for an unsuccessful challenge by Matheny and then for four field visits by assistant athletic trainer Chris Conroy.
The visit to catcher Yadier Molina after he hurt his hand sliding into third turned out to be of most concern, as Molina did eventually have to exit the game with a sprained right thumb. He was to undergo an MRI later in the evening to determine the severity of the injury.
"Any time we have to take him out, you know it's pretty bad," Matheny said. "We'll have a whole lot more information when we let the doctors get their results."
Matt Carpenter (left wrist), Matt Holliday (right foot) and Lynn (wind knocked out) all remained in the game after brief delays.
Pittsburgh's woes capitalizing with runners in scoring position continued -- they are 2-for-25 in the series -- while the Cardinals collected enough run-scoring hits in key spots to allow for some overlooking of other chances wasted.
For just the third time since June 18, the Cardinals struck in the first inning, this time with a two-run double by Monday's hero and cleanup hitter Matt Adams. Tuesday's walk-off star, Kolten Wong, capped the scoring with another home run, a solo shot in the seventh, his third since coming off the disabled list on Sunday.
In between, Jhonny Peralta contributed an RBI double, and Holliday, back in the third spot in the lineup, delivered an RBI single just after the Pirates had pulled to within one in the top of the fourth. Lynn, 1-for-31 at the plate on the season, started the rally by drawing a one-out walk against Cumpton, who wouldn't make it through the inning.
Holliday reached base four times, and each of the first four batters in the lineup tallied multihit games. Among them was Oscar Taveras, who has strung together back-to-back multihit games for the first time in his young career.
"We expected it all season," Wong said. "This season has been a really tough season for us so far, getting hits and trying to string things together. To finally see it come along, it's exciting for us, because we knew we could do it the whole season."
Not that far removed from totaling 24 hits in a four-game series against the Dodgers, the Cardinals have collected 25 over the last two days. That's their highest total over consecutive games all season.
"We're playing well right now," said Adams, who has a seven-game hitting streak and is 12-for-22 on the homestand. "Our offense is swinging it like we know how to."
Lynn's pitch count sat at 80 through four innings, but he made quick enough work in the next two frames to earn a chance to start the seventh. Neil Walker had the only notable success off Lynn, homering in the second and then scoring after his one-out double in the fourth.
Those were two of the six hits Lynn allowed en route to finishing six innings for the 13th time in 19 starts.
"[Lynn] battles," Pirates manager Clint Hurdle said. "Usually when you give him the ball, at least when we've seen him, he pours everything into it that he's got."
Lynn closed his outing by getting pinch-hitter Travis Snider to hit into a first-pitch double play with two on base in the seventh. Randy Choate closed the inning, sealing Lynn's ERA at 3.14 and making this Lynn's 13th start of two runs or fewer allowed.
The rest of the bullpen was clean, with Trevor Rosenthal collecting his 27th save, the second-highest pre-All-Star break total in franchise history. Rosenthal was saved himself by late-inning arrival Peter Bourjos, who ended the game with a leaping catch at the wall to prevent the potential tying run from stepping to the plate.
"Another game-ending play for us," Matheny said, "that brings you to your feet."
Jenifer Langosch is a reporter for MLB.com. Read her blog, By Gosh, It's Langosch, and follow her on Twitter @LangoschMLB. This story was not subject to the approval of Major League Baseball or its clubs.