Down in extras, D-backs walk off on Goldy's knock
All-Star's two-run double caps three-run 10th after Ziegler allows two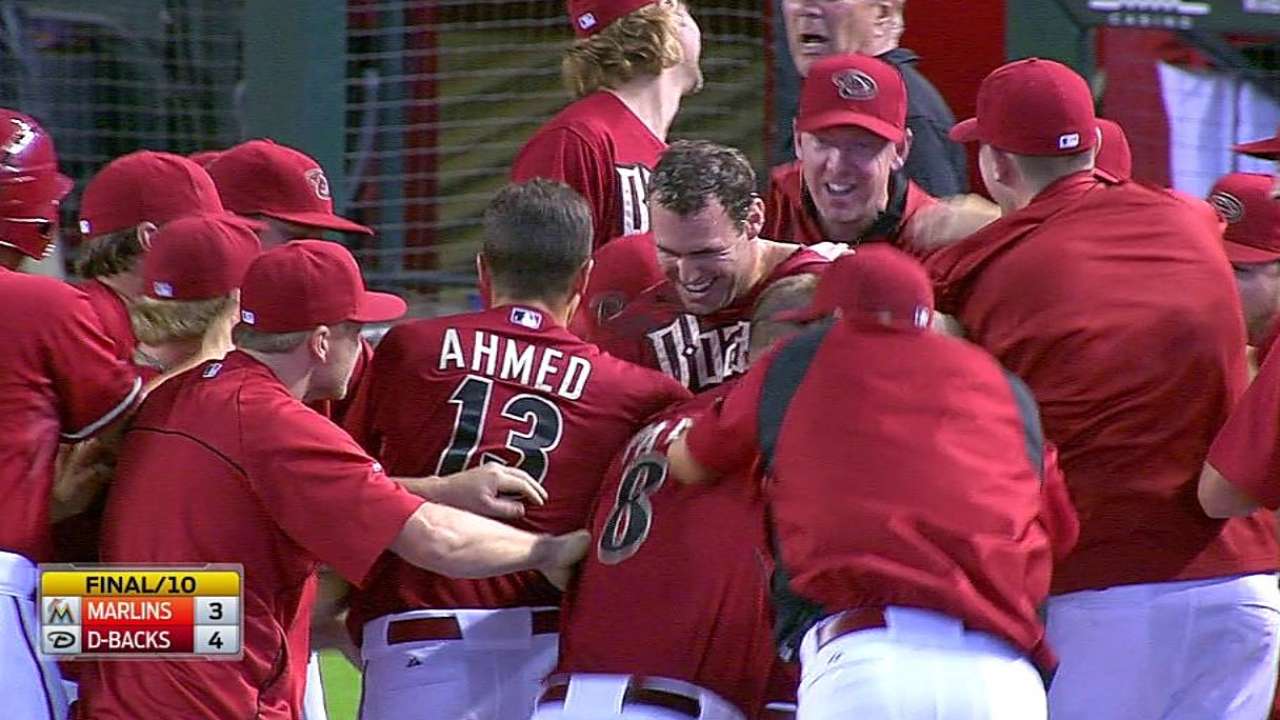 PHOENIX -- Paul Goldschmidt proved once again why he's the D-backs' lone representative on the National League's All-Star team, drilling a game-winning two-run double in the bottom of the 10th inning on Wednesday to give his club a 4-3 comeback victory over the Marlins at Chase Field.
"What can you say? He's special," D-backs manager Kirk Gibson said about Goldschmidt and the fifth walk-off hit of the slugger's now nearly four-year career. "He'll continue to be that way and he's going to continue to get better. If he's healthy, he'll end up having a great place in the history of the game, I believe."
The Marlins had taken a 3-1 lead against D-backs reliever Brad Ziegler when Miami second baseman Donovan Solano slammed a two-run double into the left-field corner, snapping a 1-1 tie with two out in the top of the 10th.
But unlike Tuesday night's 2-1 Marlins victory, when closer Steve Cishek threw strikes and retired Arizona in order in the ninth for his 20th save, the right-hander couldn't find the plate on Wednesday.
"Felt good the past couple outings, I went out there today pretty confident," Cishek said. "For whatever reason, I couldn't hit a spot if I tried."
Pinch-hitter Aaron Hill opened the inning, working Cishek to a full count before grounding a single to right on the ninth pitch of the at-bat. Ender Inciarte followed with a four-pitch walk. David Peralta then grounded another single, this time up the middle, scoring Hill as Inciarte flew around to third.
And that sent Goldschmidt to the plate. In the eighth inning, Marlins manager Mike Redmond didn't think twice about intentionally walking Goldschmidt with runners on second and third and two outs to load the bases. Miguel Montero grounded out on the next pitch. But this time, with no outs, Redmond didn't consider again loading the bases.
"That put me in a pretty good position as a hitter," said Goldschmidt, an NL All-Star for the second time, but voted in by the fans for the first time as the starting first baseman for next Tuesday night's Midsummer Classic at Target Field. "You're up there with no one out and a chance to tie the game pretty much if you just put the ball in play. You're trying to hit it hard, but I just reminded myself that I was trying to score that guy, trying not to put too much pressure on yourself, I guess."
Goldschmidt hit it hard, all right. He didn't waste any time, launching Cishek's first pitch on a line into left-center. The ball split the outfielders and rolled all the way to the wall, easily scoring the tying and winning runs. It was Goldschmidt's 35th double of the season, which is just past the halfway mark. Consider that the Major League doubles record is held by Earl Webb, who had 67 in 1931.
Goldschmidt is heading toward the break as well with a .312 batting average, 16 homers and 61 RBIs. As Gibson said, at 26 years old, the sky is now the limit for Goldschmidt. He lives for these game-on-the-line situations, which have been a rarity for the 39-54 D-backs this season. He hadn't had a walk-off hit since last Aug. 13 against the Orioles.
"I think every hitter does," Goldschmidt said. "That's why you play. You want to try to win the game if you get in a position to do it, score the winning run or make a game-saving play on defense, or as a pitcher get the last out. Every single guy in the big leagues or the Minor Leagues or college baseball and all the way down to Little League wants to be in that position."
More help may be on the way for the D-backs.
It hasn't been determined yet, but left fielder Mark Trumbo could be back in the lineup on Friday night when the D-backs open a three-game series in San Francisco that leads into the All-Star break.
Trumbo has been out since April 22 with a stress fracture in his right foot. He has been tearing up Triple-A pitching this week in his rehab assignment at Reno, hitting .476 (9-for-21) with four homers and 11 RBIs in six games. He went 3-for-4 with a homer, RBI and two runs scored on Tuesday night against Las Vegas, playing the full nine innings for the first time.
"I actually talked to him last night, I talked to [Reno manager Phil] Nevin last night," Gibson said before the game. "We'll see what we're going to do. He's going to play again tonight against the left-hander. We're just kind of talking to him. We talked to him a couple of days ago. He was a little susceptible to breaking balls. He wasn't recognizing them real well. But now he's starting to get there.
"We'll see how he does tonight. Then we'll talk to the medical people. We have to make sure medically that they're comfortable with whatever we might do. If you get the go-ahead on that, you try to determine whether he's ready and bring him in."
After Goldschmidt's timely heroics, Gibson reiterated that he'd wait until the results on Wednesday before the D-backs' baseball brass determines whether activating Trumbo is a possibility.
Barry M. Bloom is national reporter for MLB.com and writes an MLBlog, Boomskie on Baseball. Follow @boomskie on Twitter. This story was not subject to the approval of Major League Baseball or its clubs.