Solano's heroics in 10th offset by Cishek blown save
Closer allows four straight to reach after infielder's go-ahead double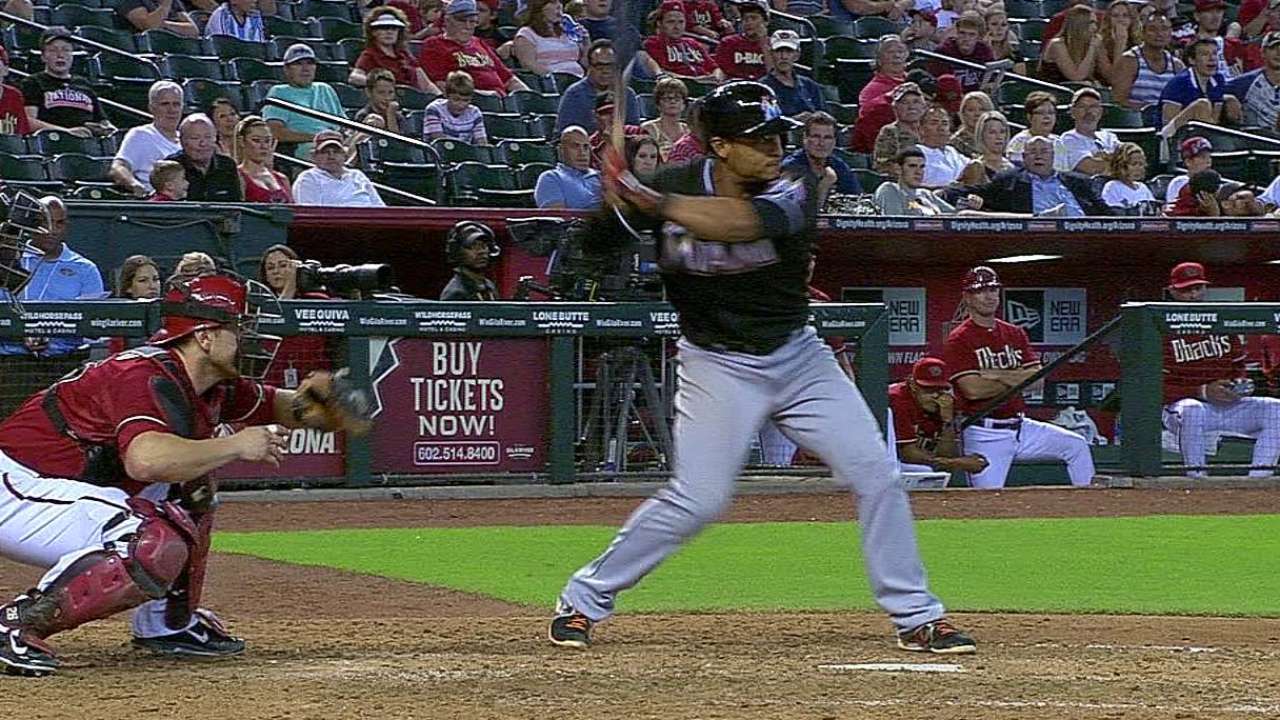 PHOENIX -- The rubber game between the Marlins and D-backs ran two hours and 53 minutes. But if you blinked, you might have missed how it ended.
The Marlins took a two-run lead into the bottom of the 10th, but still came up empty-handed as the D-backs rallied to win, 4-3, at Chase Field on Wednesday.
"That's a tough one to swallow," Marlins manager Mike Redmond said. "That's definitely one you got to have after coming back and the at-bats that we had there in the 10th."
The Marlins taking the game and the series seemed almost inevitable after 9 1/2 innings.
Second baseman Donovan Solano gave the Marlins a late lead after the D-backs elected to intentionally walk left fielder Christian Yelich. The move came back to bite D-backs pitcher Brad Ziegler. Solano saw only one pitch before lacing a double into left field to drive in two runs and give the Marlins a 3-1 lead.
Solano said afterward that he thought his hit would prove to be the game-winner, and he didn't have much reason to doubt it. The D-backs' offense had been anemic for most of the game, scoring only one run to that point.
But minutes later, the D-backs were the ones celebrating a walk-off win and a series victory.
Steve Cishek came into the game to close out what would have been his 21st save of the year, and second in two days. He battled pinch-hitter Aaron Hill in a nine-pitch at-bat, but Hill came out ahead, placing a single through the right side to lead off the bottom of the 10th.
The inning went downhill quickly after Hill's hit.
Cishek walked center fielder Ender Inciarte on four pitches and gave up a single to left fielder David Peralta on the second pitch of the at-bat, setting the stage for first baseman Paul Goldschmidt.
Cishek versus Goldschmidt would have been a suspenseful battle, but the All-Star had no interest in dragging it out, launching a line drive into the gap to score the tying and winning runs.
"It's just disheartening considering our guys are out there battling every inning and they give us a chance to win the ballgame, and I can't get three outs," Cishek said. "This one hurt pretty bad."
Cishek said his command was not there, but he wasn't sure why he was having issues controlling the ball.
"It's been a consistency thing lately," he said. "I felt good for a couple outings where I feel like I can hit a fly on the butt, stick that slot right there. Today, I felt like I couldn't hit water if I fell out of a boat."
Starter Nathan Eovaldi was a bright spot for the Marlins, enjoying one of his best outings of the season, going seven-plus innings while surrendering only one run on four hits.
"He has exceptional life to his hard stuff and his fastball. His slider is really sharp," D-backs manager Kirk Gibson said. "He pounds the zone. You can see those guys; he gets real deep on them. When you go to react, his ball explodes on you."
Said Redmond: "[He] pretty much dominated. ... We couldn't add on any runs, and that was it. They tied the game, and there's not a whole lot else to say."
Adam Lichtenstein is an associate reporter for MLB.com. This story was not subject to the approval of Major League Baseball or its clubs.