Indians blink first in 14-inning loss to Yankees
Ellsbury's homer off Pestano ends 'pen's 18-frame scoreless streak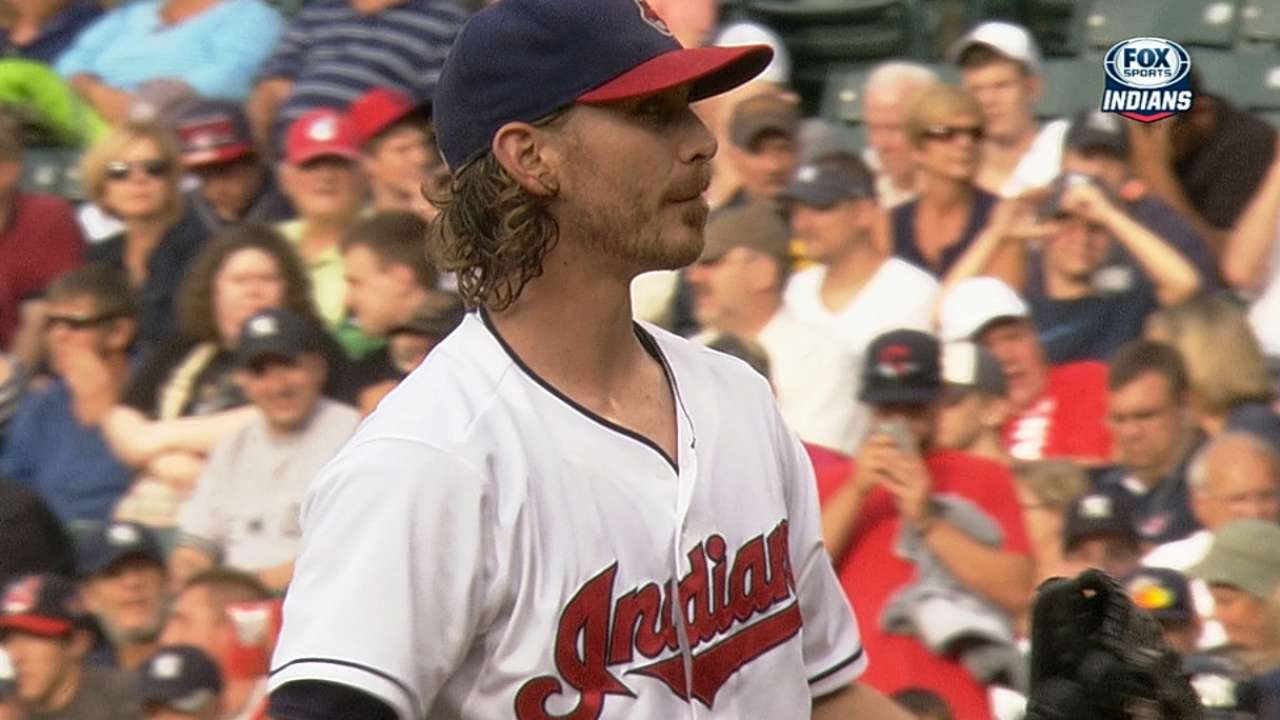 CLEVELAND -- On a night that featured offensive futility out of both teams as the battle spread itself out over 14 innings and nearly five hours, one mistake pitch to Jacoby Ellsbury was all it took for the Indians to come up short.
In a game that saw a combined eight hits and one run over the final nine innings, Ellsbury's 14th-inning solo shot off Vinnie Pestano proved the difference as the Tribe fell, 5-4, on Wednesday night in front of 21,727 at Progressive Field. The four-hour, 51-minute affair featured 15 pitchers between the clubs and marked the Indians' second-longest tilt of the season.
Leading up to Ellsbury's decisive blast, which snapped an 18-inning scoreless streak from the Cleveland bullpen that stretched back to Saturday, Indians relievers had combined to allow just three hits over 6 2/3 innings on the night. But with two outs, Pestano left an 0-2 slider over the plate that New York's center fielder smacked over the right-field wall.
"I was trying to back foot it, just didn't get it there," Pestano said. "When you throw a pitch like that to a hitter like that, you need to get it down. It just didn't get there, and he did what he gets paid to do."
The right-handed Pestano has been hit by lefties at a .277 clip over his career. But with the Indians already quite deep into their bullpen, manager Terry Francona was not afforded the luxury of changing pitchers based on the matchup, and the left-handed Ellsbury took advantage.
"We try to use [Pestano] against as many righties as we can, just because he's been so successful against them," Francona said. "When you get in a game like this, you really can't pick and choose too much. Wanted to get him through [right-handed-hitting Derek Jeter, who was on deck], and it didn't work."
The Tribe received scoreless appearances out of five relievers, including John Axford (1 1/3 innings) and Marc Rzepczynski (two innings).
Offensively, however, the Indians squandered a big opportunity in the 10th inning when former Indians first-round Draft pick David Huff issued consecutive one-out walks to Michael Brantley, Carlos Santana and Lonnie Chisenhall. With the bases loaded, the Yankees brought in Shawn Kelley, who struck out Nick Swisher and got David Murphy to ground out.
"We had the bases loaded with Swish up, and it was a 2-1 count and he check-swinged on a ball down in the dirt," Francona said.
Starter Josh Tomlin worked seven innings for the Tribe, surrendering four runs on eight hits while striking out five, but his otherwise solid effort was undone by a two-homer performance from Mark Teixeira. Through 13 games, the soft-tossing right-hander has now served up 13 long balls, and he claims only one quality start in his last five outings.
"You can kind of get him if you keep the ball away on him, for the most part. He can roll over some pitches," Tomlin said of Teixeira. "I just left two pitches over the middle of the plate, and that's what he did with it. The curveball [on the first home run] just wasn't executed. It wasn't down low enough. And the fastball I tried to get away [on the second homer] just leaked over the middle of the plate."
The Cleveland bats awoke to four hits in the first inning off Yankees righty Brandon McCarthy, who was acquired in a trade with Arizona on Sunday. McCarthy was forced to work an extra out after a throw to second base on a forceout attempt by first baseman Teixeira hit Brantley as he slid into the bag. The Indians' All-Star was shaken up but remained in the game.
The Tribe then capitalized as Chisenhall notched a bases-loaded RBI groundout and Swisher followed with a two-run single for a 3-0 lead.
Teixeira's first multi-homer performance since July 13, 2012, had the Yankees ahead, 4-3, when Santana's two-out single in the fifth inning scored Asdrubal Cabrera and tied the game, 4-4, a score that would carry into extras, with McCarthy retiring the last five batters he faced and Tomlin sitting down seven in order before his exit after seven innings. McCarthy finished his Yankees debut charged with four runs (one earned) over 6 2/3.
"He did a good job," Yankees manager Joe Girardi said of McCarthy. "He got a lot of ground balls. In the first inning we had one miscue, he shut them down for most of the game after that. He gave us a really good performance."
Tribe relievers Scott Atchison and Bryan Shaw came in to work scoreless eighth and ninth innings, respectively, before Cody Allen pitched his way around a leadoff walk and single in the 10th. The teams then traded zeros and managed a combined two hits across the 11th, 12th and 13th innings.
The Tribe put pressure on in the bottom of the 14th, with Jason Kipnis working his way into scoring position on a single and a steal, but Yankees closer David Robertson would retire Cabrera and Brantley to end any comeback attempt and pick up his 22nd save of the year.
"It was a long game. Those guys battled their butts off. Unfortunately, we came up short tonight," Tomlin said.
Alec Shirkey is an associate reporter for MLB.com. This story was not subject to the approval of Major League Baseball or its clubs.