Simon becomes first in NL to reach 12 wins
Holds Cubs to one run over 6 2/3 innings as Reds win fifth straight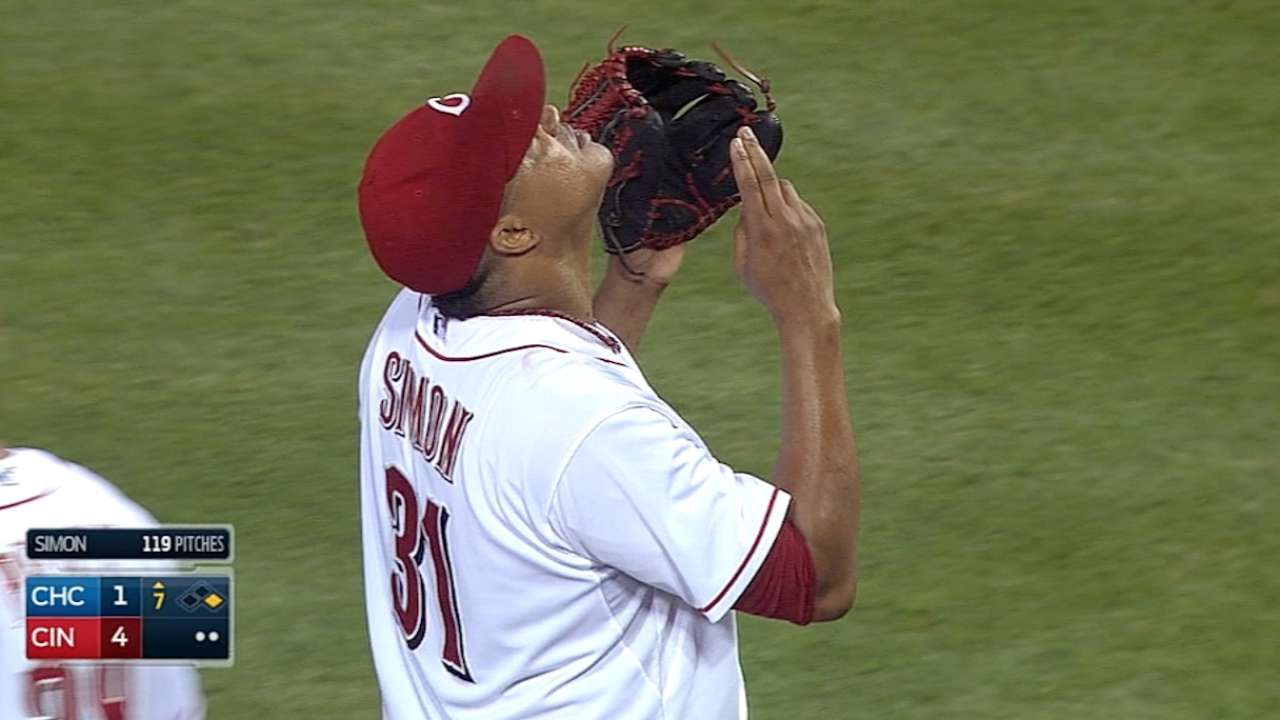 CINCINNATI -- Win totals for pitchers don't carry the same gravitas these days as other stats, but Reds starter Alfredo Simon has shown he has more than that on his resume this season.
Simon became the first National League pitcher to reach 12 victories, and it was secured with a three-run bottom of the fifth inning that gave him and the Reds a 4-1 win over the Cubs on Wednesday night at Great American Ball Park, pushing the Reds' winning streak to five games.
"I'm really happy with myself right now. I hope the second half is going to be the same," Simon said.
Simon gave up one run, four hits and two walks over his 6 2/3 innings with a season-high-tying eight strikeouts. At 12-3 in 18 starts this season, he has overtaken Adam Wainwright and Zach Greinke for the NL lead in victories and tied the Yankees' Masahiro Tanaka for the Major League lead.
When the NL All-Star team was announced on Sunday, Simon's name was one that was left off. His chances to be a roster replacement could improve if another pitcher -- such as teammate Johnny Cueto -- starts this Sunday ahead of Tuesday's game at Target Field. Simon's numbers are making it harder to deny him a ticket to Minneapolis.
"I hope they pick me up for the All-Star Game. I've done my job to be there," Simon said. "That's up to [NL manager Mike] Matheny. We'll see what's going to happen."
Simon has a 2.70 ERA, which is 12th-best in the NL. He surpassed his career high in innings pitched during Wednesday's game with 116 2/3.
The Reds are 15-3 this season when Simon takes the ball, including 8-0 in his last eight starts. His 16 quality starts are second to Cueto's 17.
"Wins can be a little arbitrary. But you look at all his other numbers, and they're about as good as the other guys up there," Reds right fielder Jay Bruce said. "The guy has really done a great job for us. He started off as a filler. It turned out, he's one of the guys. You hand him the ball, you expect to win."
Simon was moved from the bullpen to rotation during Spring Training to replace the injured Mat Latos. When Latos returned, Simon got to keep his spot and Tony Cingrani lost his instead.
Cincinnati has won the first four games of this five-game series, tied a season high with a five-game winning streak and has won 14 of its last 19 overall. The club, at 49-42, is a season-high seven games above .500 and moved to 2 1/2 games behind the NL Central-leading Brewers after being seven back on Saturday and 8 1/2 out on June 20.
This victory did not come without a pair of scares. Billy Hamilton left after the seventh inning with a tight left hamstring and Brandon Phillips had to leave the game in the eighth after spraining his left thumb while diving for a grounder. X-rays on Phillips' hand were negative.
The fingerprints of a couple of the Reds' hottest hitters -- including Hamilton -- were all over the game's defining rally. It was tied at 1 with two outs in the fifth against rookie Dallas Beeler when Hamilton drove a 1-0 pitch through the gap in right-center field. As Zack Cozart easily scored the go-ahead run, Hamilton motored quickly to third base for the triple and had designs for his first inside-the-park homer. He was stopped by third-base coach Steve Smith.
"I always think I've got a chance to make it," said Hamilton, who is batting .369 with runners in scoring position. "But today was one of the ones where I really thought I had it. But you've got to listen to him. He put the hold on me; it was late, but I really think the guys would've had to have made a really great throw to get me. So today might have been another one of those chances where it would've been close. It's just a matter of time. It's going to happen."
RBI singles would come from Phillips and Bruce, who notched his 10th RBI over the last five games.
Simon threw a lot of pitches, 44 over the first two innings, and overcame some early Cubs threats that included three hits and a walk. In the top of the third with one out, Anthony Rizzo smoked a one-out homer to right field to make it a 1-1 game. Simon retired the next 13 in a row until Wellington Castillo -- his final batter -- walked on his 119th pitch.
"In the first couple of innings, I wasn't loose enough. I was a little tight," Simon said. "I loosened my arm and everything came true and worked really good."
Mark Sheldon is a reporter for MLB.com. Read his blog, Mark My Word, and follow him on Twitter @m_sheldon. This story was not subject to the approval of Major League Baseball or its clubs.