Rizzo hits 20th homer, but Cubs fall to Reds
Beeler allows four runs over five innings in second Major League start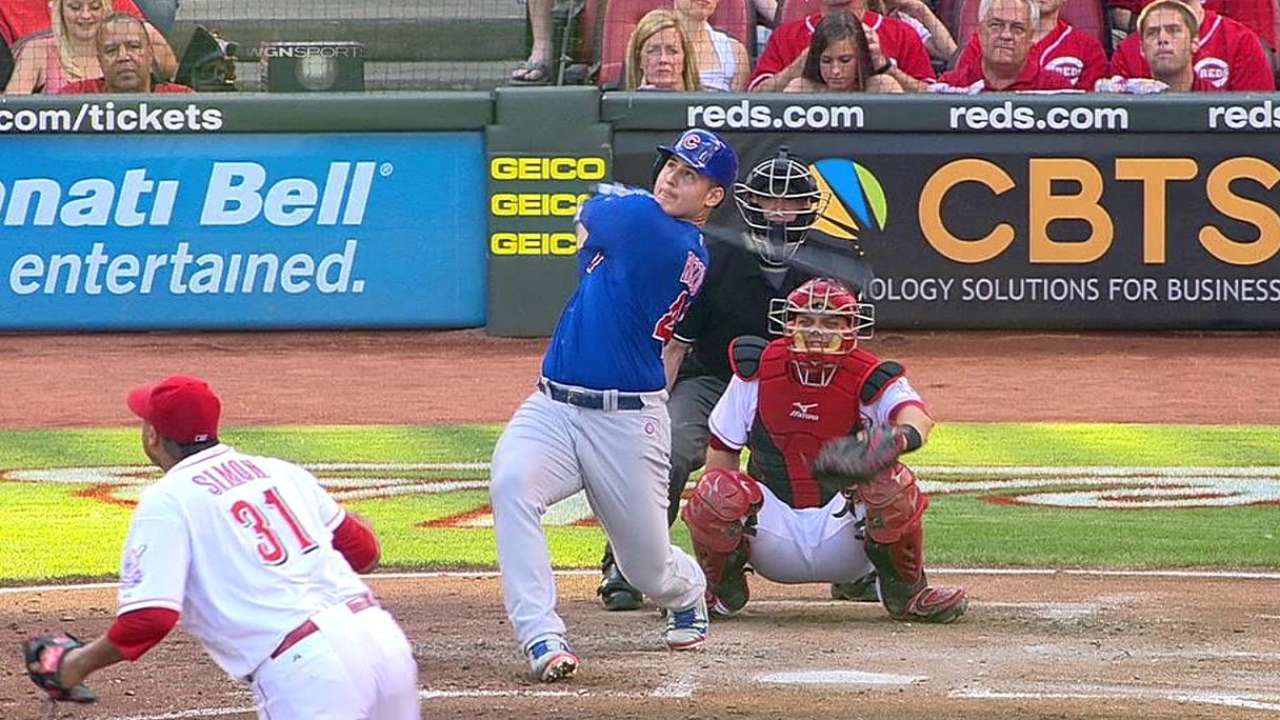 CINCINNATI -- Anthony Rizzo belted his 20th home run, but it wasn't enough to help rookie Dallas Beeler get his first Major League win or stop the Cubs' losing streak.
Billy Hamilton hit an RBI triple in a three-run fifth to spark the Reds to a 4-1 victory on Wednesday night over Beeler and the Cubs, who lost their sixth straight game and manager Rick Renteria, who was ejected in the fifth.
How bad has it gotten? There was no postgame meal in the visitor's clubhouse.
"We've been struggling to score runs," Rizzo said, focusing on the game, not the absent spread. "We have to keep grinding at-bats out. We also ran into a few good pitchers, too. That doesn't help. We have to keep going -- it's a part of the season, which is obviously a low point for the team, but we have to keep grinding it out."
Beeler, a 41st-round pick in the 2010 First-Year Player Draft, was making his second big league start. The right-hander had debuted in a day-night doubleheader on June 28 against the Nationals, and was charged with one unearned run over six innings. On Wednesday, he was recalled from Triple-A Iowa after Chris Rusin was optioned.
The Cubs are looking for starting pitchers to fill the spots in the rotation created by the Fourth of July trade that sent Jeff Samardzija and Jason Hammel to the Athletics. Beeler, 25, was 5-3 with a 3.93 ERA in 11 starts with Iowa, and gave up four runs on six hits over five innings Wednesday.
"I don't know if he felt like his command was where he wanted it to be," Renteria said. "He started off a little slow but he grounded through. He kept us in the ballgame."
"I got some ground balls that got through the holes," Beeler said. "I felt I had good control tonight but I got behind in some counts, and you can't get behind on some of these guys. Some things didn't go my way, and I have to make better pitches in some situations, too. I can't get behind, especially the second, third time through [the lineup]."
Ramon Santiago hit a two-out RBI double in the second to take a 1-0 lead. Santiago was out trying to stretch his hit as rookie second baseman Arismendy Alcantara, making his big league debut, made a perfect relay throw to third.
Alcantara went 0-for-4, seeing far more breaking pitches than he has in the Minor Leagues, but he did impress in the field.
"I felt relaxed and tried to play the game the right way," Alcantara said. "I feel comfortable in the field and at home plate, too."
Rizzo has been feeling pretty good at the plate. A Final Vote candidate for the 2014 All-Star Game, he tied the game with one out in the third with his home run, launching a 2-0 pitch from Alfredo Simon into the Cubs' bullpen. He is the first Cubs left-handed hitter with 20 home runs before the All-Star break since Rick Monday hit 20 in 1973, and the first player in team history to do so since Derrek Lee belted 27 in 2005.
"It was a fastball, in," Simon said. "I think they're looking for that. After that, I said I have to keep in this ballgame and put a zero on the board. I tried to be the best I could. That's what I did. I tried to keep the ball down."
That was what Rizzo was looking for, and has been. He now has a home run in three of four games in this series.
"I'm just being aggressive," Rizzo said. "Teams are going to pound me in, and I know that's what they're going to do. Let them do it, and if they miss, I try to take advantage of it."
He found out prior to the game that he had passed the Rockies' Justin Morneau in the Final Vote balloting.
"It's really cool," Rizzo said of the fans' support. "I'm keeping my fingers crossed that the fans keep going. I'm really appreciative for all of it. We'll see what happens."
"I'm pulling for him with everything I've got," said Renteria, who has cast some votes online for Rizzo.
The Cubs, though, could use some runs.
Hamilton's triple with two outs in the fifth made it 2-1, and Beeler then walked Skip Schumaker. Brandon Phillips and Jay Bruce each followed with RBI singles to go ahead, 4-1.
Devin Mesoraco then hit a grounder down the third-base line, which Chicago's Luis Valbuena thought was fair, but umpire Andy Fletcher called foul. Renteria went out to discuss the call and was ejected for the fifth time this season.
Kyle Hendricks will make his Major League debut Thursday as the Cubs try to salvage a win in the series finale. They hope he learned something while watching Beeler, who enjoyed himself despite the results.
"It's a whole bunch of fun," Beeler said. "It's a lot of fun, and I think it'll be the same tomorrow for Kyle. He'll have a great time doing it. The results weren't what I wanted tonight but I still had a great time pitching."
Carrie Muskat is a reporter for MLB.com. She writes a blog, Muskat Ramblings, and you can follow her on Twitter @CarrieMuskat. This story was not subject to the approval of Major League Baseball or its clubs.