Gee sharp in return, upbeat Mets win fourth straight
Righty allows one run in seven-plus, aided by d'Arnaud's two-run HR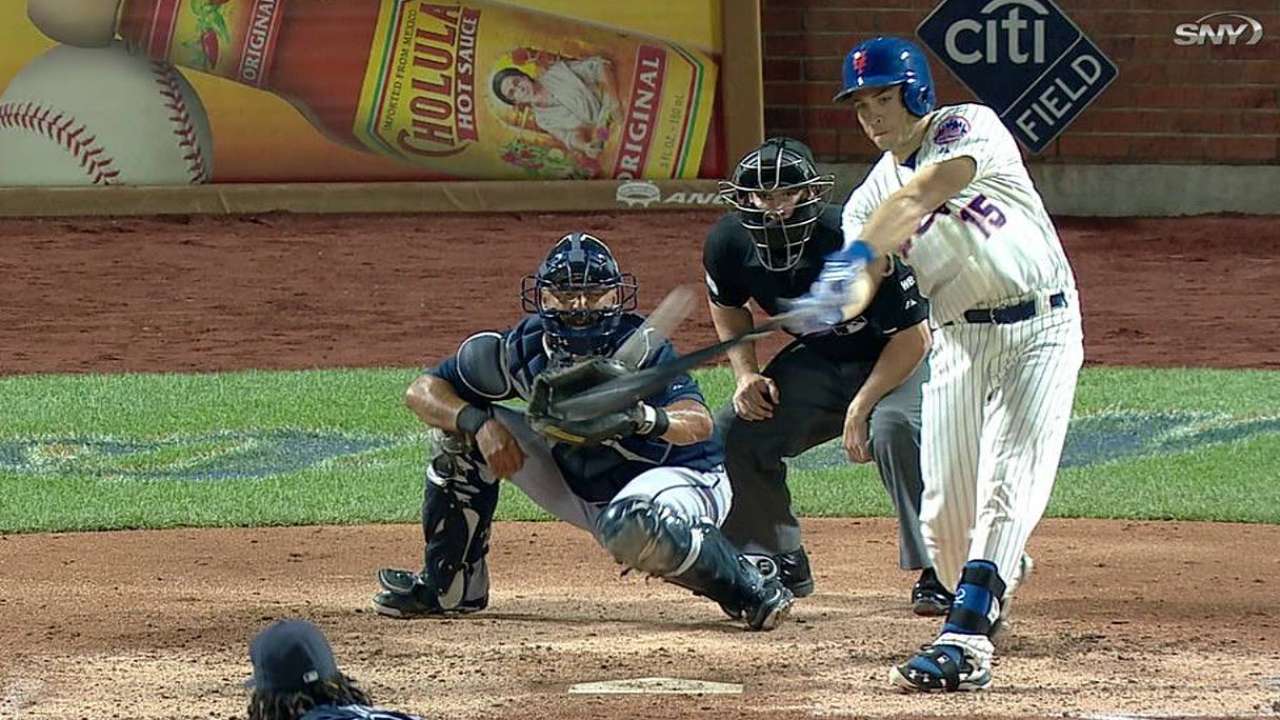 NEW YORK -- When a shoulder injury stole Dillon Gee away from the Mets in mid-May, they were a scuffling team meandering their way toward the bottom of the National League standings. Gee sensed that the energy level in the clubhouse had dwindled.
Two months later, Gee returned to the Mets to find something wholly different in place. The working environment had transformed. In the dugout, the Mets were waving towels on a nightly basis, the most tangible evidence of a midseason culture change in Flushing.
Gee did more than enough to further the trend Wednesday night, returning from the disabled list to deliver seven innings of one-run ball in a 4-1 win that knocked the Braves out of first. The Mets have now won five of six, including three straight over the Braves, completely counteracting last week's three-game sweep in Atlanta.
"I don't know what they've been going through," Gee said of his teammates. "I just know it's nice now. Everyone's having a lot of fun and [it's high energy. It's like we're expecting to win when we go out there."
Travis d'Arnaud's game-breaking two-run homer in the seventh inning helped fulfill those expectations for Gee, who was plenty sharp in his first start back from a two-month DL stay. Facing the minimum over his first five innings, Gee did not crack for a run until B.J. Upton's two-out RBI double in the sixth. He needed just 79 pitches to complete seven innings, departing to a standing ovation after allowing the first two batters in the eighth to reach base.
"That's the Gee I've always seen and I'm used to," d'Arnaud said.
In essence, Gee took advantage of a hyper-aggressive Braves lineup, lowering his ERA against them to 2.18 over the past two seasons.
"He's been pretty good," Braves shortstop Andrelton Simmons said. "Nothing against him, but we've got to do a better job at the plate. We hit a couple balls hard, but right at people."
Despite all that, the Mets found themselves stuck in a tie game until the seventh, when Kirk Nieuwenhuis put them ahead for good with a sacrifice fly off Braves starter Ervin Santana. The next batter, d'Arnaud, cranked a two-run homer to deep left field, giving the Mets a comfortable margin for error.
"That," Gee said, "was a beautiful thing right there."
The Mets scored their first run off Santana on Lucas Duda's RBI single in the first, but nothing else until the seventh. Santana completed seven innings, giving up four runs on six hits.
Contrast that to Gee, who spent weeks battling a right lat injury that the Mets initially expected to cost him just one start. Lingering soreness in his shoulder, combined with a setback midway through his rehab process, instead resulted in nearly two full months on the shelf.
While Gee rehabbed, the Mets mostly treaded water, flirting with .500 a few times but always sinking back down the standings. Until now. Manager Terry Collins swears this most recent hot streak is different for the Mets, who are finally receiving meaningful contributions from d'Arnaud, Duda and Ruben Tejada -- three critical players who came to Spring Training surrounded by question marks.
Things are not perfect -- the Mets' rotation still is not whole, for example, with Jon Niese sidelined until at least next weekend. But the rest of the team is playing at its highest level of the season, more than making up for other blemishes. The bullpen, anchored by Jenrry Mejia, Vic Black and Jeurys Familia, is doing some of its best work of the year; on Wednesday, Black and Mejia pitched scoreless eighth and ninth innings, respectively. And the lineup is churning out runs with uncharacteristic frequency.
The results have been plain to see for a Mets team that, just last week, looked lost and overwhelmed on a nightly basis.
Whatever the Mets are now, they're clearly different from what they were when Gee last saw them.
"They know how big this is," Collins said. "They know it's very big. You let the Braves beat you down here and it's a long climb up. We've still got a long way to go -- we've got a game tomorrow to worry about. We'll enjoy this for an hour and then we'll get ready for tomorrow."
Anthony DiComo is a reporter for MLB.com. Follow him on Twitter @AnthonyDicomo. This story was not subject to the approval of Major League Baseball or its clubs.