Greinke on short end of duel with Scherzer
Rojas hits first career homer as Dodgers go 0-for-Detroit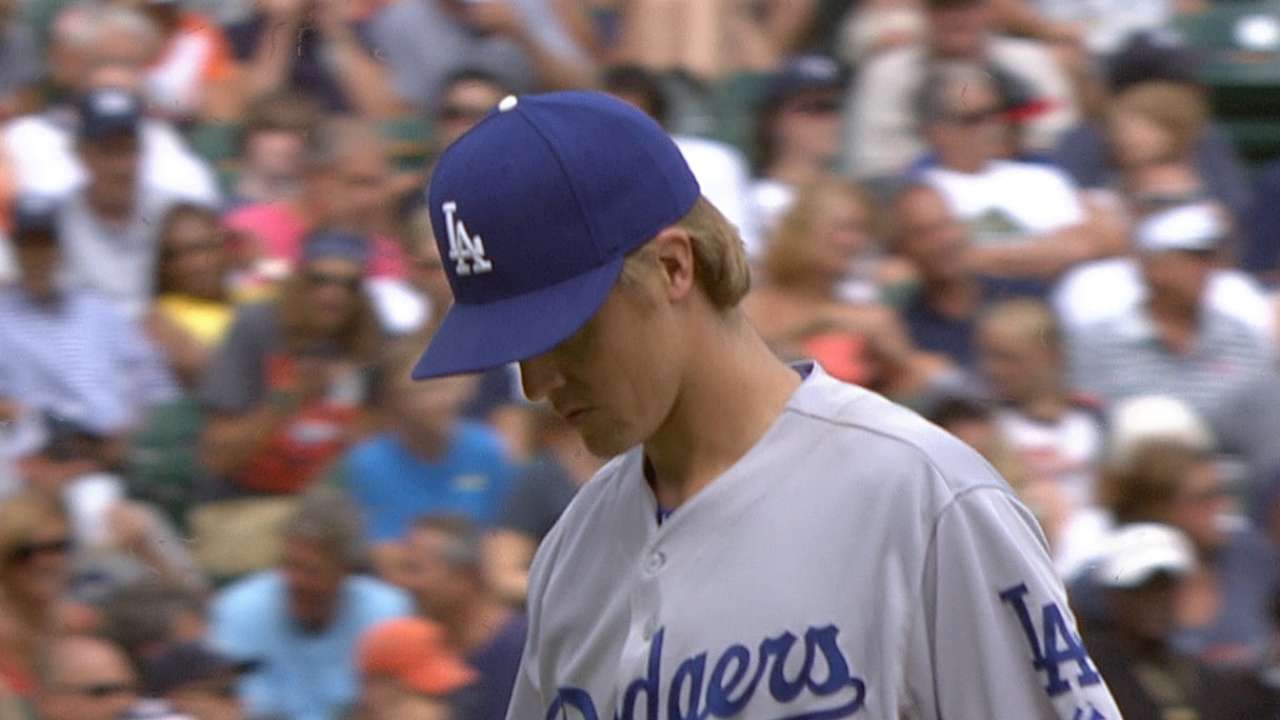 DETROIT -- Maybe the Dodgers learned how much they need to improve for an October showdown, as A.J. Ellis suggested, or maybe two losses to the Tigers were just another couple of losses, as Zack Greinke believes.
Either way, after Wednesday's 4-1 Interleague loss at Comerica Park, the Dodgers know at least this truth: It sure is good to be in the NL West.
They return to the friendly confines of the division Thursday night at home against the Padres with Clayton Kershaw on the mound and at least a share of first place, which will help erase the memory of 17 lousy innings against the AL Central leaders.
After scoring five runs in the first inning Tuesday night, the Dodgers' offense scored one run over the next 17 innings, and it came on the first Major League home run of No. 9 hitter Miguel Rojas.
Tigers starters Justin Verlander and Max Scherzer showed the Dodgers what it's like to face a pair of Cy Young winners, even when they aren't at their best. Meanwhile, Greinke delivered a solid outing (three runs in seven innings) after Hyun-Jin Ryu's meltdown the night before.
"We know if our starting pitchers, guys like Scherzer, go out there and pitch well, we know we can go out and match up with any pitcher that they put on the other side of the diamond," said Detroit manager Brad Ausmus.
For all of the buzz about pitching matchups, this series turned on offense. Greinke pointed out that the Tigers beat him without Miguel Cabrera (day off) and designated hitter Victor Martinez (sore back), scoring two runs in the first inning and making him work hard throughout.
"They're missing their two best hitters, but had some really good at-bats out there," said Greinke (11-5). "From the second, third, fourth, fifth, they were tough innings. I made good pitches, and they were doing everything they could with them. That whole lineup, it was a lot tougher game than usual."
Greinke, whose next potential outing could be Tuesday in the All-Star Game, said there are good teams and starting tandems besides the Tigers. He said the best starting twosome he's seen this year is Cincinnati's Johnny Cueto and Alfredo Simon, with honorable mention to Washington's Stephen Strasburg and Jordan Zimmermann.
For the media determined to link this July set and a future World Series rematch, Ellis came with the goods.
"An old coach told me there are two types of players -- humbled and about to be," he said. "We got humbled these two days. It shows we have a long way to go. I'd love to have another crack at those guys. It means we will have accomplished a lot. They showed us where the bar's at. That's a World Series-contending team over there -- as good a team as we've faced.
"We've done our part against teams we're supposed to beat. It seems like this team and the Giants are the measuring stick to see where we're really at and see if we match them."
Greinke allowed three runs but finished with a flourish, retiring the final nine batters he faced, five on strikeouts for a total of eight without a walk in seven innings.
Yasiel Puig was the early focal point for the Dodgers with a first-inning one-out triple. With the infield in, Hanley Ramirez sent a two-hopper that shortstop Eugenio Suarez backhanded on his knees. Puig didn't break for home or get back to third base, so Suarez flipped to third baseman Nick Castellanos for an easy tag of Puig, who came in standing up.
"It wasn't a contact play," said Mattingly. "He took one step forward and the guy made a nice play and obviously he was too far off. That's the one play he has to be aware of, and if the third baseman gets back. He was too far off."
Detroit strung consecutive singles by J.D. Martinez, Don Kelly and Castellanos for a fourth-inning run. Keeping the inning from turning worse was Rojas on the relay and Greinke on the stretch at first base, turning a double-play on Alex Avila.
Rojas was disappointed the fifth-inning home run came in a loss, but he again found himself overcome by emotion after another career milestone, this time in front of his two fellow Venezuelan idols: Cabrera and Detroit coach Omar Vizquel.
"I got a ball signed by Vizquel," said Rojas. "To be on the same field with my two idols, to hit my first home run with them here, it's really exciting and emotional. In one month so much has been going on - making the big leagues, starting, playing in a no-hitter, my first home run against a Cy Young winner. It's all happened so quick, I just want to keep myself on the ground."
Ken Gurnick is a reporter for MLB.com. This story was not subject to the approval of Major League Baseball or its clubs.