Home runs too much for Padres in series finale
Smith, Goebbert hit solo shots; San Diego allows five Rockies homers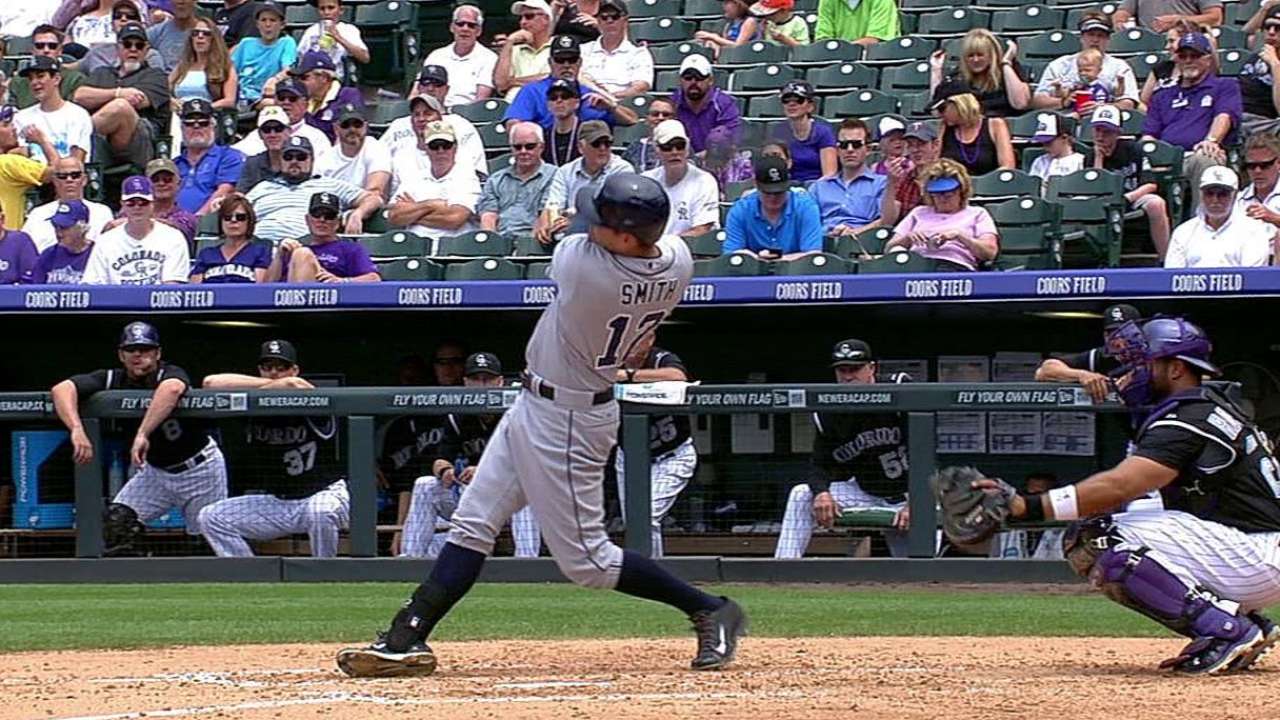 DENVER -- He had heard the stories and seen the highlights on television, but before Wednesday, Padres rookie Jake Goebbert had never truly experienced what the real Coors Field felt like, when the wind gusts, the fly balls sail and the scoreboard never seems to stop flashing and blinking.
"You hear about it your whole life," Goebbert said. "... So it was finally interesting to see it for yourself."
After two relatively tame games in this series, Goebbert got to witness what all the fuss is about -- as the Rockies hit five home runs on their way to a 6-3 victory over the Padres before a crowd of 26,212, who probably were a little more nonplussed at what they were seeing.
All told, there were seven home runs in the game.
The Rockies, who took two of three games from the Padres, got a tie-breaking two-run home run from Drew Stubbs off Joaquin Benoit (3-1) in the bottom of the eighth inning, and Troy Tulowitzki added the second of his two homers to seal the deal.
The Padres (41-50) hit two home runs themselves, including a solo home run by Goebbert in the fourth inning, his first big league home run. Seth Smith hit his team-leading 10th home run of the season in the fifth inning, but the Padres, who outhit the Rockies, 10-8, were 0-for-7 with runners in scoring position.
The Padres were 0-for-8 with runners in scoring position in Tuesday's 2-1 loss.
"We had some chances, but couldn't seal the deal," Goebbert said. "I know that I had an opportunity but couldn't do it."
Colorado jumped out to a quick 2-0 lead in the first inning as Charlie Blackmon started the inning with a home run. Tulowitzki added a home run later in the frame off Padres starter Eric Stults.
"He's a pain in the neck for us. I can see why he's an All-Star. He's really coming into his own," said San Diego manager Bud Black of Blackmon, who had two hits. He also had two hits and a home run Tuesday.
Wilin Rosario launched a home run off Stults in the bottom of the fourth inning to make it 3-1, but the Padres answered the next inning when Smith homered.
The Padres then tied the score later in the fifth inning when Chris Denorfia scored on a wild pitch by Rockies starting pitcher Jair Jurrjens.
Jurrjens allowed three runs on eight hits with two walks over 4 2/3 innings. Stults allowed three runs on five hits with no walks and five strikeouts in five innings.
"First inning, first batter, I fell behind, 1-0, and didn't want to fall behind, 2-0," Stults said. "[Blackmon is] pretty aggressive for a leadoff hitter. With Tulo, I was trying to throw my fastball off the plate. In that first inning, I was just sort of missing my spots with the fastball. My fastball location today was pretty average."
As for Benoit, he came into the game with the longest current streak of scoreless outings (19). But he allowed a single to Blackmon before Stubbs drove a ball the other way into the seats to right field.
"He pitches away a lot, so I was just looking for a fastball out over the plate. He missed with one outside the first pitch. The second one, I was able to get a good swing on it," Stubbs said.
San Diego relief pitcher Blaine Boyer retired all six hitters he faced, all right-handers. He has now retired 26 consecutive right-handed hitters this season, all since being promoted from Triple-A El Paso on June 15. He's also worked 13 1/3 scoreless innings in that stretch.
Corey Brock is a reporter for MLB.com. Keep track of @FollowThePadres on Twitter. This story was not subject to the approval of Major League Baseball or its clubs.