Solo shots carry Rox to series victory over Padres
Tulo's two homers among five blasts in offensive showcase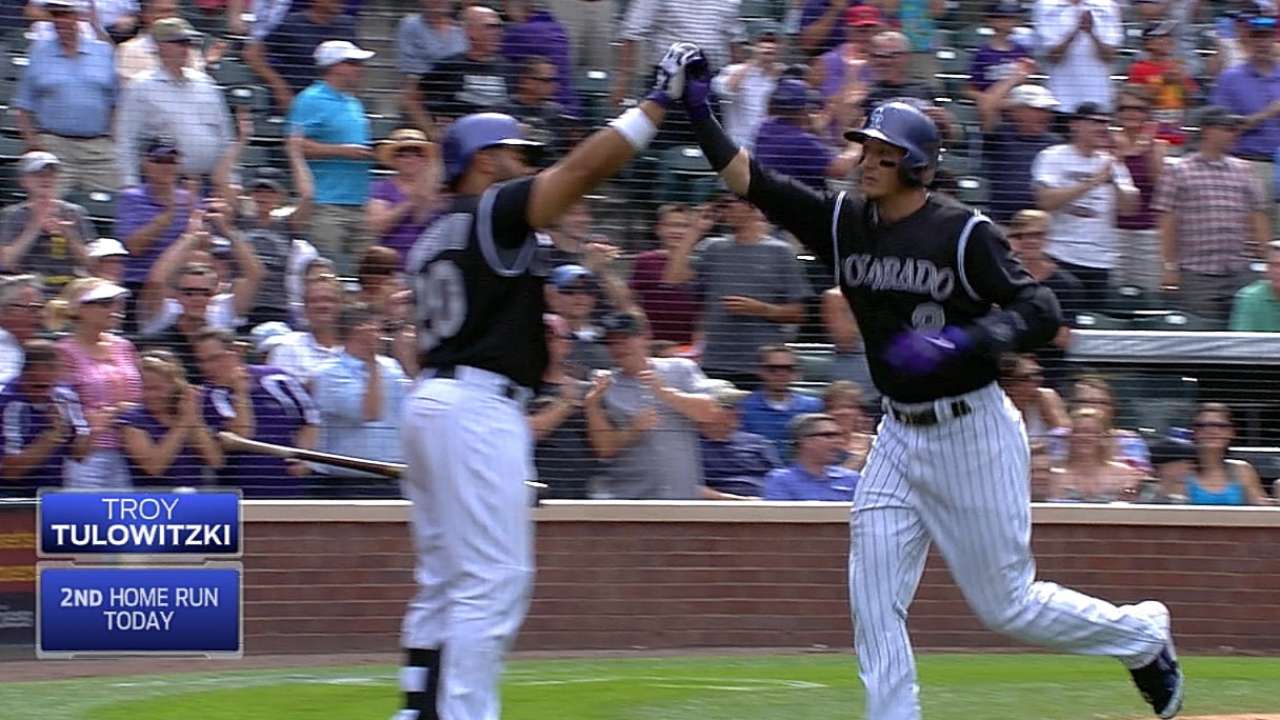 DENVER -- The Rockies secured their first home series victory since May 16-18 by belting five home runs, and two replay challenges went their way to help keep four runs off the board in Wednesday's 6-3 win over the Padres at Coors Field.
Troy Tulowitzki left the yard twice in four at-bats, and Wilin Rosario and Charlie Blackmon also chipped in solo shots. But it was Drew Stubbs' two-run homer in the eighth off Joaquin Benoit that gave the Rockies a 5-3 advantage and propelled them to their first series win since June 13-15 in San Francisco.
"I'm careful about saying what games are must-wins, but all things considered, we needed to win that series," manager Walt Weiss said. "Guys came out and did what they had to do to win games, and we won the game with the long ball, really."
The two RBIs off Stubbs' two-run shot were the first earned runs Benoit (3-1) has allowed in his last 20 appearances. Stubbs knew he hit it well, but best-case scenario, he was expecting a double off the out-of-town scoreboard with Blackmon on first.
"He missed with one outside the first pitch," Stubbs said. "The second one, I was able to get a good swing on it. ... I thought it might hit the top of the wall for an extra-base hit rather than a home run but, luckily it snuck out."
But Stubbs' heroics wouldn't have been possible if it weren't for two of Tuesday's three replays favoring the Rockies.
With Colorado up, 2-0, after Blackmon's and Tulowitzki's first-inning solo shots, Padres catcher Yasmani Grandal led off the fourth with what appeared to be a double off the center-field wall. But with DJ LeMahieu keeping his glove on Grandal all the way through an awkward slide, manager Walt Weiss elected to challenge.
The replay revealed LeMahieu's glove was still on Grandal when his momentum took him off the bag, and Grandal was ruled out. Two pitches later, Jake Goebbert deposited Jair Jurrjens' 88-mph fastball into the Rockies' bullpen past the right-field fence to cut Colorado's lead to 2-1.
"Even in Spring Training before this replay stuff started, we felt the play that would be most affected was the tag play," said Weiss. "We really preached to our infielders about making good, quick, strong tags and staying with the baserunner. ... DJ did a nice job staying with it."
An inning later, Grandal couldn't catch a break from replay yet again after an umpires' review of a potential home run. After Seth Smith answered Rosario's solo shot to left with a home run of his own, Grandal blasted a high foul ball down the right-field line with runners on the corners.
Grandal instantly pleaded it was fair, but the call stood after a replay showed the ball was to the right of the foul pole.
What could have potentially been a 5-3 ballgame in the Padres' favor remained at 3-2, and Jurrjens made Grandal his sixth strikeout victim of the game.
"It was a little scary," Jurrjens said of Grandal's foul ball. "That just went foul a little bit. But that's baseball. You lose by inches in a game of inches."
Jurrjens' good fortune ended there, though, with a wild pitch scoring Chris Denorfia from third during the next at-bat, tying the game at 3. He'd finish off that at-bat by forcing Goebbert to fly out to center before Weiss ended his day at 96 pitches through 4 2/3 innings.
Tommy Kahnle entered and began a superb run by the Rockies' bullpen by striking out Will Venable on a foul tip to end the inning. Kahnle, Rex Brothers and Boone Logan (2-1) combined for 3 1/3 innings of two-hit baseball in what Weiss called an "encouraging" performance before handing it off to closer LaTroy Hawkins for his 17th save.
"That was big by Tommy, starting us out," Weiss said. "The left-handers did a good job getting it to [Hawkins]. It's a good sign when our bullpen puts away a game like that."
For good measure, Tulowitzki followed up Stubbs' go-ahead blast with another solo shot in eighth for his second multi-home run game of the season. Afterwards, the Gillette Home Run Derby captain shared some hope for more success in the second half of the season with one series left to play before the All-Star Break.
"All I have to go off of is the two years I've been here in the playoffs, we've had to come from behind in the second half," Tulowitzki said. "That's something I'm trying to preach to these guys."
Cody Ulm is an associate reporter for MLB.com. This story was not subject to the approval of Major League Baseball or its clubs.