Reyes, Dickey get Blue Jays untracked
Shortstop 4-for-5 vs. Halos as Toronto snaps a five-game skid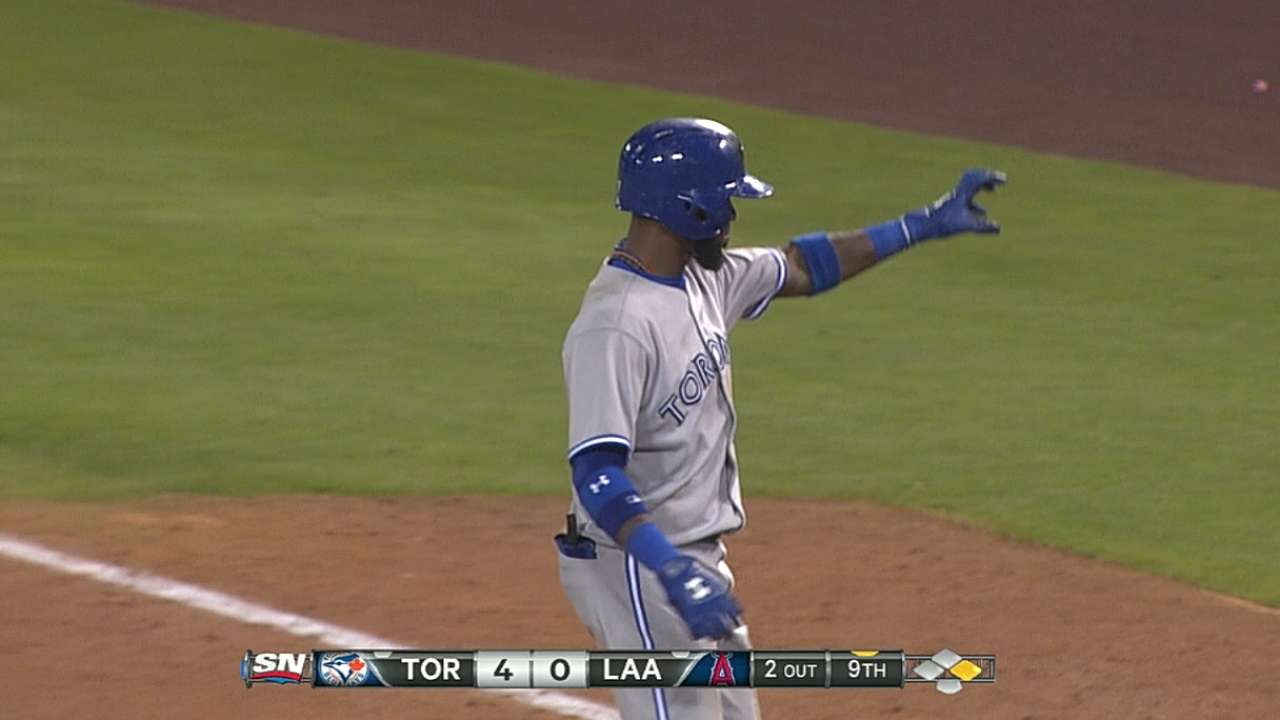 ANAHEIM -- The Blue Jays desperately needed someone to step up and spark an offense that has come unglued of late. That person ended up being Jose Reyes.
The veteran shortstop enjoyed one of his best games since coming over to the Blue Jays prior to the 2013 season. He made a couple of difficult plays in the field, but even more importantly Reyes helped the Blue Jays snap a woeful 0-for-25 skid with runners in scoring position.
Reyes broke out in a big way with a season-high four hits while R.A. Dickey tossed seven scoreless innings as the Blue Jays put an end to their five-game losing streak with a 4-0 victory over the Angels on Tuesday night.
"We desperately needed that, to tell you the truth," Blue Jays manager John Gibbons said. "It has been a tough road trip. We came off a couple of nice wins off Milwaukee and then pretty much been skunked on the road. A few more games until the All-Star break, we need a couple of wins."
The final result was exactly what the Blue Jays wanted, but the early innings started to tell an all-too-familiar story. Toronto had a series of golden opportunities to snap its offensive woes, but time and time again came away empty handed vs. left-hander Tyler Skaggs. The most frustrating part for the Blue Jays was that the painful moments were self-inflicted.
In the first inning, Steve Tolleson got thrown out while trying to steal third base with Jose Bautista at the plate. In the second, Darin Mastroianni couldn't get a bunt down with a pair of runners on and eventually grounded into a double play. In the third, Reyes was thrown out at first base after wandering too far off the bag following his single.
The tone was set, but Reyes reversed the trend in the fifth. He brought home the first run of the game with a single to right field that scored Munenori Kawasaki. It was the first time Toronto recorded a hit with runners in scoring position on a road trip that is now six games old.
Reyes went back to work in the seventh, sending an 0-1 offering from Skaggs over the wall in left field for his seventh home run of the season. The two-run shot gave the Blue Jays multiple runs in an inning for the first time since Edwin Encarnacion hit a walk-off homer vs. the Brewers on July 2.
"I have to say that the home run is just a thing that crushed me," Skaggs said. "It was tough. It was a battle back and forth. ... It was a changeup down. It was down. It cut a little bit, but he put a good swing on it. He's an All-Star shortstop; I would expect him to do something like that."
Reyes not only homered off a lefty for the first time this season, he also had his first multi-RBI game since May 22 vs. Boston and his second multi-hit game this month. Dioner Navarro added an RBI single in the eighth inning for the Blue Jays, who finished with 14 hits.
For at least one day, the win took a little bit of pressure off a lineup that has been pressing for quite some time. The same could be said of Reyes, who has been battling a shoulder injury that appears to have impacted his performance at the plate and in the field.
There were no signs of that during the game, and he certainly wasn't complaining about injuries afterward.
"We just stayed focused the whole game. We know we made some mistakes. Me, when I got a base hit to right field, trying to go to second for no reason there," Reyes said, refering to getting thrown out at first in the third inning after rounding the bag too far following his single to right field. "But we fought back and got the win, that's the most important thing. Other stuff happened in the game we don't remember. We remember the W."
Dickey kept the Blue Jays in it when they weren't scoring runs early, and he finished with another quality start. He retired 12 consecutive batters from the second inning to the sixth, faced two batters over the minimum through six innings and finished strong by stranding runners on the corners in his final frame.
The 39-year-old allowed four hits and one walk while striking out five. He threw 65 of his 96 pitches for strikes and allowed three runs or fewer for the sixth time in seven starts. It also was his second consecutive game without surrendering a home run after going through a stretch of eight starts with at least one.
"We knew it was going to be a very difficult road trip," Dickey said. "We lost Edwin [Encarnacion]; we're playing with a few less bullets than we usually have. If we can win out, all of a sudden you've split the road trip, and that's not bad. Everybody says, 'Is this a must win?' Every game is a must win. That's how we feel, if we want to stay in this."
Gregor Chisholm is a reporter for MLB.com. Read his blog, North of the Border, and follow him on Twitter @gregorMLB. This story was not subject to the approval of Major League Baseball or its clubs.