Phillies ride offensive outburst over Brewers
Brown hits solo homer, drives in three runs in Phillies' big night at plate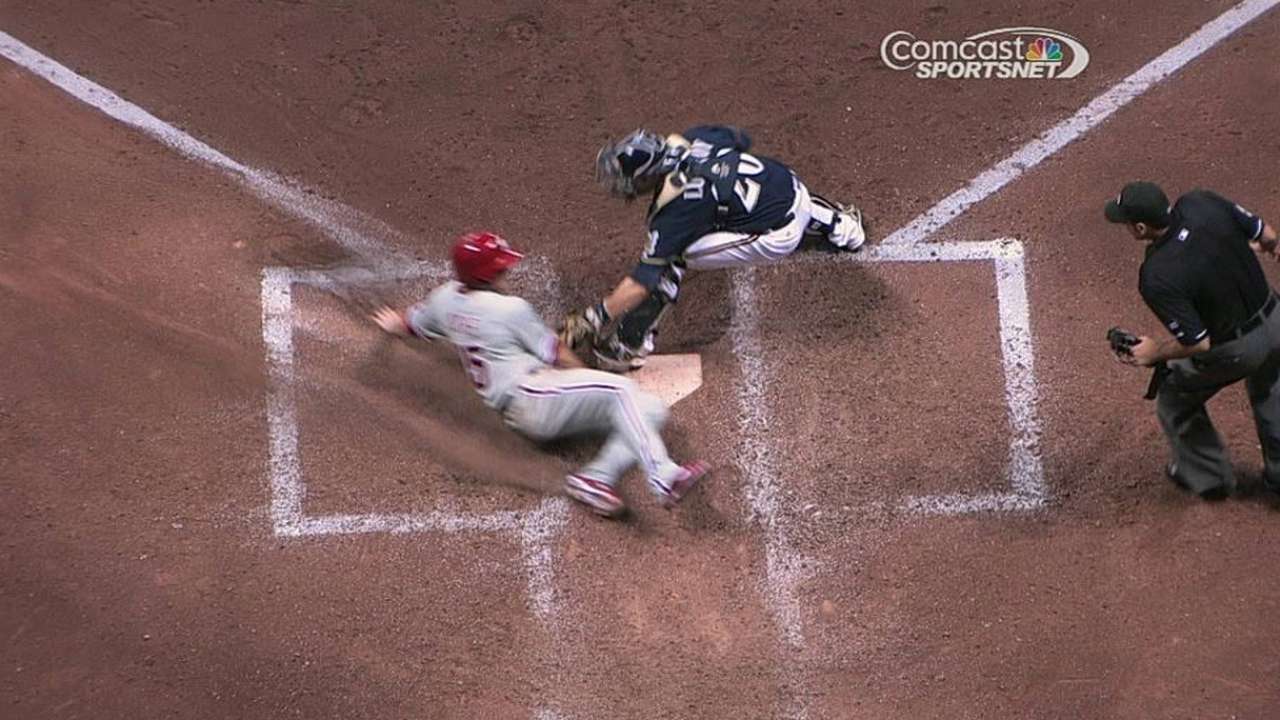 MILWAUKEE -- Ruben Amaro Jr. said Monday that changes are coming to the Phillies' offense.
A little more than 24 hours later, the Phillies had one of their best offensive performances of the season in a 9-7 victory over the Brewers at Miller Park. Tuesday's output might have been a coincidence following Amaro's comments and it almost certainly has come too late to change most minds in the Phillies' front office before the July 31 non-waiver Trade Deadline, but the Phillies have won the first two games of their four-game series against Milwaukee.
"I don't want to see nobody in this clubhouse go anywhere, but that's part of the business and if they think that's going to help the ball club, so be it," Phillies left fielder Domonic Brown said afterward. "But I don't want to see anybody go. Hopefully we can get some wins and prove we're a good ball club, which I think we are."
The Phillies' nine runs were the most since June 18, when they scored 10 in Atlanta.
Brown helped lead the way. He went 2-for-3 with one home run, one walk and three RBIs. He is hitting .348 (8-for-23) with one home run, four RBIs, two walks and an .878 OPS in seven games since June 28.
But Brown is one of the players who could see a cut in playing time if the Phillies make changes to the roster. Brown's .608 OPS is 155th out of 161 qualifying hitters in baseball, which has been a drag on the lineup. Amaro specifically mentioned Triple-A outfielders Darin Ruf and Grady Sizemore as possibilities. Both can play left field.
Sizemore can opt out of his Minor League contract over the All-Star break if he is not in the big leagues.
"That doesn't bother me at all," Brown said. "Grady's a heck of a player. If they want to make that move, or platoon me, or I don't know, send me down, I don't worry about that kind of stuff. I've been there, done that so it's not a big deal to me. I'll just leave it at that."
It took 63 minutes to play the first inning and a half Tuesday, which included 11 runs, 22 batters and 88 pitches.
The Phillies took a 1-0 lead in the top of the first when Chase Utley's sacrifice fly scored Ben Revere. But Kyle Kendrick's first-inning troubles resurfaced in a major way. He served up a one-out, solo home run in the bottom of the first to Scooter Gennett to tie the game, and the inning snowballed from there.
He loaded the bases for Lyle Overbay, who hit a grand slam to hand the Brewers a 5-1 lead. Kendrick has a 10.50 ERA (21 earned runs in 18 innings) in the first inning this season. He has a 3.34 ERA (36 earned runs in 97 innings) in every other inning he has pitched.
"Baseball is crazy, man," Kendrick said. "It wasn't my best, that's for sure."
But Brewers right-hander Wily Peralta followed Kendrick's lead and gave up a big inning of his own. He allowed an infield single to Marlon Byrd and Cody Asche followed with a single that ricocheted off third base. Brown walked to load the bases with no outs.
Koyie Hill reached on an infield single to score Byrd to make it 5-2. Revere ripped a one-out double to right-center field to score Brown and Hill to make it 5-4. Jimmy Rollins walked to reload the bases and Utley followed with a single to right to score two more runs to hand the Phillies a 6-5 lead.
It was the first time the Phillies had scored more than five runs since June 24.
Brown hit a solo homer to right in the third to make it 7-5. It was his sixth homer of the season and first since June 14.
"I feel good," Brown said. "I've felt good the whole year. I had some mechanical issues that I had to clean up. I think it's simple as that."
The Phillies scored two more runs in the fifth to take a 9-5 lead when Brown's single to right scored Howard and Asche. It was Brown's first multi-RBI game since June 14. Maybe he can keep the momentum going.
Or maybe a little competition can help.
"I motivate myself in different kinds of ways than that," Brown said. "I just think [Sizemore] being a good ball player, it's just a matter of time before he's up here. I don't know if it's going to be for me or whatever. Like I said, I get motivation from the everyday grind, doing things the right way, working hard, getting here early, not taking pitches off, things like that."
Todd Zolecki is a reporter for MLB.com. This story was not subject to the approval of Major League Baseball or its clubs.