Brewers' big first inning fades fast in loss to Phillies
Milwaukee's five-run first followed by Philadelphia's own five-run second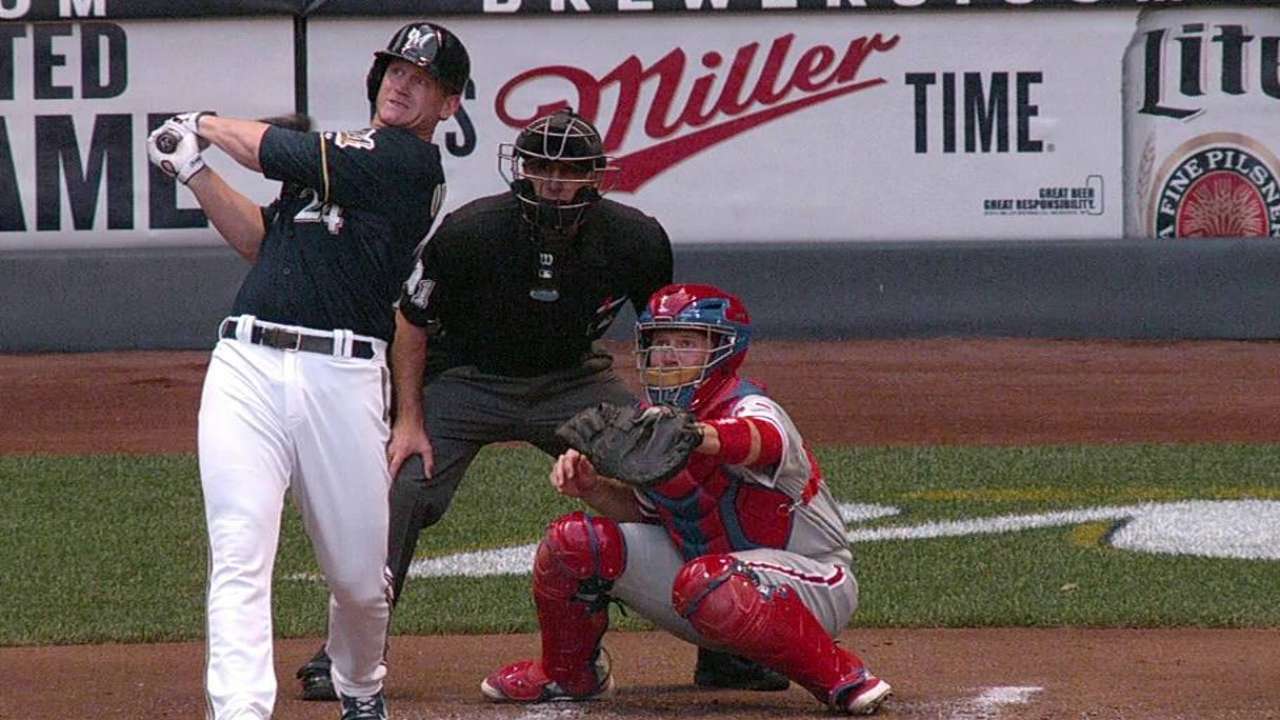 MILWAUKEE -- Two big Milwaukee homers in the first inning made it seem as though the slumping Brewers' bats had come alive again. But the Phillies dampened the mood quickly by spraying the ball all over the field, and their barrage of hits -- along with some bad luck -- sent the Brewers to a 9-7 loss Tuesday night, their seventh defeat in eight games.
The problem for much of Milwaukee's recent tough stretch is that the hitters haven't been able to back up the pitchers' solid efforts. On Tuesday, it was the opposite, as Wily Peralta couldn't hold on to a four-run first-inning lead and had the shortest outing of any non-injured Brewers starter this season, lasting only 4 2/3 innings and surrendering nine runs on eight hits.
Milwaukee's most recent loss was all the more frustrating given the five runs the team scored in the first inning. Offense has been the Brewers' main problem lately, and it looked like things had turned around for the night when Milwaukee's newly rearranged lineup came alive quickly. Scooter Gennett hit a solo shot and Lyle Overbay followed four batters later with a grand slam to claim a 5-1 lead.
But Peralta unraveled in the second inning, allowing five Phillies runs in a frame that included three infield hits and two walks. It was all the more puzzling given that Peralta's success is generally built around inducing ground balls, but Philadelphia was able to perfectly place three to start the rally.
Philadelphia tacked on a run on a Domonic Brown home run in the third and two runs in the fifth. Though Milwaukee outhit the Phillies 13 to 10 and got a two-run pinch-hit home run from Mark Reynolds in the sixth, they would trail the rest of the way. Brown and Chase Utley led the way for the Phillies with three RBIs each.
Prior to Tuesday, the Phillies had not scored more than five runs in 13 games.
"I think we're still in it [after the second], because we get the five runs in the first inning, which is great to see," manager Ron Roenicke said. "We still are in it, but then all of a sudden, they throw [four] zeroes in a row. We didn't keep after it. They kept after it. They kept getting guys on and giving us trouble."
The frustration continues to mount for the Brewers, who have had an average margin of defeat of 2.17 runs over their last six losses. The team did score seven runs, but all came via the home run. Milwaukee stranded eight runners Tuesday and was 1-for-7 with runners in scoring position, the lone hit being Overbay's grand slam. The team has left 14 men on base through the first two games of the series against Philadelphia.
"When you come through with five runs in the first inning, with the way we feel about our pitching staff, it should win a ballgame for you," Roenicke said. "It's real disappointing when you swing the bat well. I thought we had some great at-bats today."
Peralta, meanwhile, was left scratching his head after his worst outing of the season. The nine earned runs he allowed Tuesday were a season high, and the poor showing bumped his ERA from 3.35 to 3.95.
"It's frustrating that I wasn't able to keep the lead," Peralta said. "I mean, I give up one run [in the first], the team comes back right away, and then I give up a four-run lead. It's frustrating, especially the way we're playing lately. They gave me the lead early and I didn't do my job. I should've stopped it."
Though Peralta's velocity was typically high, Roenicke said he struggled with command and left some pitches up for Phillies hitters.
"He isn't on his game. We've got to get him back on his game and get him confident," Roenicke said. "We need this guy. He's a big part of that rotation. He's a guy that, with the stuff he has, he can get on a roll and win a lot of games in a row for you. He did it earlier this year, so hopefully we get him back and get him confident and get him back down in the zone. He's missing up a lot again."
The loss dropped the Brewers' lead in the National League Central to three games over St. Louis and 3 1/2 games over Cincinnati, who swept a doubleheader on Tuesday. The Brewers have five games left before the All-Star break to defend their spot in first place, including a three-game set with the Cardinals at Miller Park this weekend.
"It's a rut that we're in right now," Roenicke said. "I still feel that they're confident, and going back out there I think the energy was good going into the game, and we maintained that throughout the game. That's always something you worry about and I think we're doing a good job with that."
Caitlin Swieca is an associate reporter for MLB.com. This story was not subject to the approval of Major League Baseball or its clubs.