While not as common, there are some cool nicknames
'Scrabble,' 'Kung Fu Panda,' 'Big Papi,' 'The Freak,' among game's best monikers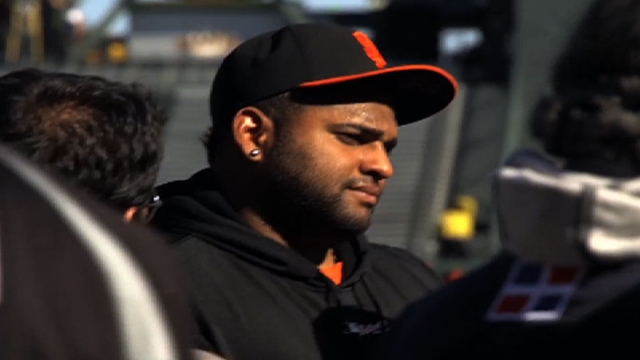 Baseball nicknames just aren't quite what they used to be. All-timers such as Bip (Roberts), Pokey (Reese), Cookie (Rojas), Bake (McBride) and Boog (Powell) have retired and moved out of our collective consciousness, replaced by a largely boring group of successors.
Take, for example, some of the most high-profile baseball nicknames today: "Miggy" for Miguel Cabrera, "Kersh" for Clayton Kershaw, "Tulo" for Troy Tulowitzki. Those aren't real nicknames -- those are lazy, simple abbreviations or slight embellishments that require minimal effort at best. In other words, nicklame.
While today's big leagues have has nothing on the Negro Leagues of the 1940s, which produced by far the best nicknames ever (including "Cool Papa," "Satchel," "Turkey" and "Double Duty," just to name a few), there are still some good ones out there, even ones that don't have to "stay in the clubhouse."
Here, in no particular order of preference, is a starting lineup of nine of the best nicknames in the big leagues, along with a pretty solid bench:
1. Marc "Scrabble" Rzepczynski, LHP, Indians
This one should be self-explanatory, and it has more of a ring to it than "Words With Friends." If you're wondering how many points you'd score if you spelled out the reliever's name, well, proper names are unusable in Scrabble, so it's time to move on to Best MLB nickname No. 2.
2. Pablo "Kung Fu Panda" Sandoval, 3B, Giants
Whenever anyone talks about Barry Zito's tenure with the Giants, the seven-year, $126 million contract is often one of the first things mentioned. That might not have been a highlight of general manager Brian Sabean's decorated stint with the club, but Zito did clutch up big-time in 2012 and help the team to its second World Series in three years. And another contribution of Zito's that goes unnoticed is this nickname for the team's lovable third baseman. In fact, it's documented on Sandoval's personal website: "On September 19, 2008, he received the nickname 'Kung Fu Panda' from teammate Barry Zito, after a play on where Sandoval scored a run against the Dodgers by jumping over the tag of catcher Danny Ardoin."
3. Scooter Gennett, 2B, Brewers
We think late Yankees legend and Hall of Fame shortstop Phil "Scooter" Rizzuto would approve of his moniker being transferred to this rising National League star infielder, who was born Ryan Joseph Gennett but decided to call himself Scooter because of Muppet Babies character Baby Scooter at the age of 5. There was a particular incident with the police related to this decision, as Scooter's mom, Tina, explains perfectly.
4. David "Big Papi" Ortiz, DH, Red Sox
Only a grizzly of a dude with a huge swing and a huger smile could pull off this nickname. Ever since Theo Epstein astutely plucked him out of the non-tender scrap heap in the winter of 2002, Ortiz, his monster bat and his authentic Dominican nickname have been as much of a part of Beantown lore as Fenway Pahhhhk itself. We'll see if Cleveland's recent Draft pick, Mike Papi, can inherit the nickname.
5. Coco Crisp, OF, A's
He was born Covelli Crisp, which is interesting enough and helps explain how that turned to "Coco." And while "Coco" might not be incredibly creative, Crisp scores tons of extra points simply because when you place this nickname in front of the last name Crisp, you've got, hands down, one of the great names in baseball history.
6. Casey "Hits" McGehee, 3B, Marlins
We just learned about this one and we're really glad we did. If you don't know where it comes from, we urge you to see the film "Anchorman" immediately.
7. Tim "The Freak" Lincecum, RHP, Giants
When you've won two National League Cy Young Awards and two World Series rings and thrown two no-hitters and you're maybe 5-foot-11 and maybe 170 pounds soaking wet and you're 30 years old and look like you're 15, even when you have that mustache, well, "The Freak" is a pretty awesome nickname. And a pretty awesome pitcher.
8. Yasiel "Wild Horse" Puig, OF, Dodgers
If Vin Scully gives you a nickname, you wear it proudly, and El Caballo Loco certainly has. His 2013 season was a tour de force of incredible power, speed and throwing from the outfield as well as the occasional lapse of judgment on the basepaths or on defense. The Cuban sensation has matured quite a bit in 2014, his first full season, and has understandably become less loco and more of a caballo for Los Dodgers. He's also become an All-Star.
9. Jose "Joey Bats" Bautista, OF, Blue Jays
Bautista got this nickname when he was an up-and-comer with the Pittsburgh Pirates, before his 54-homer breakout for the Jays in 2010, so it was prescient as well as perfect. In fact, he likes it so much that he made it part of his Twitter handle, @JoeyBats19. If that's not the ultimate in flattery in the year 2014, we don't know what is.
Bench: "King" Felix Hernandez; Mookie Betts; Mike "Millville Meteor" Trout; Matt "Big City" Adams; Michael "Dr. Smooth" Brantley; Jeff "Shark" Samardzija; Michael "The Beast" Morse; Chris "Crush" Davis; Khris "Khrush" Davis; Ben "Zorilla" Zobrist; Francisco "K-Rod" Rodriguez.
Doug Miller is a reporter for MLB.com. Follow him on Twitter @DougMillerMLB. This story was not subject to the approval of Major League Baseball or its clubs.