Rare rough start for Tanaka sends Yanks to defeat
Staked to an early lead, righty touched by Tribe for five runs, 10 hits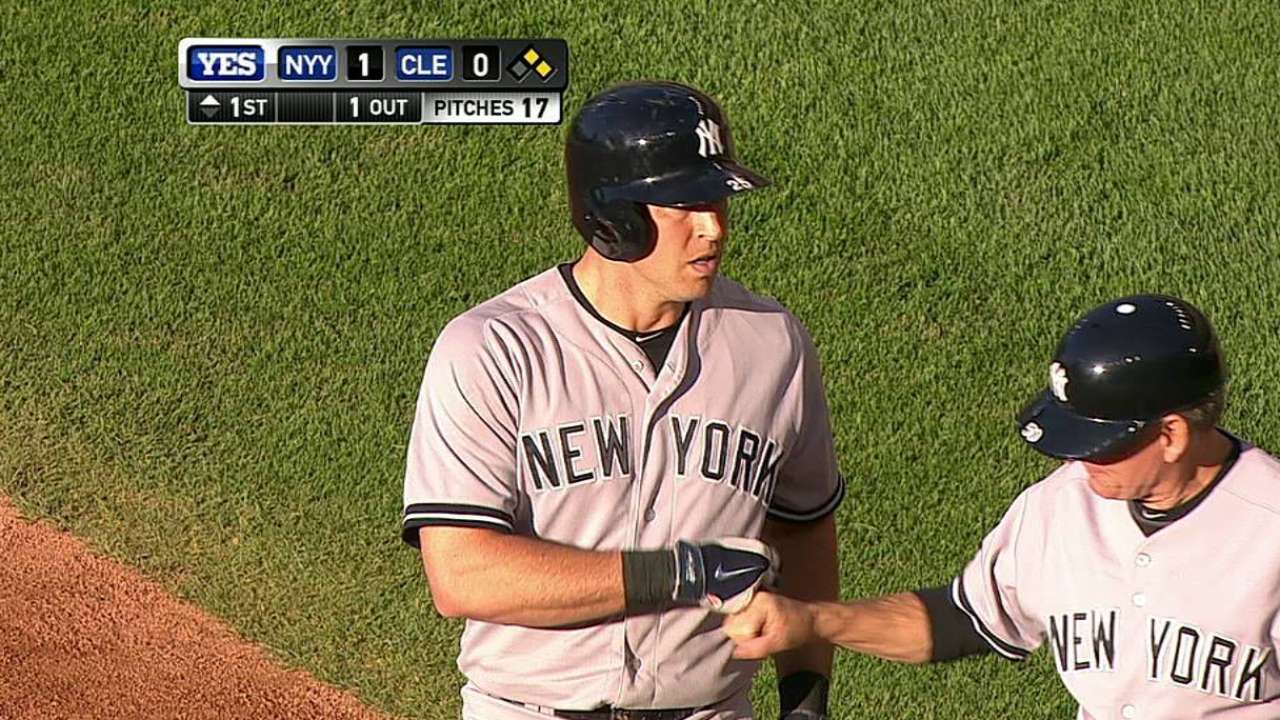 CLEVELAND -- The Yankees have grown to expect sharp outings from Masahiro Tanaka, and so off-nights like these are considered rarities, seeming to belong in the vault of rare games where Mariano Rivera's blown saves and Derek Jeter's mental lapses were stored.
Yet Tanaka has now lost three of his last four outings, and he isn't quite sure what to make of it. The right-hander was peppered for five earned runs and 10 hits, both career highs, as the Indians rallied to hand the Yankees a 5-3 defeat on Tuesday at Progressive Field.
"I think it had a lot to do with my command, the command of my pitches," Tanaka said through an interpreter. "I feel that a lot of my pitches were going right down the middle where it's actually pretty easy for the batters to hit."
Cleveland took the lead in the sixth on a two-run homer from Nick Swisher, who has not had much to celebrate during his frustrating year. Facing his former club offered a boost, as Swisher homered off Yanks pitching for the second consecutive night.
Michael Brantley stroked a pair of run-scoring doubles before adding a seventh-inning homer off Tanaka, who worked 6 2/3 innings. New York didn't produce a hit after the third inning as Tanaka was saddled with his fourth loss of the year.
"It happens. We know he's not going to be perfect," Yankees manager Joe Girardi said. "We understand that. We know how good he's been, but we know he's not going to be perfect."
The Yankees seemed to have Cleveland starter Trevor Bauer on the ropes early, producing three runs in the first two innings, but Bauer settled in and held New York to just four hits over seven innings.
"[Tanaka] is the kind of guy that when you give up a run or two, that could be the game with him on the mound," Bauer said.
Bryan Shaw pitched a scoreless eighth and Cody Allen set New York down in the ninth for his 10th save.
After beginning the year 11-1 with a 1.99 ERA, Tanaka is 1-3 with a 4.25 ERA in his last four outings -- three of which have come on the regular fifth day, something the Yankees tried to avoid earlier in the year whenever possible.
Catcher Brian McCann said that Tanaka's offspeed pitches and fastball were both up, which could hint at fatigue. Swisher said that he was fortunate that Tanaka hung a sixth-inning, two-strike slider, which he slugged just over the wall in right-center field.
"It's the first time we've ever seen him, so going up there your first couple at-bats, you're kind of feeling him out, seeing what he's got," Swisher said. "In that situation right there, from the scouting reports along with the video we've seen, he loves that split and slider."
Tanaka said that he does not believe the more regular workload has affected his stamina.
"I didn't feel that bad going out on the mound tonight," Tanaka said. "Actually, I did feel that my fastball was a bit better than last time."
Asked if the recent issues are related to his pitching or the adjustments that hitters have made, Tanaka replied, "Maybe both." Girardi said that it is still much too early for him to be worried.
"Every pitcher goes through that," Girardi said. "If it goes for a long time, I think you become concerned, but every pitcher goes through it."
New York scored twice in the first, as Mark Teixeira knocked home Brett Gardner with an RBI single. Gardner drew a leadoff walk to start the game, extending his consecutive on-base streak to a career-high 23 games.
Jacoby Ellsbury scored the second Yankees run on an error by catcher Yan Gomes, who air-mailed a throw into center field on a double steal. Gardner knocked home a run in the second inning with a groundout, but that was the last dent before the game got away from the Yanks.
"You have a pretty good feeling about [Tanaka] on the mound, definitely, but tonight wasn't the night," Girardi said. "You move on to the next start."
Bryan Hoch is a reporter for MLB.com. Follow him on Twitter @bryanhoch and read his MLBlog, Bombers Beat. This story was not subject to the approval of Major League Baseball or its clubs.