Tigers score 14 unanswered runs to rout Dodgers
Detroit racks up season-high 20 hits in rally from five-run deficit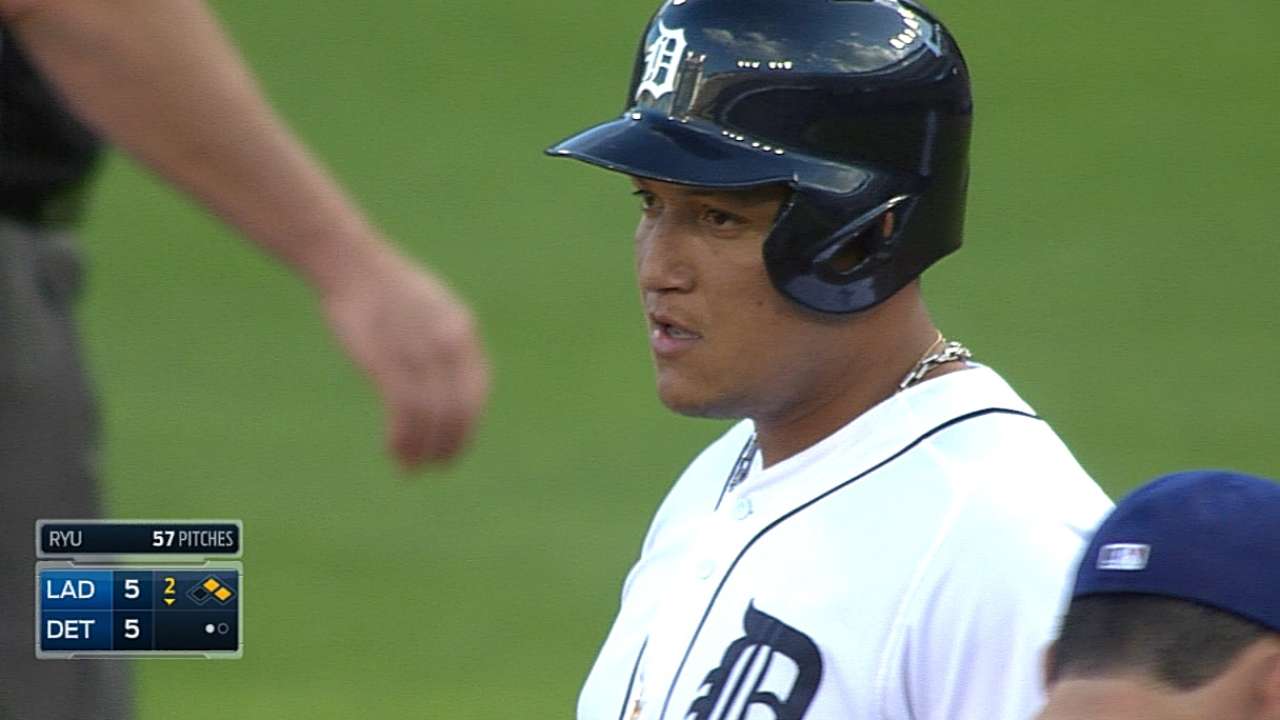 DETROIT -- The Tigers fell behind big on the first-inning arm of Justin Verlander. They clawed their way back in part on the arm of Dodgers outfielder Yasiel Puig.
It's not a reliable way to salvage a ballgame. But as Torii Hunter charged around first base on his second-inning shot off the right-field fence, he figured he had to do something.
"I think you've got to do something to try to make a spark," Hunter said after Detroit's 14-5 win at Comerica Park. "We were down, 5-0, so you have to create."
Hunter figured he'd have a close play at second, with a strong-armed highlight throw from Puig, and it took replay to overturn the initial out call. Hunter didn't figure they would be creating a two-touchdown rally.
"It's the old butterfly effect," manager Brad Ausmus said. "One little thing changes in a game, it can change the rest of the game -- or at least in this case, the rest of the inning."
The second inning was just the start.
Verlander faced a five-run deficit seven batters in, pushing his ERA for the season temporarily to 5.05, then retired the next 13 Dodgers in order. He had a tie game to begin the third, then a lead to protect when he took the mound for the fourth.
By the time Verlander (8-7) threw his 100th and final pitch to close out the sixth, the first inning seemed like yesteryear, rather than two hours earlier. And the sections of the crowd of 36,912 that had booed Verlander on his way off the mound in the first inning cheered him as he descended the dugout steps one last time in the sixth.
"You kind of walk a fine line there between pitch conservation and not giving up any more runs," Verlander said, "because you know if you give up any more runs, that's probably going to be the straw that breaks the camel's back."
Verlander's shutdown innings, retiring 13 batters in a row, kept bringing the Tigers back to the plate. Nothing the Dodgers tried seemed to keep them from hitting. All they could do was keep the ball in the park, as none of Detroit's season-high 20 hits left the yard.
"Give those guys credit," Dodgers manager Don Mattingly said. "They are punishing left-handed pitching right now."
They hit David Price relatively hard Sunday night after falling behind big, but mustered just two solo home runs and a sacrifice fly. Tuesday's meeting with Hyun-Jin Ryu was the opposite: No homers, but plenty of everything else.
"We swung the bats well against David Price the other night and hit a lot of balls hard, but didn't find many places to put them," Ausmus said. "Tonight was a little bit different. We hit some balls hard that found spots to go, and we hit some balls not so hard that found spots to go. It was a nice change of fortune for us."
The Tigers produced 14 runs in a game without a home run for just the fourth time in the last 50 years, the most recent time coming last Sept. 6 against the Royals. The last time they did it in a game trailing by five runs was Sept. 9, 1932, and they needed all 14 to beat the Yankees that day, pulling out a 14-13 win in 14 innings.
This time, the Tigers' 14 runs were unanswered.
After Hunter's leadoff double, seven of Detroit's next eight batters singled, plating five runs. Once Rajai Davis singled in Nick Castellanos in the third inning, the Tigers were up and Ryu (9-5) was out. He surrendered seven runs on 10 hits over 2 1/3 innings for his second straight loss.
"I let my team down after they scored five runs. I had a cushion and didn't capitalize," Ryu said. "Nothing was working. My command was not there. I'd miss by a foot or right down the middle, nothing on the edges. I learned again that with Major League hitters, you can't pitch in the middle."
Six consecutive Tigers reached base safely in the fourth inning off Jamey Wright, including a bases-loaded walk to Alex Avila and RBI singles from Castellanos and Eugenio Suarez.
Five Tigers had three hits, including Miguel Cabrera and J.D. Martinez. Both of them plated add-on runs with RBI triples -- Martinez's first three-bagger since 2012, Cabrera's second since 2010. Davis drove in three runs with three singles and a sacrifice fly.
The bottom five hitters in the Tigers lineup -- Hunter, Castellanos, Avila, Suarez and Davis -- combined to go 12-for-20 with nine runs and nine RBIs.
Verlander, meanwhile, improved to 23-2 for his career in Interleague Play, the best such record in the Majors. He won his second consecutive start and remained unbeaten since June 16.
Jason Beck is a reporter for MLB.com. Read Beck's Blog and follow him on Twitter @beckjason. This story was not subject to the approval of Major League Baseball or its clubs.