Ryu unable to hold lead as Dodgers routed in Detroit
Five-run advantage in first disappears as Tigers score 14 unanswered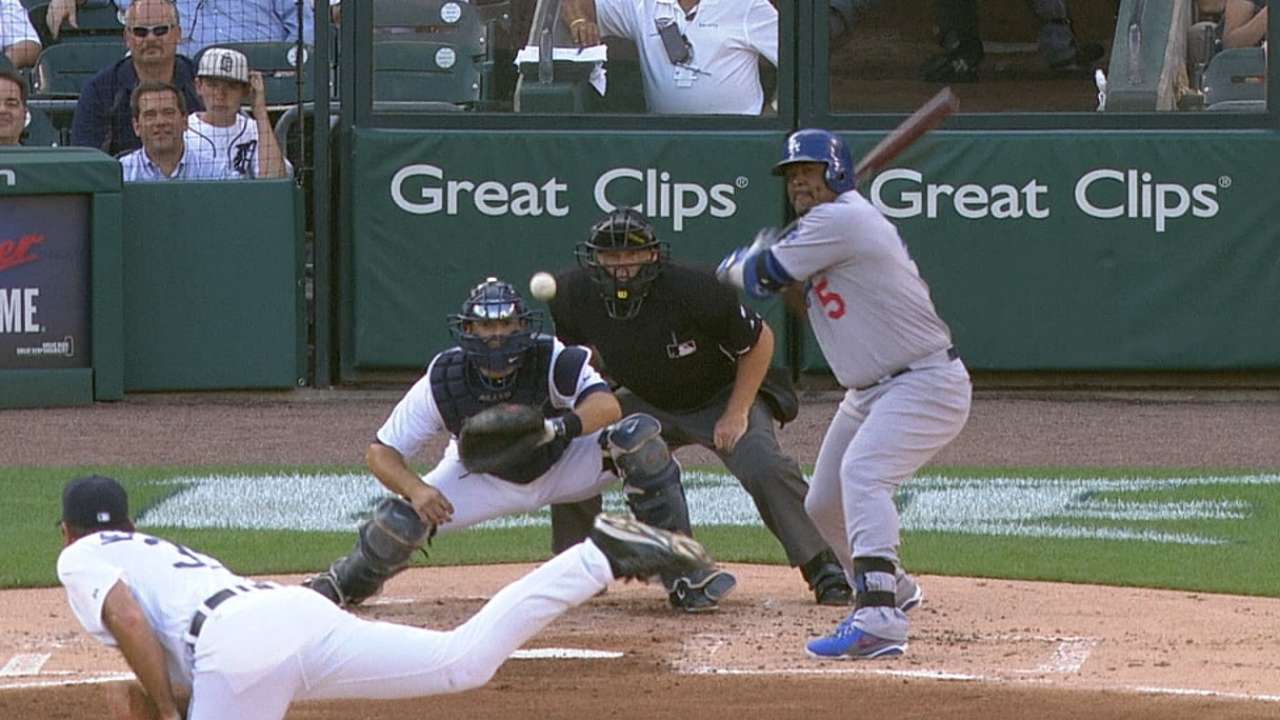 DETROIT -- First, Josh Beckett went on the disabled list Tuesday, then Hyun-Jin Ryu coughed up a five-run lead and the Dodgers spiraled into a 14-5 Interleague rout by the Tigers.
Ryu said he was fine, physically, but he wasn't the only problem. The bullpen allowed seven runs on 10 hits. The offense checked out after the first inning. Flyballs weren't caught, bases weren't covered, cutoff men were missed and manager Don Mattingly was ejected by home-plate umpire Paul Schrieber.
"That was a weird one," said Mattingly after his second ejection of the season.
With Dan Haren's recent inconsistency and uncertainty over Beckett's future, the drumbeat of Dodgers trade rumors will grow louder as the starting rotation that lifted them into first place is showing cracks behind All-Stars Clayton Kershaw and Zack Greinke.
Ryu (9-5) was charged with seven runs on 10 hits, two walks (two strikeouts) and a wild pitch in 2 1/3 innings, his shortest start since the two-inning home opener against the Giants. Ryu followed that disaster with back-to-back starts of seven scoreless innings.
The eight hits he allowed in a five-run second inning tied a Los Angeles record held by Johnny Podres, Tommy John and Ismael Valdes. Midway through that inning, Mattingly was bothered by Ryu's body language and went to the mound. Speaking through a translator, Mattingly said he told Ryu not to let Schrieber's strike zone distract him. Ryu said he was frustrated, but not with the strike zone.
"It wasn't so much strikes and balls, it was actually the amount of hits I gave up," said Ryu. "I let my team down after they scored five runs. I had a cushion and didn't capitalize. Nothing was working. My command was not there. I'd miss by a foot or right down the middle, nothing on the edges. I learned again that with Major League hitters, you can't pitch in the middle."
Mattingly finally had seen enough when the third inning started just like the second. Jamey Wright came on and contained the damage before starting it all over again in the fourth when he was unable to retire any of the six batters he faced.
Many of the hits off Ryu came off changeups, which he said was no surprise because hitters didn't need to respect the fastball, which picked up speed after Mattingly's mound visit.
The Dodgers' defense turned three doubleplays -- one requiring a spectacular flip from Dee Gordon -- or the margin could have been even worse.
Although the game ended with 14 unanswered Tigers runs, it started out like a clear threat to Detroit starter Justin Verlander's 11-decision Interleague Play win streak with a five-run first inning. Adrian Gonzalez doubled in two runs, Matt Kemp singled home Gonzalez and Juan Uribe homered on an 0-2 pitch.
The game seemed to turn at the start of bottom of the second, when Torii Hunter tested Yasiel Puig's arm with the Tigers trailing by five runs. Initially, he was called out trying to stretch a single to a double, but on a challenge from Tigers manager Brad Ausmus, the call by second-base umpire Will Little was overturned.
"We were talking about that," said Ausmus. "That's how replays change the game. It probably changes the entire inning, really -- to have one out and nobody on, as opposed to a runner on second and no outs. It just goes to show you the old butterfly effect -- one little thing changes in a game, it can change the rest of the game, or at least in this case the rest of the inning."
"I don't think it was a risk," said Hunter. "I think you've got to do something to try to make a spark. We were down, 5-0, so you have to create. That's definitely not a risk at all. Challenge him. You've got to throw a strike. You can have the best arm in the world. You have to throw a strike. I just challenged him. That's what you have to do sometimes.
"Puig doesn't surprise me. We all know he has a 65-super arm. I just tried to test him, tried to get something going. I was safe, but he scared me. I told him I wasn't going to run on him anymore. He [wagged] the finger and I was like, 'I'm not doing that anymore.' So Nick Castellanos got the base hit and I had to kind of pause to see if [Puig] was going to catch it. I was going to try to go home and I turned and said, 'No.' He said, 'You'd better not.' He's a good player, man. Strong arm. Loves to throw. You can tell."
Castellanos flared a single to right and Avila singled home Hunter. Eugenio Suarez singled to load the bases and Rajai Davis brought home Castellanos with an infield single, Rojas saving a second run with a diving stop up the middle. But a wild pitch by Ryu brought that run home. One out later, Ian Kinsler singled in the fourth run of the inning and Miguel Cabrera singled to tie it at 5-5.
Detroit took the lead and chased Ryu with a pair of runs in the third inning before chasing Wright with four more runs in the fourth.
Ken Gurnick is a reporter for MLB.com. This story was not subject to the approval of Major League Baseball or its clubs.