Teheran off his game, chased early in loss to Mets
All-Star allows five runs, 11 hits over 3 1/3, while offense scuffles early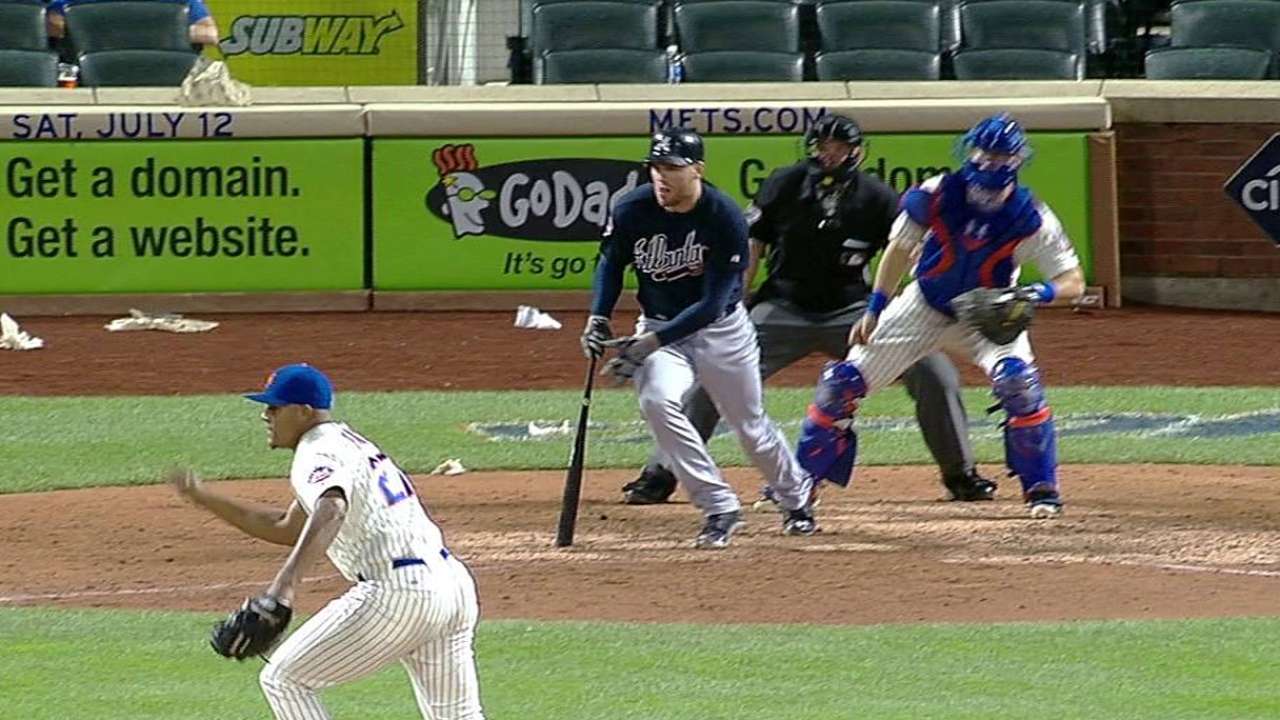 NEW YORK -- Julio Teheran has been riding a wave of excitement since Sunday, when he learned he had gained his first All-Star selection. The young Braves pitcher spent the past couple of days with his mother, who flew from their native Colombia to enjoy this special time with her son.
But Teheran's bubble was burst as he was soundly humbled by the performance he provided in Tuesday night's 8-3 loss to the Mets at Citi Field. Along with watching their ace match the shortest outing of his career, the Braves also saw their offense subdued by yet another starter who would not be described as "top-of-the-rotation caliber."
"It was one of those nights that everybody has," Teheran said. "Today was mine. But I felt good. I felt strong. I feel like everything I threw, they just were swinging. When you have those kinds of games, you just have to battle as far as you can. That's what I did today."
Teheran surrendered a career-high 11 hits and five earned runs while matching the career-short 3 1/3-innings performance he produced when he struggled to grip the baseball in the San Francisco air May 14. This outing didn't resemble the one he had just six days earlier, when he had limited the Mets to one run over seven innings.
The Mets, who totaled 10 hits the first two times through the batting order, might have been more aggressive while facing Teheran for the second time in less than a week. But New York manager Terry Collins said this was just a product of a pitcher that was off his mark.
"[Teheran] just wasn't sharp, first of all," Collins said. "The other day, he made pitch after pitch with his offspeed stuff, really kept us off balance, used his fastball effectively. He'd get behind in the count and drop those breaking balls over last week, and in hitters counts, he pitched outstanding."
The Braves could seemingly do no wrong as recently as Saturday, when they extended their season-best winning streak to nine games. But while losing each of the next three games, they have again created reason to question whether they are capable of defending their Nationals League East title. They are tied for first place with the Nationals, who were rained out Tuesday night.
As Teheran struggled, Mets rookie starter Jacob deGrom cruised through seven scoreless innings and matched a career-high 11 strikeouts. The Braves have totaled just one run against the past three starters -- Wade Miley, Daisuke Matsuzaka and deGrom -- they have faced. All six runs they've tallied during the first two games of this series have been scored after the seventh inning.
Following the lead of Matsuzaka, who also completed seven scoreless Monday, deGrom produced the most efficient of his 11 career starts. But the Braves wonder if things might have been different had they taken advantage of putting a runner on third base with one out in both of the first two innings. Jason Heyward singled to start the second and then stole a pair of bases. But he was left stranded as Chris Johnson, Tommy La Stella and Christian Bethancourt all went down on strikes.
"We had him on the ropes a couple times early and I think if you score runs, maybe it's a little different game," Braves manager Fredi Gonzalez said. "We didn't. Those pitchers, you let them wiggle out and gain more confidence."
This outing likely will not have much of a lingering effect on Teheran, who had allowed as many as five earned runs in just four of the previous 48 starts he made dating back to the start of the 2013 season. But it might have reminded him of how quickly even the game's best can be humbled.
"Everything is fine physically, I think just some of those balls came back over the plate on him," Gonzalez said. "It was just one of those starts. The young man, he is bound to have a bad one. When you go out there 30 to 35 times, you're bound to have a bad one and today was one of those bad ones."
When Curtis Granderson opened the bottom of the first with the first home run Teheran had allowed in a span of 27 innings, the Braves saw the first sign that this would not be a good night for their All-Star hurler, who had allowed three earned runs or fewer in 16 of his previous 18 starts this year. Things got worse in the second inning as the Mets tallied five hits, including four straight with two outs.
"I didn't know what to adjust because I had my best stuff," Teheran said. "I was just trying to battle and find a way to get them out. They just were swinging at everything I was throwing in the zone and even out of the zone."
Mark Bowman is a reporter for MLB.com. This story was not subject to the approval of Major League Baseball or its clubs.