Ross solid but Padres bats quiet in Colorado
All-Star starter fans six in six innings; Denorfia goes 3-for-5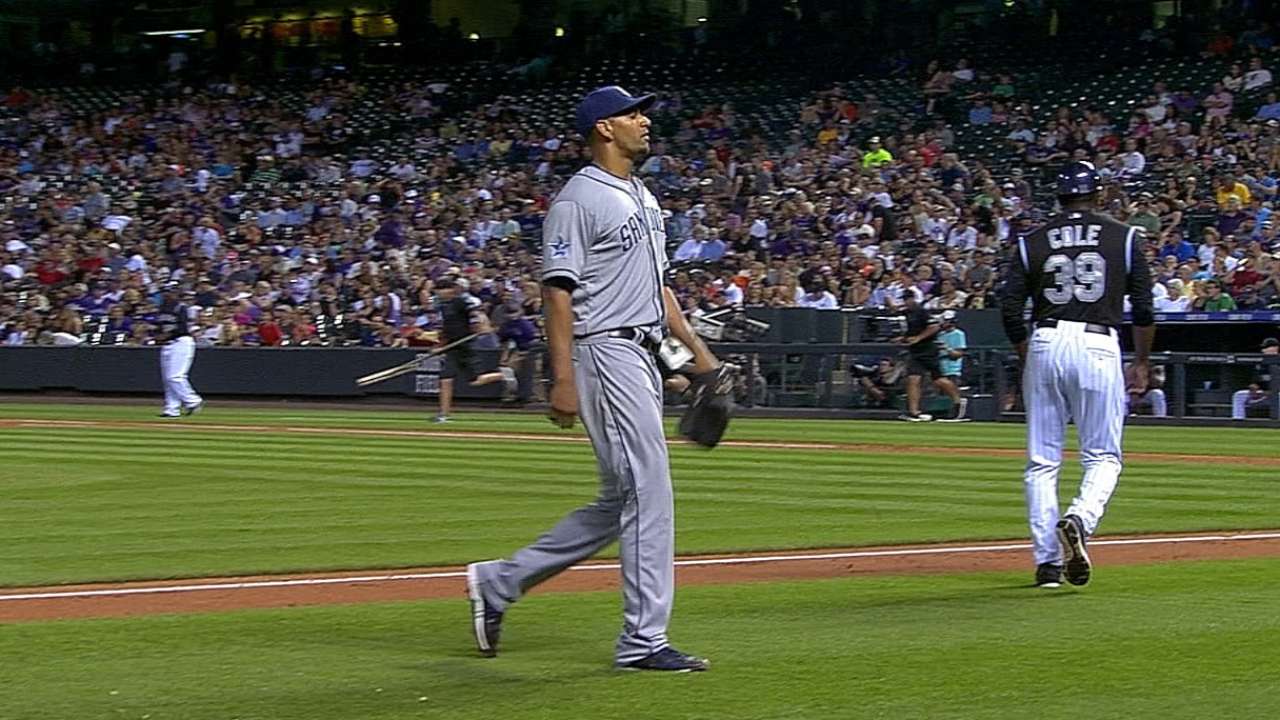 DENVER -- If there is anything poetically perfect about playing in Coors Field, it's that a misguided pitch early in a game can often times be forgiven -- if not totally forgotten -- by the time the end of the ninth inning rolls around.
Not on Tuesday, though.
The two-run home run that Padres starting pitcher Tyson Ross surrendered to Charlie Blackmon in the third inning actually stood up during a very atypical Coors Field game, as the Rockies hung on for a 2-1 victory over the Padres before a crowd of 27,601.
Ross, who on Sunday was selected to his first National League All-Star team, allowed two runs over six innings with six strikeouts. Ross extended his streak of innings without a walk to 18. Yet for everything that he did well Tuesday, the one pitch to Blackmon did him in.
One pitch, yet not a bad one at that.
"It was a damn good pitch," said Padres manager Bud Black of the 2-2 slider Ross tried to bury down and in to the left-handed hitting Blackmon. "Down and in is sort of his [Blackmon's] sweet spot, but he dug it out and sort of elevated it."
Ross (7-9) didn't sound too remorseful over the pitch selection -- his slider rates as one of the best in the game -- or the location. He probably could have done without the end game, though.
"He put a good swing on it," Ross said. "He's an All-Star. You've got to tip your cap to him. There's times when you throw a pitch down the middle and he pops it up. Things tend to even out."
Blackmon, like Ross, agreed that it wasn't a bad pitch.
"I did have to kind of come out of my swing to get to it a little bit," Blackmon said. "It wasn't my best swing but I was able to stay on it and get the barrel on it. That happened to be just enough to get it out."
The Padres had seven hits -- three by Chris Denorfia -- but were 0-for-8 with runners in scoring position.
Colorado left-hander Franklin Morales and four relievers combined for nine strikeouts, with Morales allowing just one run over 5 2/3 innings. The lone mistake he made was hanging a pitch that catcher Rene Rivera lined into the left-field seats in the sixth inning for his sixth home run.
"We hit some balls on the nose and some balls right on the screws right at guys. He always seemed to get an out when he needed to," Black said of Morales.
That's not to say the Padres didn't have chances. They had a runner on in the sixth inning when Tommy Medica grounded into a double play right before the home run by Rivera.
The Padres left two baserunners on in the seventh inning, one in the eighth and, in the ninth, pinch-hitter Seth Smith doubled with two outs before Denorfia flied out to right field to end the game.
As for Ross, who will start Sunday against the Dodgers and thus won't pitch in the All-Star Game, his ERA remained at 2.93 and he again pitched well enough to win. This outing marked the eighth time this season the Padres have scored one or fewer runs for him in a start.
All he can control, Ross often says, is what happens on the mound. Ever since a seven-walk game June 16 against the Mariners, he's had two walks in his last 29 innings, none in the last 18.
"It's just the confidence that I have in my fastball," Ross said. "… Before, a lot of times I was falling behind guys. I think now I'm in the strike zone a lot more."
Corey Brock is a reporter for MLB.com. Keep track of @FollowThePadres on Twitter. This story was not subject to the approval of Major League Baseball or its clubs.