Blackmon's blast, Morales' arm lift Rockies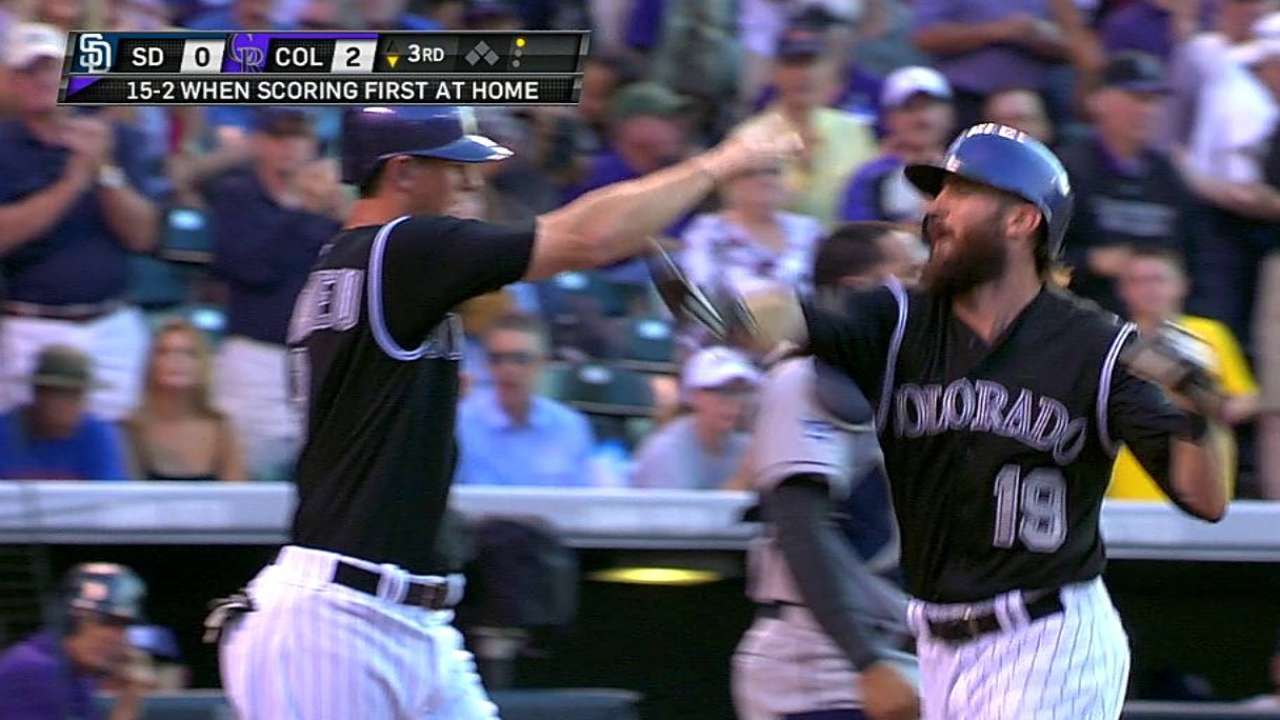 DENVER -- Charlie Blackmon found the life in his bat that had been missing lately, and the Rockies found the elusive path to victory Tuesday night.
Blackmon's two-run homer in the third inning stood as the Rockies won for the fourth time in the last 22 games -- the first close, low-scoring victory in more than a month -- 2-1 over the Padres at Coors Field in front of 27,601.
The Rockies, who leapfrogged the D-backs and escaped last place in the National League West, improved to 2-4 in a 10-game homestand going into the All-Star break as they try to build hope for the second half after a stunning period of injuries and poor execution.
But with slugging outfielder Carlos Gonzalez close to his return and the news on the starting-pitching front gradually becoming more positive, the Rockies hope to make up ground against the Padres and Twins -- two sub-.500 teams -- and hope for a second-half turnaround.
"At this point in the season, this is where things start to settle," Blackmon said. "You can't give anything away."
The NL named Blackmon a reserve for next Tuesday's 85th All-Star Game in Minneapolis, but his stroke had not been stellar for a while. He entered the game 2-for-14 for the homestand, and 8-for-46 (.174) in the 13 games since his last multi-hit contest.
But Blackmon doubled off fellow first-time All-Star Tyson Ross to open the first inning. He stayed put, however. But in the third, Blackmon dug for Ross' 2-2 slider and launched the ball over the scoreboard in right field for a 2-0 lead.
"It wasn't a bad pitch at all," Rockies manager Walt Weiss said. "I couldn't tell if it was a slider or a changeup but Ross has a real good slider. That ball might have bounced if he took it. But he reached out and took it off the ground and hit it out of the ballpark with a nice swing."
Ross said, "He put a good swing on it. He's an All-Star … You've got to tip your cap to him."
Blackmon has been on again, off again since his sizzling April, but he leads Major League leadoff men in home runs with 13 and RBIs with 46 (he has three others that didn't come in a leadoff capacity).
"I got into some bad habits that kept me from being as simple and direct to the ball as I could be, so I've just simplified things a little bit lately," said Blackmon, whose 2-for-4 night left his batting average at .291.
It was enough for lefty Franklin Morales, who was making his 13th start of the season, but his second start in his latest fill-in assignment as the Rockies deal with injuries and inconsistent youth in the rotation.
Morales went 5 2/3 innings, struck out six and held the Padres to four hits.
One of the hits was the sixth homer of the season for Rene Rivera, the final batter Morales faced.
Morales has given up 18 home runs in 87 1/3 innings, but by forcing a double-play grounder from Tommy Medica before Rivera came to the plate he maintained the lead. Morales said All-Star shortstop Troy Tulowitzki helped him when he was on fumes.
"I was sweating a lot and I was feeling a little tired [in the sixth]," said Morales, who finished with 98 pitches and, because he's spent considerable time in the bullpen, didn't have anything left. "[I told Tulowitzki] I feel a little tired and he told me, 'Calm down a little bit and make your pitches.'"
Morales left 3 1/3 innings to a Rockies bullpen that has been prone to making the key mistake in such low-scoring games. Of the Rockies' last three wins, they scored 10 runs twice and eight runs once. Just one of those was a close game -- 8-7 over the Dodgers on Saturday afternoon.
This time, Brooks Brown fanned the only batter he faced, Rex Brothers pitched around two hits in the seventh and Adam Ottavino kept the eighth scoreless despite a hit and a wild pitch before LaTroy Hawkins earned his 16th save in 17 well-spaced opportunities.
"Pitching is the main thing that'll get us out of this rut, and a night like tonight just gives you confidence you can do it all the time," Ottavino said.
The game ended with a scare. Left fielder Corey Dickerson's left wrist bent awkwardly when he dove for Seth Smith's two-out single off Hawkins in the ninth. With hand and wrist injuries being so central to the Rockies' problems this season, a here-we-go-again feeling overtook Coors Field. But Dickerson escaped serious injury.
"I pulled it back really good," Dickerson said. "Luckily I kept sliding and didn't stop. If it would have stuck it could have been bad."
Thomas Harding is a reporter for MLB.com. Read his blog, Hardball in the Rockies, and follow him on Twitter @harding_at_mlb. This story was not subject to the approval of Major League Baseball or its clubs.