Nuno's strong debut spoiled when Reed blows save
Starter tosses seven scoreless and scores the D-backs' only run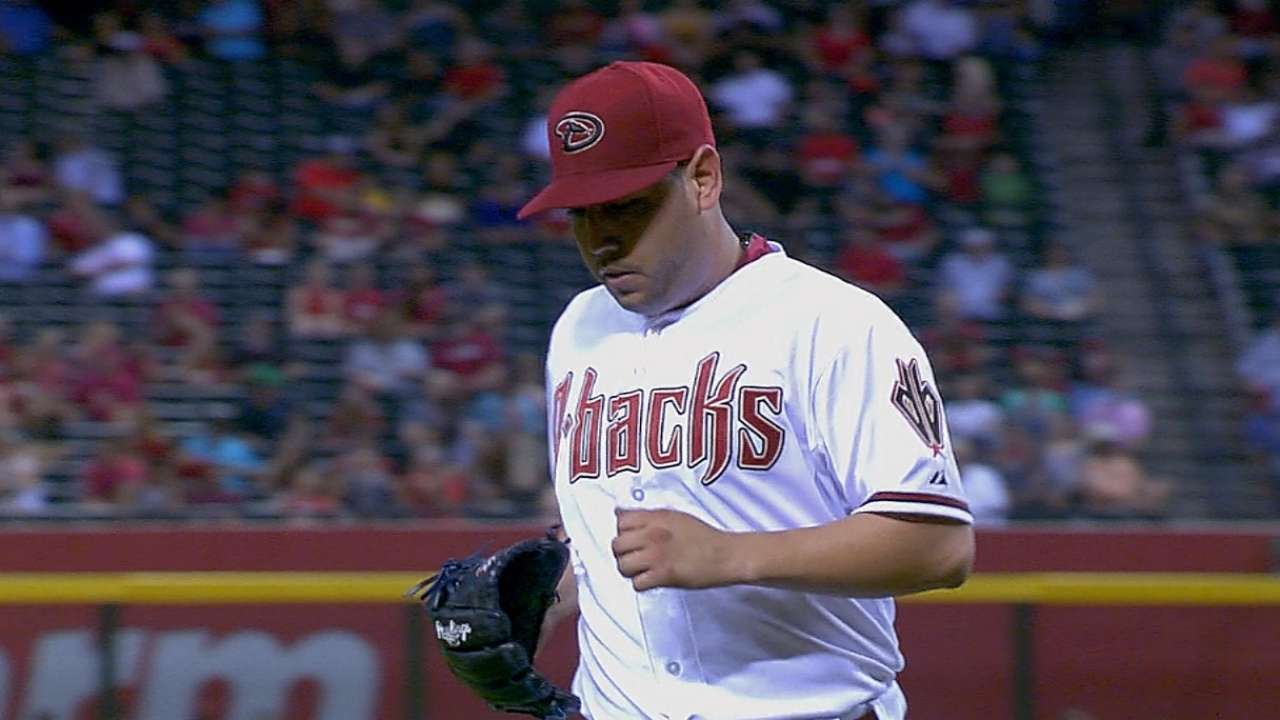 PHOENIX -- Vidal Nuno certainly made a good first impression on his new teammates, but unfortunately for the D-backs, Addison Reed was unable to close it out.
The left-hander tossed seven scoreless innings and the D-backs held a lead before Marcell Ozuna's two-out two-run homer in the ninth led the Marlins to a 2-1 win Tuesday night at Chase Field.
"He changed speeds," Marlins manager Mike Redmond said. "He threw some good changeups, mixed the ball in and out. He did a good job, seven innings."
Nuno was acquired by the D-backs on Sunday from the Yankees in a deal that sent veteran Brandon McCarthy and cash to New York.
Nuno was in command right from the get-go and he allowed just three hits and one walk to go along with a career-high seven strikeouts while throwing 91 pitches.
"He was great," D-backs manager Kirk Gibson said of Nuno. "Threw all his pitches, moved the ball around, had great command of the strike zone, knew how to use his pitches. He gave us seven great innings. He did his job for sure."
Nuno knows that there were some that said the D-backs did not get much back for McCarthy, but that is just added fuel for him.
"That's what people think," Nuno said. "But in my heart I work hard and I grind it out every day so I'm ready every five days."
Nuno reported to the D-backs on Monday and spent the game talking with backup catcher Tuffy Gosewisch. That was one of the reasons that Gibson decided to play Gosewisch on Tuesday night.
"It's always good to communicate and he's trying to learn how I pitch and it worked out," Nuno said. "I loved how he called the game today. I didn't shake him once."
The Marlins' Brad Hand was almost as effective as Nuno, but his defense let him down, committing three errors on the night including a crucial one to start the fifth.
That was when Nuno hit a grounder to third that Casey McGehee couldn't handle cleanly.
Ender Inciarte then followed with a bunt single to move Nuno to second and he scored when Aaron Hill then singled to left.
That unearned run was the only one allowed by Hand in his 6 1/3 innings of work as the D-backs were 1-for-12 with runners in scoring position and they left 11 on base.
"They made three errors, we didn't capitalize on it," Gibson said. "So it makes everything else look magnified. We had a lot of great opportunities and we didn't capitalize on them."
Brad Ziegler pitched a scoreless eight for the D-backs, who turned things over to Reed in the ninth.
Reed walked Ed Lucas to open the frame.
"That's not how you want to start the ninth," Gibson said. "You're asking for trouble."
And Reed would find it after retiring the next two hitters.
That brought Ozuna to the plate and Reed fell behind him 2-0 before getting the count to 2-2. The next pitch was a 92 mph fastball that Ozuna hit above the yellow line in center for his 15th homer of the year.
It was the fifth blown save of the year for Reed (1-5) in 25 chances. Reed left the clubhouse before reporters were allowed in following the game.
All five of the pitches Reed threw to Ozuna were fastballs between 90-92 mph.
"He threw 21 pitches and he threw two offspeed pitches," Gibson said of Reed. "I mean he's got to mix his pitches. Ozuna's a very good fastball hitter. He was trying to get the ball down and away and it was basically middle-third in and he got it all."
Steve Gilbert is a reporter for MLB.com. Read his blog, Inside the D-backs, and follow him on Twitter @SteveGilbertMLB. This story was not subject to the approval of Major League Baseball or its clubs.