Behind Gray, A's have their way with Giants
Righty coasts for seven as Oakland moves season-high 24 above .500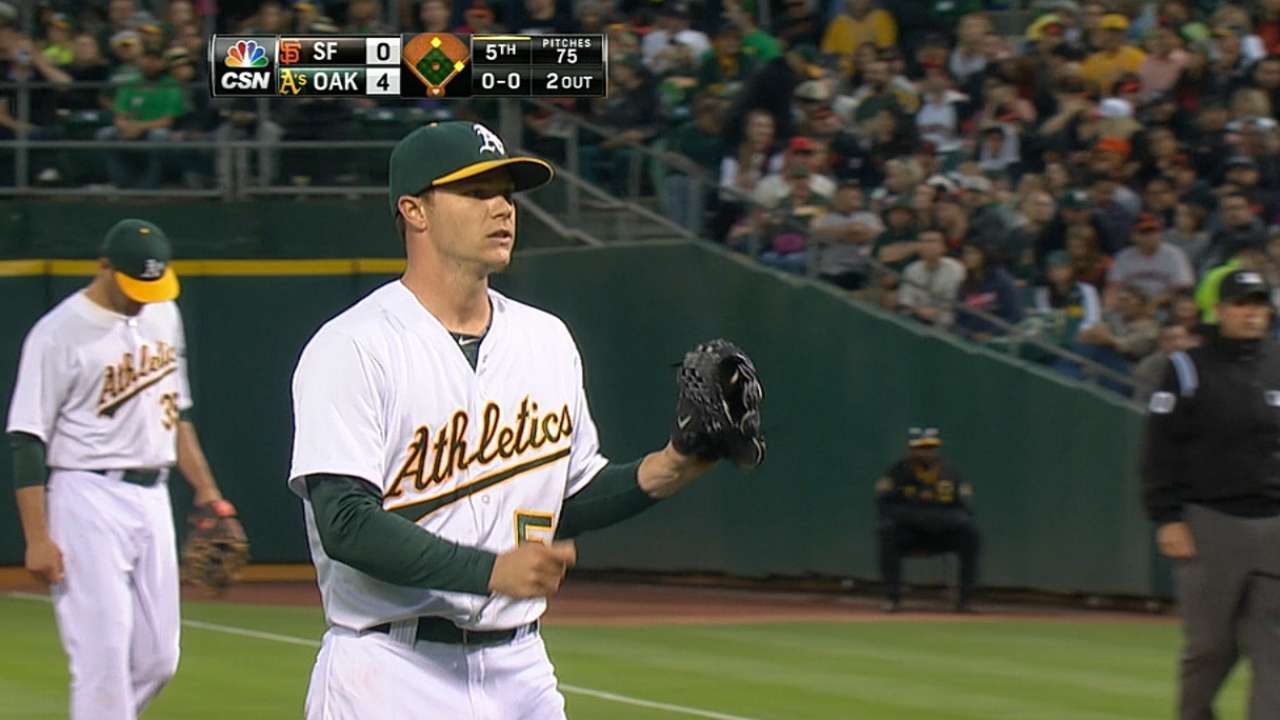 OAKLAND -- The A's operate with plenty of talent, no doubt. Their 6-1 win over the Giants on Tuesday sealed the deal on an undefeated six-game homestand in which their pitchers allowed just five runs.
But there's also the laundry list of intangibles that make this team the best in the biz, too -- resiliency chief among them.
Consider the fact the A's were coming off a three-game sweep at the hands of their postseason nemesis, a disheartening stay in Detroit that could have sent them off-course after an incredible first half.
Not quite.
"It seems like that was quite a while ago now," manager Bob Melvin said. "You come back here and the fans get us going, they're into it, it's a completely different atmosphere, and you forget all about what happened previously."
The A's all but erased the memory.
"To come back and bounce back from that series, it's huge," said Nick Punto. "The crowds were awesome. That really does help. Tonight's atmosphere was incredible."
A sold-out Coliseum watched the A's pounce on the Giants a second straight night, assuring them at least a split of this four-game home-and-home Interleague series that continues Wednesday evening at AT&T Park.
Sonny Gray was fantastic, and the A's lineup got six RBIs from as many players on a rather historic night. The win was their 57th of the season, most ever for an A's team before the All-Star break -- with five still left to play.
Moreover, the Angels' five-game winning streak was snapped with a loss to the Blue Jays, allowing the A's, a season-high 24 games over .500, to go ahead 4 1/2 games in the American League West.
The energy in Oakland is palpable right now, as evidenced by a postseason-like atmosphere for the Battle of the Bay, buoyed from the get-go when Gray struck out the side in the first inning.
Oakland's baby-faced ace proceeded to fan eight in seven innings of one-run ball, his lone mistake being a homer by Tyler Colvin in the seventh. Gray allowed just five other hits, earning his ninth win and 14th in his career spanning just 30 games. In Oakland history, only Tim Hudson (15) compiled more victories in his first 30 outings.
A's starters have tossed six or more innings and allowed one run or less in six straight games, the longest streak by A's team since at least 1914.
"That's what we're capable of as a staff," Gray said. "It might look good on the outside, but on the inside it's what we expect of ourselves. It's just how good all of us are, and it's nice to be able to go out and get deep into some games, not only myself, but everyone this whole homestand. It's been big, and the offense has been able to put up some big runs for us, and that's how you win a bunch of games in a row."
"Once starters start to get on a roll like that," said Melvin, "they're really kind of competing with each other and pushing each other. The next guy wants to be the guy to go out there and do just as well if not better, so it becomes kind of a fraternal thing amongst the starters."
Added shortstop Jed Lowrie: "I think you can just feel that energy, hear them talk to each other in the dugout. They're obviously on a roll, and it's fun to play behind."
Lowrie contributed to Tuesday's win with two hits, giving him a career-high four consecutive multihit games. Derek Norris also collected two, as did Coco Crisp, who is batting .366 over his last 32 games.
Overall, the A's totaled 10 hits off Madison Bumgarner, who was responsible for all six runs in seven-plus innings.
"I think that's one of the strengths of the team -- I know it's one of the strengths of the team -- that we don't have to rely on just a few guys to score some runs and get it done," Melvin said. "We have the ability, sometimes if our big boys in the middle aren't doing it, to do it around them."
The A's have now won 11 of their last 13 home contests against the Giants.
"We play 15 minutes from each other," Lowrie said. "We want to be the better team. We want to beat them."
Jane Lee is a reporter for MLB.com. Read her blog, Major Lee-ague, and follow her on Twitter @JaneMLB. This story was not subject to the approval of Major League Baseball or its clubs.