Stuck in offensive daze, Giants fall in Oakland
Pence tries to keep mood light, but frustration mounts in rough patch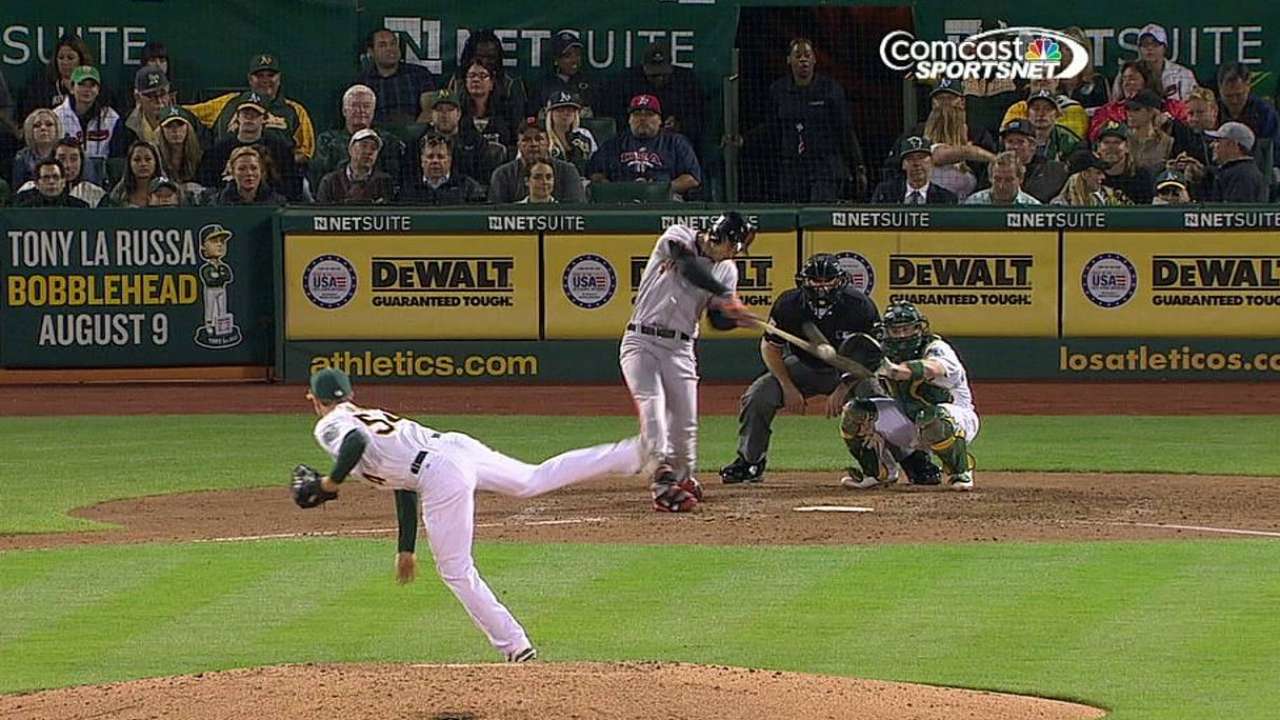 OAKLAND -- Hunter Pence was the Giants' most valuable player Tuesday night. This imaginary distinction stemmed more from his perspective than his performance.
Pence enjoyed himself at O.co Coliseum. His spirit remained buoyant as the Giants' fortunes continued to plummet with their 6-1 Interleague loss to the A's.
Example: Aware that the right-field patrons were baying at him, Pence made a lunging catch of Alberto Callaspo's third-inning line drive, then cupped his right hand to his ear as he jogged back to his position. That incited spectators to bellow more loudly and launch an uncomplimentary chant featuring him as the subject.
"They were a lot of fun out there, man," Pence said. "They're creative, they're rowdy and they're loud. It's a baseball atmosphere that's fun to play in. They were razzing me a little bit."
Of his I-can't-hear-you gesture, Pence said, "I don't really remember exactly what happened. I was kind of in the moment and having fun with it."
Pence demonstrated that it's possible to remain lighthearted even as adversity grows more oppressive. The Giants fell to 7-20 since June 9, matching Texas for the Major Leagues' worst record since that date. Only Tyler Colvin's seventh-inning leadoff homer prevented San Francisco from absorbing its fifth shutout defeat in nine games.
Given the Giants' collective slump, perhaps Pence's teammates could benefit from sharing his attitude, which famously occurred during the 2012 postseason when they responded to his fiery pregame oratory.
After the Giants endured their 11th loss in 13 games here dating to 2010, Pence's advice was measured.
"We have to make sure we're paying attention to what's happening and continue to grow and get better," he said. " ... Stay focused on what we can control."
That was difficult for the Giants to accomplish as Oakland swept the O.co Coliseum portion of this home-and-home, four-game series. When they weren't complaining about plate umpire Angel Hernandez's strike zone, they watched bloop hits supplement the A's offense. Jed Lowrie's popup that fell between Pence and second baseman Joe Panik opened Oakland's four-run third inning, which included Yoenis Cespedes' soft, broken-bat RBI single to center field.
Up after Cespedes was Josh Donaldson, who took Madison Bumgarner's 2-2 pitch that prompted the Giants left-hander to start striding off the mound, believing he had recorded an inning-ending strikeout. Instead, Hernandez called ball three, which was followed by ball four, which was followed by Derek Norris' single that sent home the inning's final run. That outburst propelled the A's to their sixth consecutive victory.
"It [stinks] to make pitches and get beat on them," said Bumgarner (9-7), who allowed six runs and 10 hits, both season highs, in seven-plus innings. "It seems like [the A's] can break a bat and get a hit and our guys are crushing the ball and it seems like it's always at somebody. That's the way the game goes. But, man, it's a frustrating time."
The Giants' angst is rising, but manager Bruce Bochy urged his players not to bottle it up and hurl it at objects such as umpires.
"That can become a problem, too. That can compound the damage," Bochy said. "Now you're not only competing against the pitcher, you're thinking about the calls. I know it's frustrating for them, but you can dwell on that a little too much. That's what we have to stay away from. We have to play better and that's our best way out of this."
For the Giants, playing better means improving upon their hitters' 1-for-27 effort with men on base in these first two games against Oakland, which included 0-for-11 with runners in scoring position. The Giants' luck wasn't the best. Then again, they were outclassed by Oakland starter Sonny Gray (9-3), who walked one and struck out eight in seven precise innings. The Giants' only recourse is to keep swinging.
"I had two bloop hits today; Buster [Posey] hit three balls hard right at people," Pence observed. "You can't totally quantify bloops vs. solid hits. You just have to play the game and make sure we're locked into playing solid defense and running the bases well and making good pitches. That's baseball. [The A's] did that."
Chris Haft is a reporter for MLB.com. Read his blog, Haft-Baked Ideas, and follow him on Twitter at @sfgiantsbeat. This story was not subject to the approval of Major League Baseball or its clubs.