Young caps off stellar first half, but Mariners fall
Bats can't solve Hughes as righty takes hard-luck loss in duel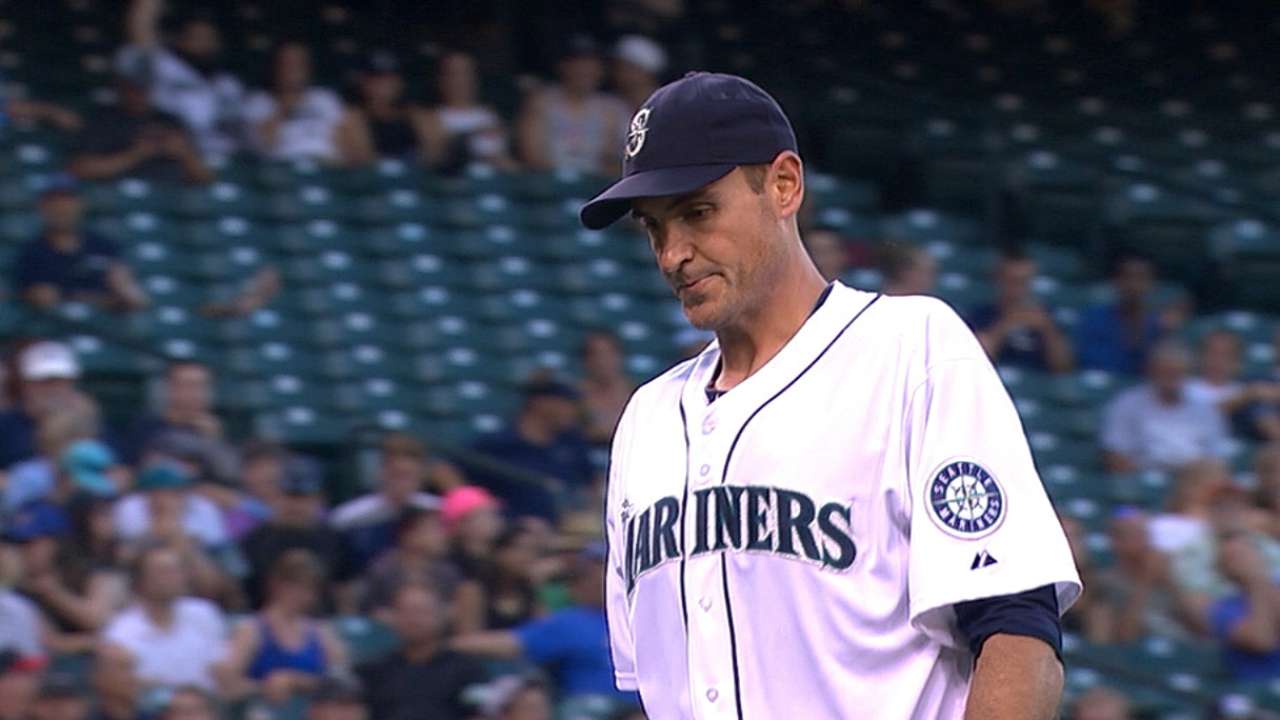 SEATTLE -- Mariners right-hander Chris Young pitched another Safeco Field gem on Tuesday, but Seattle's slumbering offense came up quiet again as the Twins pulled out a 2-0 victory.
Young threw seven-plus innings of two-run ball, allowing six hits with one walk and six strikeouts, but lost the pitchers' duel to Twins right-hander Phil Hughes.
Since racking up 28 runs in a three-game sweep in Houston last week, the Mariners have totaled just six runs in their last five games and they're 2-for-36 with runners in scoring position in that stretch after an 0-for-4 showing on Tuesday.
Third baseman Kyle Seager, the newly-named All-Star, said there's no rising concern for a Mariners club that has matured this year and overcame an early eight-game losing streak to post the third-best record in the Majors since snapping that skid on April 23.
"That would be the difference between this year and maybe previous ones, just the confidence level in here, the way guys keep themselves up and the veteran presence," said Seager. "We know how good we are and how good we're going to be and we don't panic."
Manager Lloyd McClendon said his club "ran into a buzzsaw" in Hughes, who is now 5-0 with a 0.61 ERA in six career games -- including two relief appearances -- against the Mariners at Safeco Field. But he's not overly concerned with the recent offensive lull, either.
"It's baseball. It happens," McClendon said. "This used to be one of the heckuva games, low-scoring pitchers' duels. Now it's an offense that is struggling.
"It's all about winning and losing," said McClendon. "We won a game last night and nobody talked about the offense. It was a win. It was a great win. We lose 2-0 tonight and everybody wants to talk about the offense. That's just the nature of the beast. I'm not going to sit here every night and say, 'Well, we're struggling,' and the next night, 'Oh, we're great.' The guy pitched a heckuva game. That's the way it goes."
The Mariners certainly had a strong pitching performance on their side as well. Young has been one of the Mariners' best stories this season, one of the better comeback tales in all of baseball, in fact, as he's returned from six years of shoulder problems to put up an excellent first half at 8-5 with a 3.08 ERA in 18 games.
"He's been great," said McClendon. "Coming into Spring Training, I didn't know what to expect. But I couldn't have expected this. He's been outstanding."
Young hasn't won nine games in a season since 2007, when he went 9-8 with a 3.12 ERA and was a National League All-Star with the Padres. He's still one shy of that mark, but pitched well again Tuesday and is now 5-2 with a 2.24 ERA in nine Safeco starts this season.
"You tip your cap to Phil Hughes," said Young. "He was better tonight. I made a couple mistakes and he didn't. Some nights you get outpitched and that's the way it goes."
Center fielder Sam Fuld hit a home run off Young in the fifth to give the Twins a 1-0 lead, driving a full-count fastball just over the glove of a leaping Michael Saunders at the right-field wall.
Young didn't allow another baserunner until the eighth when he walked leadoff hitter Eduardo Escobar and gave up a single to Fuld. That ended the 6-foot-10 right-hander's night, with Yoervis Medina surrendering a sacrifice fly to Brian Dozier that put the score at 2-0 before getting out of the inning.
"Falling behind [Fuld] was a mistake, the pitch wasn't necessarily a mistake," Young said. "It was challenging the No. 9 hitter with a 3-2 fastball. But falling behind him was and then walking Escobar to start the eighth. Both runs cost us."
The Mariners are still 15-7 since June 15, putting their record at 49-41 at the 90-game mark, a nine-win improvement from last year at this point.
But they had little luck solving Hughes, who gave up eight hits in 7 1/3 scoreless frames and improved to 9-5 with a 3.70 ERA. Among the struggling Mariners has been Seager, though he snapped an 0-for-18 streak with a sixth-inning single for one of the club's eight hits.
"Our pitching has been phenomenal," said Seager. "Those guys have been our backbone all year. It's just one of those things where the last couple games we haven't got as many runs as we'd hope, but that's the way baseball works sometimes."
Saunders and James Jones each went 2-for-4 at the top of Seattle's order and both singled in the eighth to put two on with one out, but reliever Casey Fien came on and induced Robinson Cano into an inning-ending double play.
"Casey came and probably got the biggest out of the night," said Twins skipper Ron Gardenhire. "No matter what everybody else did, when you're facing Cano, that's a big situation. As a manager walking off the mound handing the ball to somebody with Cano up to bat, and we haven't had much success with the guy over the years, he got a big double play ball."
Greg Johns is a reporter for MLB.com. Follow him on Twitter @GregJohnsMLB as well as his Mariners Musings blog. This story was not subject to the approval of Major League Baseball or its clubs.