Kipnis says he wasn't faked out by Jeter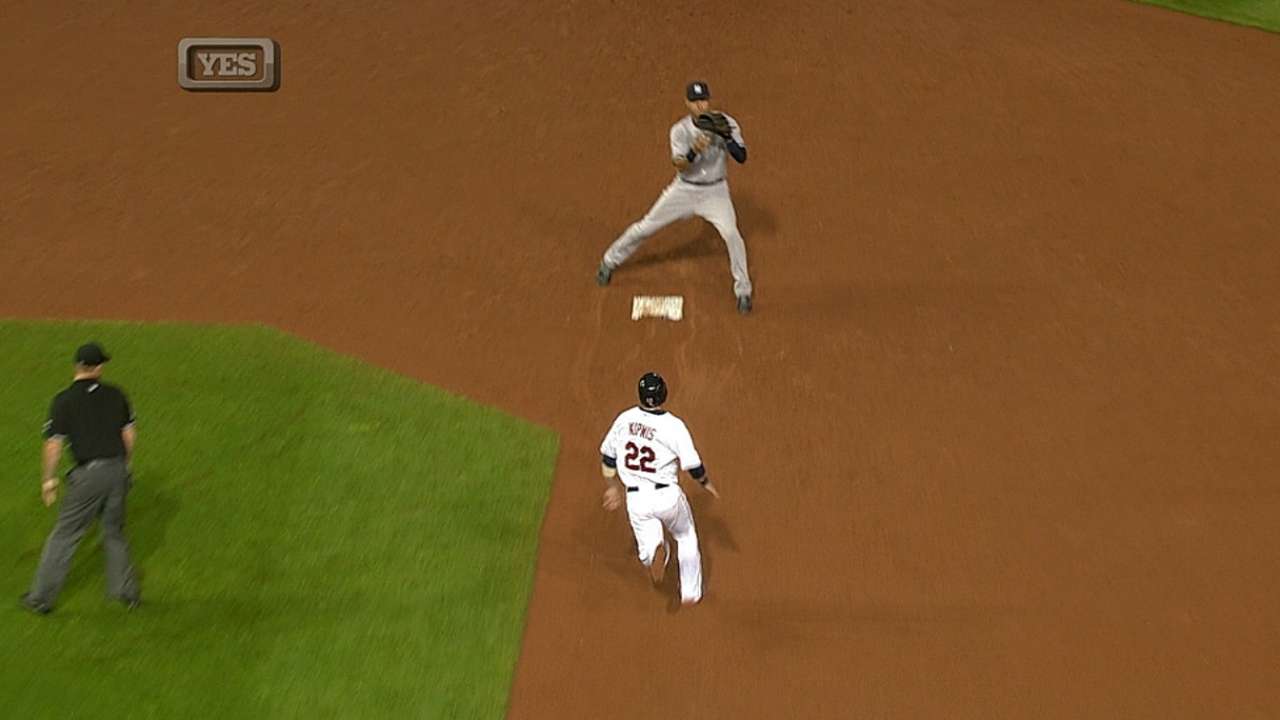 CLEVELAND -- Indians second baseman Jason Kipnis saw the tweets and the brief video clip that was spreading throughout social media. The headlines were claiming that Yankees shortstop Derek Jeter deked Kipnis into thinking a double play was being turned in the eighth inning on Monday night.
The story going around was a classic case of the veteran schooling the kid. So fooled was Kipnis that he slid into second base and then got caught in an embarrassing double play that ended a rally for Cleveland.
"There was no deke," Kipnis said on Tuesday, setting the record straight. "I get it. I'm as big a Derek Jeter fan as there is out there, but let's not make up news."
Kipnis said the play was simply a straight steal gone wrong. The second baseman was off and running with the pitch from New York's Dellin Betances, but Asdrubal Cabrera popped up into foul territory down the third-base line. Kipnis ran with his head down, did not see where the ball went and heard third-base coach Mike Sarbaugh's shouts too late.
Yankees third baseman Zelous Wheeler caught Cabrera's pop fly and fired it across the diamond to first baseman Mark Teixeira, retiring Kipnis to end the inning.
"I heard [Sarbaugh] yell, 'Go!'" Kipnis said. "I took a step toward third and then I heard the other half of his sentence, saying, 'Go back!' So I had to touch second base again and started going back. By that time, it was way too late."
The video clip shows Jeter at second base, miming a phantom double play.
"I didn't even see the deke until I watched on the video later," Kipnis said. "If I was trying to break up a double play, I don't think I'd be rounding [the bag], going towards third base."
The way the story spread, it was surprising Kipnis did not shake Jeter's hand right there on the field.
"Yeah, I should've given him my jersey off my back after that play," Kipnis said with a laugh.
Jordan Bastian is a reporter for MLB.com. Read his blog, Major League Bastian, and follow him on Twitter @MLBastian. Alec Shirkey is an associate reporter for MLB.com. This story was not subject to the approval of Major League Baseball or its clubs.