Fuld fuels Twins as Hughes rebounds with a bang
Outfielder tallies three hits to back righty's 7 1/3 shutout frames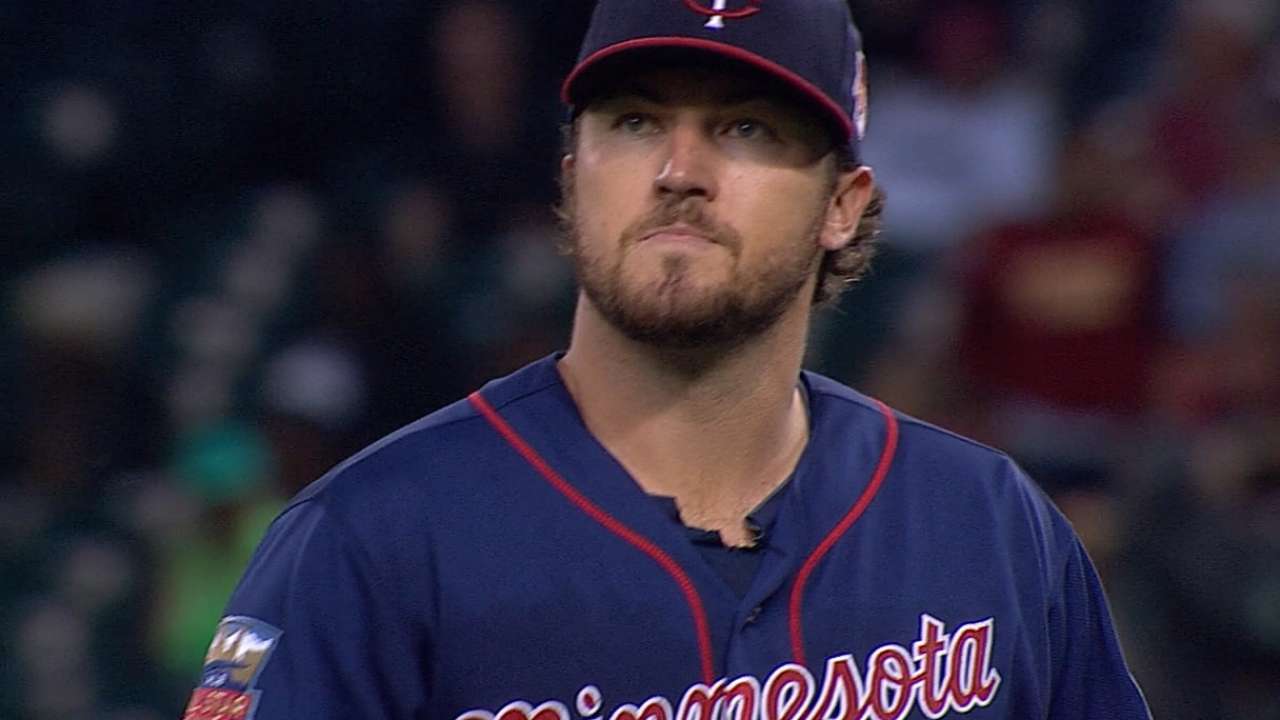 SEATTLE -- Phil Hughes appeared well on his way to becoming an All-Star in his first season with the Twins.
The right-hander had an impressive two-month stretch from mid-April until mid-June that spanned 11 starts, and saw him post a 2.27 ERA with 61 strikeouts and just three walks in 11 outings, including 10 quality starts.
But Hughes scuffled in his next three outings, giving up at least five runs in each before bouncing back Tuesday night. Hughes tossed 7 1/3 scoreless innings, while Sam Fuld homered and had three hits to lead the Twins to a 2-0 win over the Mariners at Safeco Field.
"I felt like the last couple times out I got hurt with a couple weird plays, but tonight I got some good bounces with double play balls," Hughes said. "Sometimes the difference is just a couple things going right for you. I thought my fastball command was good tonight and I just kind of worked from there."
Hughes simply looked more like the pitcher who was being mentioned as a candidate to represent the Twins in the All-Star Game at Target Field.
The right-hander scattered eight hits without a walk, while striking out eight to pick up his first win since June 22. It was his team-high ninth victory and he lowered his ERA to 3.70 on the season in the process. But Hughes said he has no hard feelings about not being named an All-Star for the second time in his career.
"The last few times out kind of sealed my chances, especially in the American League," said Hughes, who was an All-Star in 2010 with the Yankees. "You look at the guys in the Final Vote and they all deserve to be in it. So I just hurt my chances the last few starts. It would've been cool, but I'm happy for the guys who are gonna be there."
The Mariners only had three runners reach second base against Hughes, but never saw a runner advance to third base, as they went 0-for-4 with runners in scoring position on the night.
Their biggest scoring chance came in eighth, when Hughes gave up back-to-back singles with one out and the Twins opted to bring in right-handed reliever Casey Fien to face Robinson Cano. Fien got out of the jam by getting Cano to ground into a double play.
"Casey came and probably got the biggest out of the night," Twins manager Ron Gardenihre said. "No matter what everybody else did, when you're facing Cano, that's a big situation. As a manager walking off the mound handing the ball to somebody with Cano up to bat, and we haven't had much success with the guy over the years, he got a big double play ball."
Hughes outdueled Mariners right-hander Chris Young, who gave up just two runs on six hits and a walk over seven-plus innings, but was saddled with the loss.
"You tip your cap to Phil Hughes," Young said. "He was better tonight. I made a couple mistakes and he didn't. Some nights you get outpitched and that's the way it goes."
The Twins had early scoring opportunities against Young, but he was able to pitch out of several jams until Fuld connected on a solo blast in the fifth. It was just the second homer of the year for Fuld and his first with the Twins. His other actually came against Twins right-hander Mike Pelfrey on April 10, while he was still with the A's.
"It was great," Fuld said. "To get a home run here, it was something I definitely didn't expect to do. Obviously, to put us up, that was the main thing."
Fuld helped the Twins rally in the eighth after singling with nobody out after Eduardo Escobar drew a leadoff walk. It knocked Young from the game and Escobar scored on a sacrifice fly from Brian Dozier to give Minnesota an insurance run.
Closer Glen Perkins tossed a scoreless ninth to earn his 21st save and was helped by a pair of solid defensive plays. Third baseman Eduardo Nunez made a sliding grab in foul territory for the first out, while Escobar made a nice play on a ball hit into the hole at shortstop on grounder hit by Willie Bloomquist for the final out.
"We held on," Gardenhire said. "We got enough runs to keep us in there."
Rhett Bollinger is a reporter for MLB.com. Read his blog, Bollinger Beat, and follow him on Twitter @RhettBollinger. This story was not subject to the approval of Major League Baseball or its clubs.