Hamilton plays hero in walk-off victory over Cubs
Reds come back from five-run deficit to take nightcap of doubleheader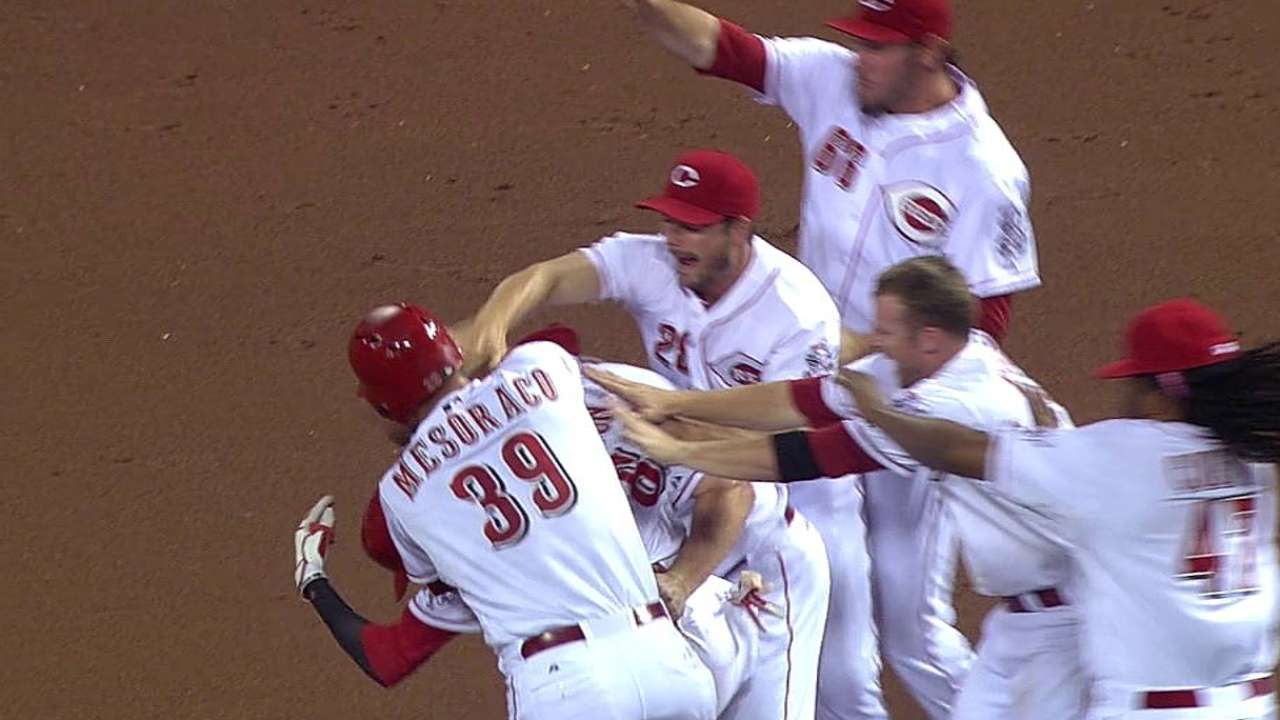 CINCINNATI -- Billy Hamilton has been clutch with runners in scoring position all season, but it wasn't until 11:18 p.m. ET on Tuesday night that he got to enjoy his first walk-off hit, one that gave the Reds perhaps their biggest victory of the season to date.
Hamilton lined a broken-bat single down the left-field line to complete Cincinnati's largest comeback in 2014, erasing a 5-0 deficit in the nightcap of a day-night doubleheader with the Cubs to beat Chicago, 6-5, sweeping the twin bill and moving to 3 1/2 games behind the Brewers in the National League Central.
"I get nervous when situations come up like that, and I knew just to relax, and it worked out for me," Hamilton said. "I broke my bat, but it died a warrior."
Pinch-hitter Brayan Pena led off the ninth by dropping a bloop single into left. Mike Leake pinch-ran for him, representing the winning run. Leake moved to third on a single by Devin Mesoraco, setting the stage for Hamilton's heroics.
"The guys before me put me in a great situation that made it a little easier for me to get out there with nobody out," said Hamilton, who is batting .353 with runners in scoring position. "It was a big hit by Meso, and it made it easier for me."
That made things easier, but what the Reds accomplished was no easy task. The largest deficit they had erased to win a game this season before Tuesday's contest was two runs.
"I don't even know what to say," Reds manager Bryan Price said. "What a game. I don't know if I've ever been involved as a manager in a more exciting game and just to see the reaction of the players and how fired up they are, it was just a big game and a lot of big moments."
The big moments early in the game were enjoyed by the Cubs as they roughed up 23-year-old left-hander David Holmberg, who Cincinnati called up from Triple-A Louisville to start the nightcap after the Reds won the afternoon game, 4-2.
Chicago used the long ball to jump on Holmberg early. With one on and one out in the second, Chris Coghlan hit his second homer of the day to put Chicago up, 2-0. In the third, Anthony Rizzo led off with a solo homer, which was followed by a Starlin Castro single. One out later, Mike Olt belted a two-run shot to left that extended the Cubs' advantage to 5-0.
"I didn't execute," Holmberg said. "I left pitches up in the zone and they took advantage, and they hit the ball out of the yard. … When a pitcher gets ahead, a pitcher has such an advantage, and not getting ahead, the hitter has all the advantage. Early on it wasn't looking good, but an amazing comeback by the guys and a great job by the bullpen."
After tossing 2 2/3 scoreless innings in the first game of the twin bill, Reds relievers combined for 6 1/3 more shutout frames in the nightcap. Carlos Contreras, J.J. Hoover and Logan Ondrusek gave Cincinnati a fighting chance by putting up zeros.
"C.C. came in after Holmberg came out, and he locked it down for two-plus [innings]," said Hoover, who struck out the side in both frames he pitched for a career-high six punch-outs. "We started to score and I just wanted to keep it there."
The Reds loaded the bases with nobody out in both the fifth and seventh innings, with a run on Jay Bruce's RBI groundout in the sixth sandwiched between.
In the fifth, pinch-hitter Chris Heisey struck out and Hamilton flied out to shallow center. Skip Schumaker bluffed the tag, but scored when Junior Lake made a poor throw back into the infield.
In the seventh, Mesoraco grounded into a 6-4-3 double play that enabled Schumaker to score again. Hamilton followed with an RBI triple to cut the deficit to 5-4.
That set the stage for a pivotal eighth inning, when Brandon Phillips led off with a single up the middle and scored on Bruce's double into the left-field corner to tie the score.
The sweep of the doubleheader was Cincinnati's first since August 31, 2009 when they took two from the Pirates at home. The Reds have now won four straight and 13 of their last 18 games, cutting their deficit in the NL Central in half over the span of three days. Cincinnati is a season-high six games over .500 and has won four consecutive games without Joey Votto, who was placed back on the DL Tuesday.
"The only thing you can see as a positive out of [Votto's injury] is that it's creating opportunities for other guys to play," Price said. "And they are taking advantage of it … it's whatever it takes to win right now."
It took a five-run comeback on Tuesday, one that Price won't forget.
"This is about being a part of something that just unifies all of us," he said. "And Reds fans and the players and the staff and everybody involved with the organization, it just feels really good right now, the moment."
Manny Randhawa is an associate reporter for MLB.com. This story was not subject to the approval of Major League Baseball or its clubs.