Cubs show power, but bullpen falters late
Coghlan, Rizzo and Olt go deep in nightcap of doubleheader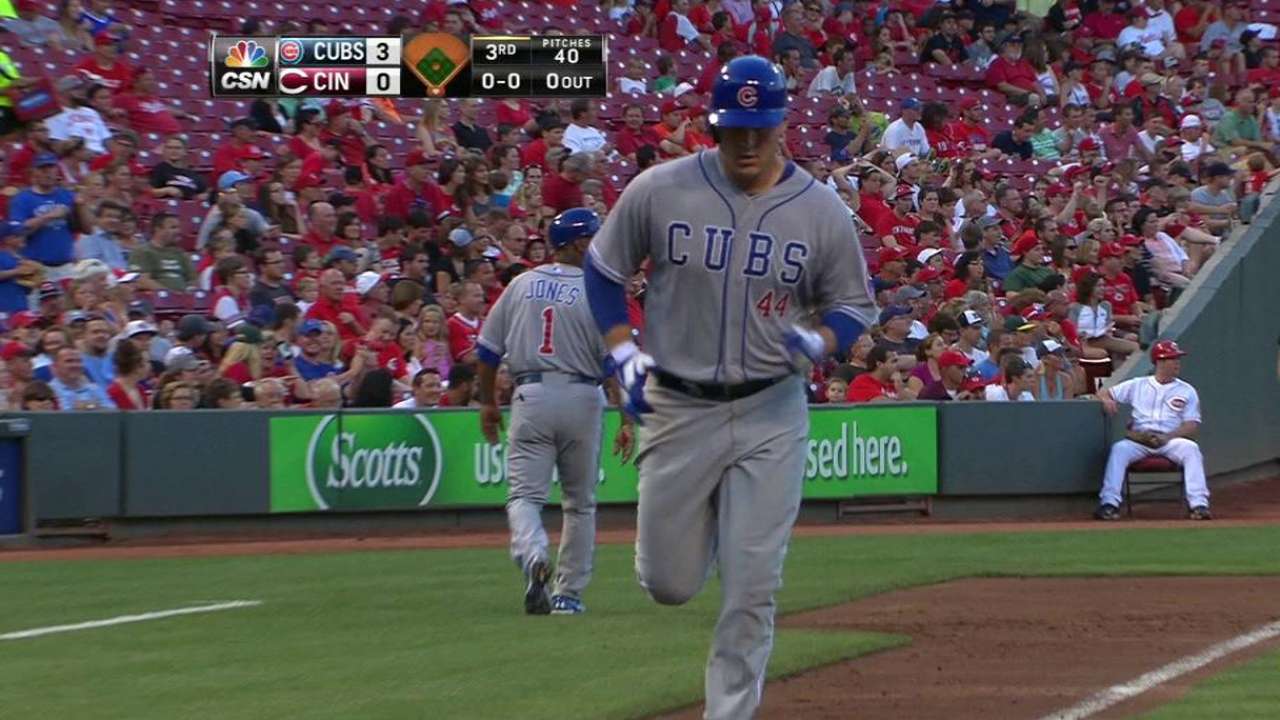 CINCINNATI -- For Tsuyoshi Wada, he could celebrate his return to competitive baseball after a lengthy comeback. For the rest of the Cubs, it was a game they'd rather forget.
Billy Hamilton hit an RBI triple in the seventh and a walk-off RBI single in the ninth to lift the Reds to a 6-5 victory Tuesday night over the Cubs and complete a sweep of the day-night doubleheader. The rally spoiled Wada's chance for the win in his Major League debut.
The Cubs now have lost five in a row, and have been swept in three doubleheaders this season, having lost two to the Yankees on April 17, and a pair to the Nationals on June 28.
Chicago opened a 5-0 lead as Anthony Rizzo continued to campaign for support in the 2014 All-Star Game Final Vote by hitting his 19th home run. He belted a leadoff homer in the third, Chris Coghlan smacked his second of the doubleheader, and Mike Olt crushed a two-run shot for the Cubs. But it wasn't enough.
"Jumping out to a five-run lead was nice," Rizzo said. "It was nice for Wada to be able to pitch with that lead. I'm sure he was nervous. It's just tough at the end. Our bullpen was put in a tough spot, limited arms. It's a tough loss."
With the game tied at 5 in the ninth against Hector Rondon, pinch-hitter Brayan Pena blooped a single to left that dropped between three Cubs players. Pena reached third on Devin Mesoraco's single to left, and Hamilton singled on the first pitch from Rondon, lining a broken-bat hit to left.
"I relaxed," Hamilton said of his key at-bat. "The timeout they called gave me an extra little breather over there to not be as nervous. I told you how I get nervous when situations come up like that, and I knew to just relax, and it worked out for me. I broke my bat, but it died a warrior."
Said Cubs manager Rick Renteria: "Hamilton was a big piece for them in many ways."
Wada, 33, was promoted from Triple-A Iowa as the 26th man for the doubleheader, and was in line to become the first Cubs starter to win his ML debut since Ryan O'Malley did so, Aug. 16, 2006, against the Astros. The left-hander has battled back from Tommy John surgery on his left elbow in 2012.
"Walking to the mound, I was going back over the last three years and going through the rehabs," Wada said through interpreter Nao Masamoto, the Cubs' video coordinator. "It was an emotional moment. I came here to pitch in this environment and was so excited and was glad I was able to pitch."
It's been three years since he pitched in the Japanese league, and he had spent two seasons in the Orioles' organization, but never made it to the big leagues until Tuesday. Pitching coach Chris Bosio tried to relax Wada, joking before the game that they would celebrate a win in Cincinnati.
"I was definitely excited to pitch in this environmment and enjoyed it," Wada said.
He walked the first batter then got Todd Frazier to hit into a double play, and relaxed. The Cubs helped. With one out in the second against lefty David Holmberg, Olt walked and Coghlan followed with his second home run of the day, and fourth of the season. He connected off All-Star right-hander Johnny Cueto in the first game, a 4-2 Reds win, and Coghlan is the first Cubs player to homer in both ends of a doubleheader since Alfonso Soriano on Sept. 15, 2007, in St. Louis.
Rizzo made it 3-0 with his home run opening the third, his sixth off a left-handed pitcher this year. Starlin Castro singled, and one out later, Olt connected on his 12th homer, tops among NL rookies.
The Reds loaded the bases with none out in the fifth, and one out later, Hamilton flied out to center. Junior Lake threw home, and the ball deflected off Rizzo's ankle. Lake was charged with an error as a run scored.
Cincinnati tallied in the sixth on a groundout by Jay Bruce, and then loaded the bases with none out in the seventh on three straight walks. A run scored when pinch-hitter Mesoraco grounded into a double play and Hamilton followed with an RBI triple to pull within 5-4.
"We got into a jam in the seventh and [Carlos Villanueva] got out of it," Renteria said. "Those are games we've actually been able to hold onto -- [Pedro Strop] has done a great job throughout and Hector has done a great job throughout and today it just didn't happen."
The five-run deficit is the largest margin a team has overcome against the Cubs this year.
"To not come away with a 'W' there is tough," Rizzo said.
Carrie Muskat is a reporter for MLB.com. She writes a blog, Muskat Ramblings, and you can follow her on Twitter @CarrieMuskat. This story was not subject to the approval of Major League Baseball or its clubs.