Rays bang out clutch hits to knock off Royals
Longoria's single, Loney's double highlight critical two-run innings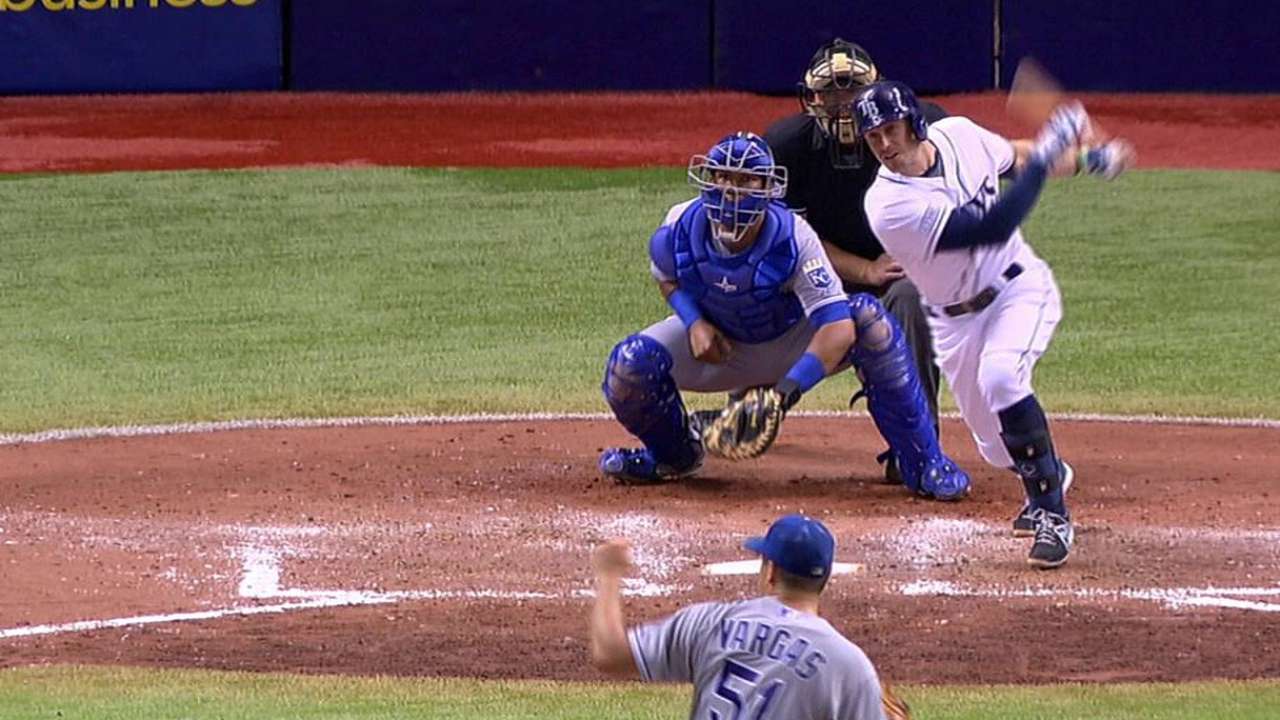 ST. PETERSBURG -- Caught in an unusual situation, Jake McGee wasn't about to let the game get away by throwing an unusual pitch.
For just the fourth time this season in 43 appearances, the flame-throwing lefty had given up runs. In the ninth inning of the Rays' 4-3 win on Tuesday night at Tropicana Field, three straight Royals hits off McGee -- the last one a two-run single off the bat of Salvador Perez -- had cut the lead to a single run.
Now, with two outs, Kansas City had the potential tying run on second and Omar Infante was right on McGee's upper-90s fastball, fouling multiple pitches straight back to the screen. The thought of dropping a curveball on the Kansas City second baseman -- the same curve that ate up the Orioles' Manny Machado for a game-ending strikeout on June 28 -- flitted across McGee's mind.
"I thought about [the curve] for a second, but with the tying run on second, I'd rather go in and up," McGee said. "In the Machado case, he would have had to hit a home run to beat me. Right there, if I throw a curveball and it's a little too high, I could have given up a single to tie the game."
McGee, who throws his fastball 95 percent of the time, blew a 98-mph heater past Infante to end the game and secure his sixth save.
"I was going to stick with my best or get beat with my best," McGee said.
He finished what Jeremy Hellickson and Evan Longoria had started, and what James Loney and Logan Forsythe had continued. Hellickson logged 4 1/3 solid innings in his first start of 2014 after offseason right elbow surgery, while Longoria roped a go-ahead two-run single in the sixth inning for a 2-1 lead. Loney and Forsythe drove in two key insurance runs in the eighth.
"We did it in spurts. We bunched [the hits] up well enough," Rays manager Joe Maddon said. "Sometimes, you spread them out, sometimes you bunch them up. We bunched them up at the right times tonight."
The win evened the series at one game apiece, giving the Rays a chance to win the series on Wednesday night. "Win series" has become Maddon's new short-term goal for his club, replacing "50-50," which he had set a few weeks ago when the Rays had the worst record in baseball. Reaching 50-50 through 100 games was officially ruled out with loss 51 in Monday's series opener, when former Rays pitcher James Shields helped shut out his old team in his first win as a visitor at The Trop.
On Tuesday night, Hellickson, although he didn't last long enough to qualify for the win, kept the Rays in the game. The right-hander allowed one run on six hits, while walking one and striking out two. That run came with Brad Boxberger on in relief in the fifth, with Perez's RBI groundout that gave Kansas City a 1-0 lead.
"I still could be a lot better," Hellickson said. "Way too many pitches, way too many three-ball counts. But for the most part, I thought it went pretty good."
The way Royals starter Jason Vargas had the Rays off-balance, it seemed like that margin might stand. Vargas wasn't as dominating as Shields, but the left-hander's changeup kept the Tampa Bay hitters lunging through five scoreless innings. With Vargas' pitch count pushed up into the mid-80s by the sixth, though, the middle of the order finally got to him.
Ben Zobrist started the inning with a sharp single to right and Brandon Guyer, after falling behind 0-2, poked a double to left-center, sliding into second just ahead of Alex Gordon's throw. Longoria plated both runners with an opposite-field line drive, and, just like that, Tampa Bay had a lead it would not relinquish.
"It's just one of those times you wish you didn't have a mind lapse or give up halfway through the pitch," Vargas said. "We weren't able to recover.
"You throw good ones and bad ones -- that was a bad one, a lazy one, and it set them up to have an inning that changed the game for them."
The Rays pushed the lead to 4-1 in the eighth on Loney's double and Forsythe's sacrifice fly, and McGee, who had entered the game in the top of the inning with two Royals on and two out, ended up needing both of those runs.
McGee got out of the eighth routinely enough, getting pinch-hitter Danny Valencia to line out to the right-field warning track, but things got tense in the ninth before he could shut the door for a four-out save.
"It's nice to have that insurance policy," McGee said. "But at the same time, I shouldn't be giving up two runs and making it that close."
David Adler is an associate reporter for MLB.com. This story was not subject to the approval of Major League Baseball or its clubs.