Royals miss mark in rematch against Rays
Vargas' hiccup in two-run sixth, Esky's defensive lapse keys to loss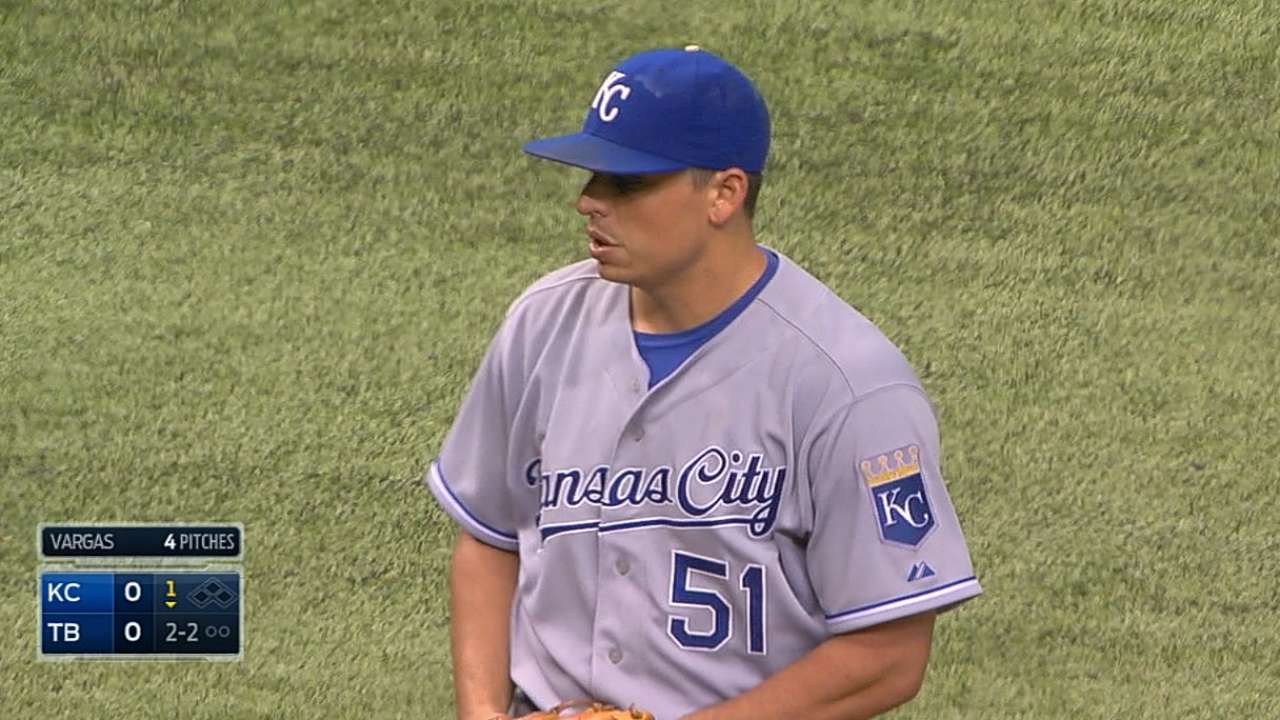 ST. PETERSBURG -- Shortstop Alcides Escobar thought he had enough time. He didn't.
That rare miscalculation by the Royals' defensive wizard helped the Tampa Bay Rays notch a 4-3 victory on Tuesday night as 12,818 fans turned up the volume at the always-loud Tropicana Field.
The Royals' Lorenzo Cain did his darndest to avoid the loss, going 4-for-4 with a walk and scoring two runs, and Salvador Perez drove in all three of their runs, but it wasn't quite enough.
The Rays held a 2-1 lead going into the eighth when, with left-hander Francisley Bueno pitching, Brandon Guyer dropped a safe bunt. Evan Longoria hit a hopper to Escobar who, dreaming of a double play, took the ball and raced to second base where Omar Infante was waiting expectantly.
Too late, Guyer was already there.
"I was just thinking I could do it by myself, that I was close enough to the base, but the guy beat me. The other guy, too," Escobar said. "It was a hard play. I should've flipped the ball to Omar."
Yep, the "other guy," Longoria, also beat Escobar's throw to first base. Everybody was safe. Two on, none out.
"Both guys had pretty darn good speed and if you flip it to Omar, you get one," manager Ned Yost said. "He was taking a shot at getting two, but he was a step farther away than he needed to be."
Bueno came into the game with a miniscule 0.71 ERA in 11 outings, but James Loney followed with a double to right field for just the second earned run against the lefty this season.
"Jimmy Loney line drive down the right-field line against Bueno, which means 'good' in Spanish, and he's good," Rays manager Joe Maddon said. "That was a big hit right there."
Logan Forsythe lifted a sacrifice fly for another run. Bueno managed to end the inning, but now it was 4-1.
The Royals, though, weren't quite finished. With one out in the ninth, Cain got his fourth hit, a single. Eric Hosmer doubled down the left-field line against left-hander Jake McGee and both runners scored on Perez's single up the middle.
"Jake had great stuff," Maddon said. "He didn't have good stuff, he had great stuff."
Perhaps, because then McGee retired Alex Gordon on a bouncer and struck out Infante to end the game.
Rays right-hander Jeremy Hellickson, making his first appearance since January elbow surgery, got through 4 1/3 innings and 84 pitches. He left in the fifth after one-out singles by Cain and Hosmer. Another right-hander, Brad Boxberger, took over and got Perez to bounce out, but Cain scored on the slow hopper to shortstop and the Royals had a 1-0 lead.
Nice because Royals left-hander Jason Vargas was doing his usual thing, giving up a hit here and there but no runs.
"He was cruising," Yost said.
Then came the Rays' sixth. Ben Zobrist singled and Guyer doubled to left-center field.
"I think it came down to that pitch to Guyer, kind of a lazy changeup right in the middle of the zone and it put him in a position to go ahead in the game with their best hitter coming up to the plate," Vargas said.
"It's just one of those times when you wish you didn't have a mind lapse and didn't give up halfway through the pitch."
Longoria followed with a single to right field for two runs and the Rays were ahead, as it turned out, to stay.
It was the first road loss this season for Vargas, who had been 4-0 with a 1.52 ERA in eight starts away from home.
It was only the third victory in 12 games for the Rays over the Royals since the beginning of the 2013 season.
And the Royals are 4-4 on this nine-game trip which ends here on Wednesday night.
Dick Kaegel is a reporter for MLB.com. This story was not subject to the approval of Major League Baseball or its clubs.