FOX foresees strong ratings for All-Star Game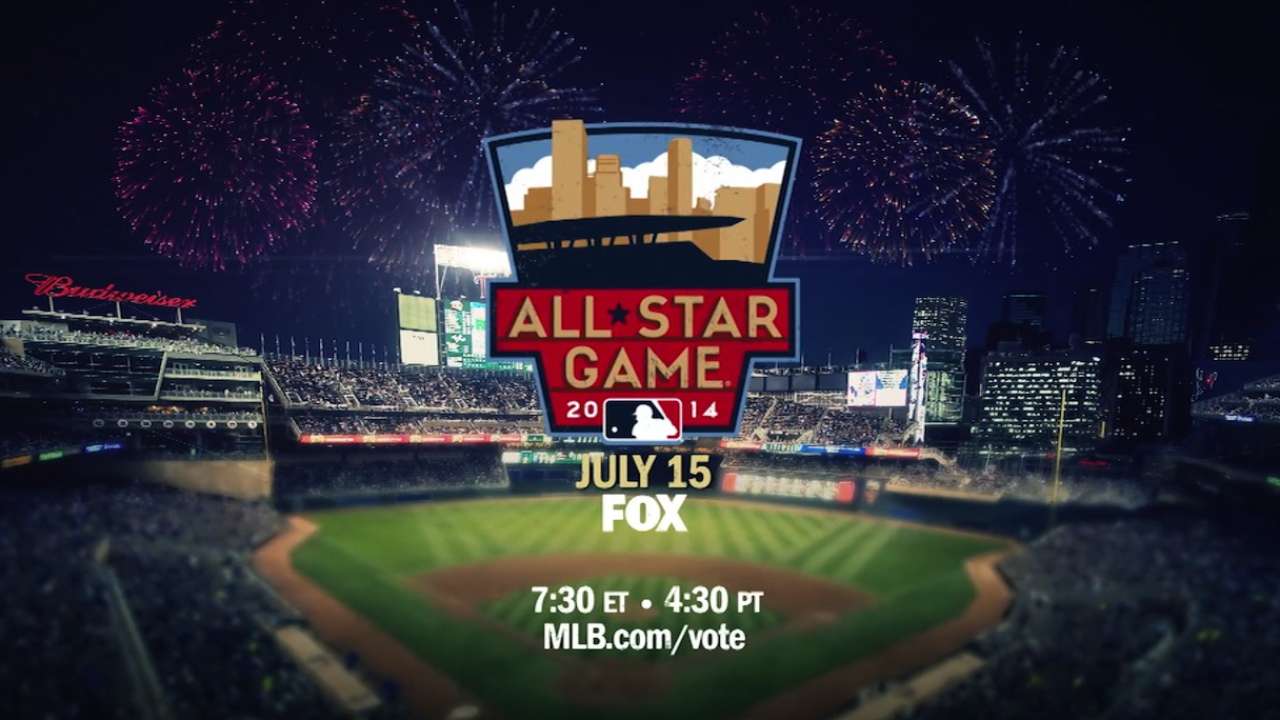 FOX Sports president Eric Shanks and executive vice-president John Entz are bullish on baseball's ratings potential for both the regular season and next Tuesday's 85th All-Star Game from Target Field in Minnesota.
The two men spoke Tuesday during a media conference call that also included play-by-play announcer Joe Buck and analysts Harold Reynolds and Tom Verducci.
Shanks said he's confident that baseball will remain a strong draw in the long term. "We look at the context of the entire television landscape, entertainment landscape, sports landscape," he explained. "A lot goes into an All-Star Game no matter what sport it is. What stories do you have to tell? And this year we have some great stories."
That obviously begins with the last All-Star Game for Yankees shortstop Derek Jeter. Among the other storylines planned as part of the pregame package will be a memorial tribute to Hall of Famer Tony Gwynn, who passed away last month.
"And the added influence of FOX Sports 1 and other FOX entities that give a larger voice to the All-Star Game, something like 20 hours of programming. So I think a lot of things go into it. It's a year-by-year thing. Geography has something to do with it," Shanks continued.
"But the thing that hasn't changed is that the All-Star Game throughout the summer is, and will consistently continue to be, one of the highlights, if not the leading broadcast, of the summer. There's no doubt that people love the All-Star Game. It's a chance to take a break. It's not just about the game. It's about taking stock of your team halfway through the season."
That rosy outlook extends beyond the Midsummer Classic.
"We couldn't be more optimistic about our entire baseball business. Regionally. Nationally. The All-Star Game. The jewel events and postseason as we start this new contract," he said. "Long story short, high confidence."
The network is similarly upbeat about the regular-season ratings, which have dipped slightly.
"It's pretty simple," Shanks said. "We sat with baseball as they were constructing the schedule for this season. Because we have a multi-faceted baseball business, for the national Saturday Game of the Week, we collectively made the decision that rather than do five regionalized games where you clearly get more home market participation, we wanted to get more teams more national exposure.
"So, therefore, doing fewer national games -- it's usually two or three this year -- is a longterm view. We want more people to see more of the young stars. We realized that early on we were going to get fewer home markets in the ratings. We believe it's a strategic decision that will pay off in the long run for the All-Star Game and the postseason because it means more people getting to see Troy Tulowitzki, more people getting to see Mike Trout, more people getting to see Yasiel Puig rather than just broadcasting them into their home market. But we knew we would take a bit of a hit during the regular season this year."
Pal Hagen is a reporter for MLB.com. This story was not subject to the approval of Major League Baseball or its clubs.