Parra helps Bruce's blast hold up in opener
Lefty strands bases loaded in seventh; slugger homers in third straight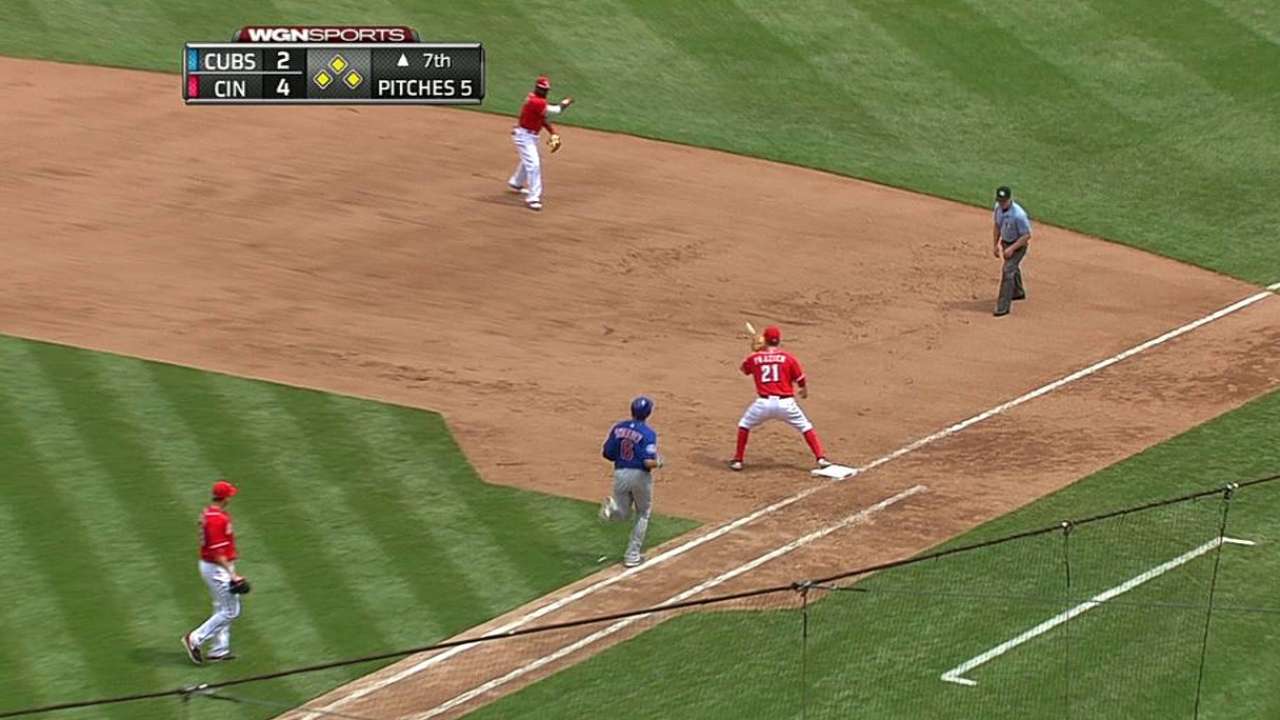 CINCINNATI -- Johnny Cueto wasn't at his best on Tuesday afternoon at Great American Ball Park, but he didn't need to be.
The All-Star right-hander was backed by Jay Bruce's third homer in as many games and a big assist from lefty reliever Manny Parra, as the Reds beat the Cubs, 4-2, in the first game of a day-night doubleheader.
Cueto looked like his usual dominant self at times, but he also had a bout of wildness in the third inning and gave up back-to-back homers in the sixth.
Cueto walked one and hit a batter in the third. That allowed the Cubs to load the bases with two outs, but he induced a groundout from Anthony Rizzo to escape unscathed.
In the sixth, Chris Coghlan belted a solo homer to right to lead off the frame. That was followed immediately by Ryan Sweeney's first homer of the season, which cut Chicago's deficit to 3-2.
"I made good pitches, I actually felt strong in that inning," Cueto said through interpreter Tomas Vera. "But that's the way it is: I left it right there and they hit it well."
Cueto pitched well overall, scattering six hits, walking one and striking out four. And while his performance wasn't as overpowering as some of his earlier outings this season, he wasn't too disappointed in the effort.
"I feel really happy today with what I did, but I have to thank my teammates, they backed me up today," Cueto said.
That backing came early, as the Reds jumped out to a 3-0 lead in the first inning.
After Billy Hamilton led off with a bunt single and stole second, Brandon Phillips singled him home one out later for a 1-0 lead. Bruce then stepped to the plate and crushed the first pitch he saw from Cubs starter Travis Wood -- an 88-mph fastball -- into the right-field seats for his 10th homer of the season.
"It was right where we wanted it," Wood said of the pitch. "It could've been up more, but I've never thrown that pitch to him in three years, so I didn't figure he'd be sitting for it. I figured he'd [expect a] cutter [or a] four-seamer out over [the plate], but obviously, he was ready and dropped the head on it and did his job."
All three of Bruce's homers in the past three games have come against left-handers, increasing his Major League-leading home run total against southpaws over the past five years to 50.
The most recent left-handed hitter to homer against southpaws in three straight games had been Brandon Belt of the Giants from June 12-14, 2012. The most recent Reds batter to accomplish the feat was Adam Dunn, who homered against a southpaw in each game from June 11-13, 2006.
"Anybody that goes three games and three home runs, I think, is starting to feel pretty good," Reds manager Bryan Price said. "When he's swinging the bat and producing runs, it's huge for us."
Cincinnati added a fourth run in the sixth on an RBI single by Ramon Santiago.
Santiago, in the lineup at third base with Todd Frazier spelling Joey Votto at first base, went 3-for-4 with a double.
Chris Heisey, playing left field as part of the lineup shuffle caused by Votto's trip to the DL, contributed in a big way on Tuesday. Heisey made two great plays, the first a running catch of a long fly ball to left-center off the bat of John Baker in the fifth. The second was a diving backhanded catch of a sinking liner by Starlin Castro in the sixth.
"He made two maybe game-changing plays in the outfield," Price said. "And it was terrific. And again, [the defense] shows up, and it makes a big difference for us every game."
Heisey also went 3-for-3 with a walk, recording his fourth multihit game of the season and second three-hit effort.
The Reds got a huge lift from their bullpen. After Cueto gave up consecutive one-out singles to Baker, Darwin Barney and pinch-hitter Justin Ruggiano in the seventh, Parra came on in relief and retired Coghlan and Sweeney to end the threat.
It was Parra's second relief appearance since June 20, and his other outing consisted of one-third of an inning in last Tuesday's 8-2 loss to the Padres.
"Coghlan's been hitting left-handed pitching a lot better as of late, and [Parra] gave him a great series of pitches for the strikeout," Price said. "And then working his way to Sweeney, who has traditionally hit left-handed pitching extremely well, he got the rollover ground ball [to second]. It was big."
Jumbo Diaz took over after Parra walked Rizzo to start the eighth, retiring the next three Cubs in order, including strikeouts of Luis Valbuena and Nate Schierholtz.
Aroldis Chapman, who hadn't pitched since Friday's game against the Brewers due to a tweaked right hamstring, came on in the ninth and picked up his 18th save of the season. He struck out two batters, extending his streak of consecutive appearances with a strikeout to 37, the longest such run by an active reliever and the second longest by a reliever since 1900.
Manny Randhawa is an associate reporter for MLB.com. This story was not subject to the approval of Major League Baseball or its clubs.