Cubs fall short despite back-to-back homers
Coghlan, Sweeney homer, but Wood's tough first too much to overcome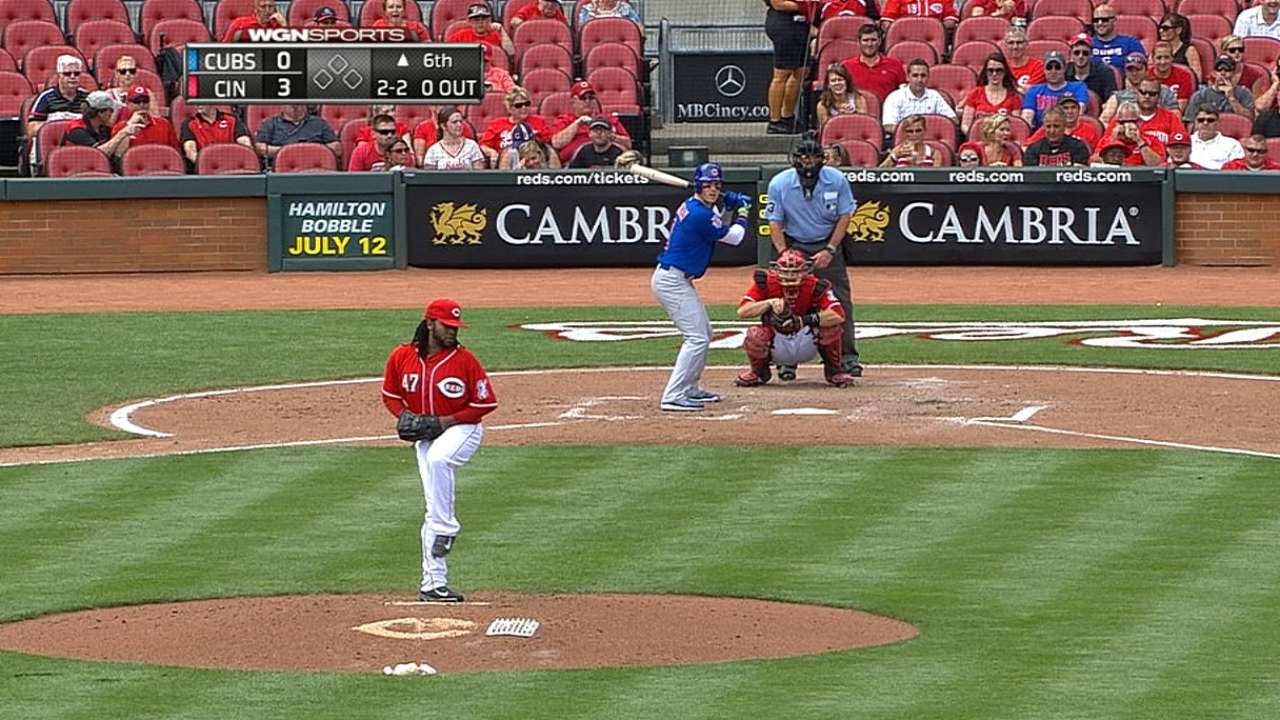 CINCINNATI -- Travis Wood was the Cubs' lone All-Star last season. That seems like a long time ago.
The lefty served up a two-run homer to Jay Bruce in the first inning, and the Reds went on to post a 4-2 victory over the Cubs in the first game of Tuesday's day-night doubleheader.
Johnny Cueto, who will represent the Reds in the All-Star Game next Tuesday, scattered six hits in 6 1/3 innings, including back-to-back home runs by Chris Coghlan and Ryan Sweeney. That was the second time the Cubs have hit consecutive blasts this season; Mike Olt and Junior Lake did so on April 9 in a 7-5 win over the Pirates.
"I made good pitches, I actually felt strong in that inning," Cueto said through interpreter Tomas Vera. "But that's the way it is: I left it right there and they hit it well."
Wood allowed four runs (three earned) over 5 1/3 innings, and he has now given up at least three earned runs in each of his past four starts. A year ago, the lefty had a 2.79 ERA heading into the All-Star break; this year, he's at 4.64.
Wood got off to a shaky start in the first inning, as the Reds sent eight batters to the plate. Brandon Phillips hit an RBI single, and Bruce followed with his home run, his MLB-leading 50th off a left-handed pitcher over the past five seasons. Bruce connected on a two-seamer down and in, a pitch Wood said he has never thrown to Bruce in three years.
The Cubs lefty needed 30 pitches to get though the inning. Cueto, on the other hand, cruised through the second, throwing just six pitches to retire the side.
What was encouraging for both Wood and the Cubs is that the lefty did settle down, holding the Reds off the scoreboard until a fluke play in the sixth led to an RBI single by Ramon Santiago.
"Overall, I thought it was pretty solid," Wood said of his outing. "They got to me there in the first. I threw a pitch, and it was where we wanted it. Bruce put a good swing on it, and it was out of the park."
Still, a year ago, Wood was preparing for his first trip to the Midsummer Classic.
"You think about it," he said, "but every year is different. You're never going to have the same numbers. You make adjustments and roll with it."
And Wood has learned from his struggles this year.
"You always learn more when you see your faults and you see how they're going against you, instead of when everything is running smoothly and you're riding a high horse," Wood said. "To really get cut down, you see what you need to work on [and] build on [to] get the confidence back up."
The Cubs have been scuffling, too, dropping to 0-4 since starting pitchers Jeff Samardzija and Jason Hammel were traded to the Athletics. Chicago has been outscored, 28-6, in those games.
"The furthest thing from my mind today was the trade," Cubs manager Rick Renteria said. "The foremost thought in my mind is, 'How are we going to get to Cueto?' If truth be told, as quickly as everybody can put that to bed -- personally, it's already done. I can't turn back the clock, I can't make any changes to that, I have no control over that.
"Today, I thought we still played. I thought Woody got out of a rough first inning, settled down, and I thought we went out there and were battling. I think the furthest thing from their mind when they're playing now is the trade. It's done, over. We have to keep playing good baseball."
That might have been easier if Samardzija and Hammel were still in the rotation.
"I'd be lying if none of us acknowledged what had happened," Coghlan said. "I saw this [in Miami]. There's relationships -- it's not just business. At the end of the day, you have to be professional, and that's part of being professional, not letting outside stuff affect how you prepare or how you play."
Wood and Samardzija were inseparable in Spring Training, and the southpaw would talk to Hammel before starts.
"It's tough to lose guys like that," Wood said, "but we all know it's a business and how it rolls. We're not looking at that."
Carrie Muskat is a reporter for MLB.com. She writes a blog, Muskat Ramblings, and you can follow her on Twitter @CarrieMuskat. This story was not subject to the approval of Major League Baseball or its clubs.