deGrom dazzles as Mets cruise to milestone victory
Rookie fans 11 in seven scoreless; club collects season-high 18 hits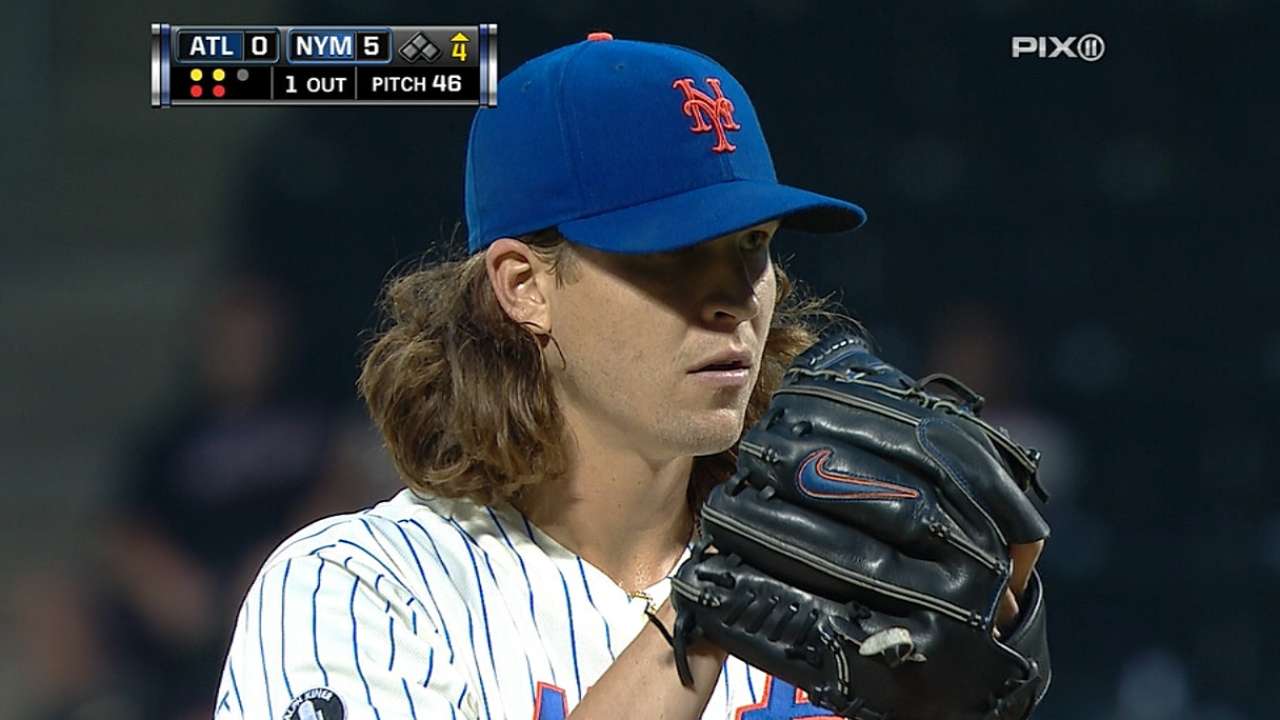 NEW YORK -- The 20,671 fans scattered about Citi Field on Tuesday had a right to be mystified. Expecting to see the first-place Braves do battle with the fourth-place Mets, Citi's fans instead watched something completely backward unfold. It was the Mets who proved dominant throughout the night, parlaying Jacob deGrom's best career start into the franchise's 4,000th victory, an 8-3, 18-hit stomping of the Braves.
"Things," deGrom said, "are really starting to come together."
He can thank himself for a significant part of that. From the start, deGrom was brilliant, working around a leadoff single to strike out five over his first two innings. The rookie's pace never slowed, with two more whiffs in the fourth, three in the fifth and one in the seventh, good for a career-high-tying 11 on the night. Only once did deGrom lean heavily on his defense, when third baseman David Wright made a diving grab of Jason Heyward's line drive with runners on the corners and two outs in the sixth.
"I felt really good," deGrom said. "I had control of all my pitches in the bullpen, and then coming out to start the game, it all felt really good."
Wright was one of seven Mets to rap out multiple hits on the night, jumping all over Braves starter Julio Teheran, who was dominant against them last week in Atlanta. It became clear right away that things would be different against Teheran this time, when Curtis Granderson smacked the right-hander's second pitch off the facing of the second deck in right.
Two more runs came home on Daniel Murphy's RBI double in the second, another on Wright's run-scoring single later that inning, and from there the rout was on. Teheran recorded just 10 outs, allowing five runs on 11 hits and two walks. After he departed, the Mets just kept piling on, with Lucas Duda adding an RBI double in the sixth and reaching base safely in all five of his plate appearances.
"It was one of those nights that everybody has," Teheran said. "Today was mine."
With a Citi Field-record 18 hits, it was also an out-of-character offensive eruption for the Mets, who harped on the importance of this series heading into it. After losing three straight in Atlanta last week, the Mets knew they needed to outplay the Braves or risk falling completely out of contention before the All-Star break.
They have responded with a pair of emphatic victories, walking off in extra innings Monday before skating to a far breezier win one day later at Citi Field.
Leading the way Tuesday was deGrom, whose key role in the franchise's 4,000th victory included something rarely accomplished before. deGrom struck out 11 for the second time in 11 career starts, becoming the third pitcher in Mets history -- Nolan Ryan and Dwight Gooden were the others -- to accomplish that feat.
Following a bit of a rough patch early last month, deGrom is back to performing as well as he ever has; over his last four starts, he owns a 1.75 ERA with 30 strikeouts in 25 2/3 innings.
"If he keeps going out there and using both sides of the plate," manager Terry Collins said, "and throwing his offspeed stuff for strikes, because of his competitiveness he's going to be just fine."
Another boost will come Wednesday, when Dillon Gee returns from the disabled list to start for the first time since mid-May. Things are hardly perfect these days for the Mets, who sit in fourth place in the NL East and trail all but five NL teams in the overall standings. But with four wins in five games already this homestand, they at least seem to be turning in the right direction.
Two more dates await against the Braves at Citi Field, followed by three against the Marlins. Winning, say, three of those five would give the Mets plenty of momentum heading into the All-Star break. Winning four of five would elate them.
"We talked the other day about trying to go into the break on a positive note, and so far it's been good," Collins said. "We've still got five left. We've got to certainly use them to our advantage and come out of it, go into the break really positive if we can, and try to get ourselves back in this thing as close as we can."
Anthony DiComo is a reporter for MLB.com. Follow him on Twitter @AnthonyDicomo. This story was not subject to the approval of Major League Baseball or its clubs.