A's extend roll behind Chavez's strong start
Righty fans nine in six shutout innings; Oakland wins fifth straight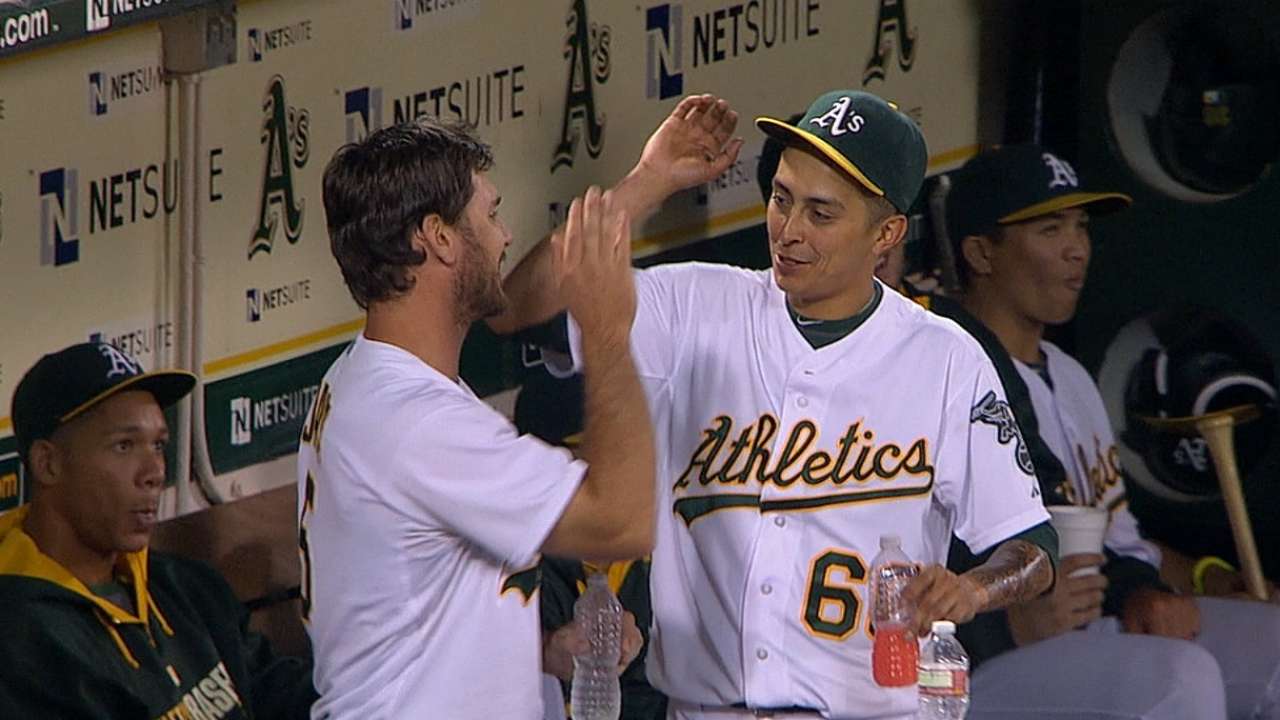 OAKLAND -- Amid all the extra noise and hoopla spilling over from an all-too-thrilling weekend, the A's just keep winning.
Saturday, they pulled off the blockbuster of the summer, landing a pair of proven arms in Jeff Samardzija and Jason Hammel from the Cubs to bolster an already formidable rotation. Sunday, they learned Samardzija will be joined by six of his new teammates at the All-Star Game, then went out and completed a four-game sweep of the Blue Jays.
No time for a hangover, though -- not with the Giants in town for their annual visit. On Monday, the A's proceeded to shut them down, 5-0, behind a superb Jesse Chavez in front of a sold-out crowd at the Coliseum to kick off the latest Bay Bridge Series.
"It's exciting to be a part of the Oakland Athletics right now, how we're playing, a couple transactions," said Josh Donaldson, "and right on top of that you get your cross-town rival in here who is one of the best teams in the NL. It makes it fun to come to the yard when you've got that kind of stuff going on."
Make that five consecutive wins for baseball's best team, now 23 games over .500 at 56-33 with six games to play before the break.
Still, the Angels lurk just 3 1/2 games behind after beating Toronto on Monday to extend their own winning streak to five games, another reminder that the A's can't stop for a breath in this wild, wild West.
Since suffering a disheartening three-game sweep at the hands of the Tigers in Detroit last week, the A's have looked near-perfect back at home. Their pitching, in particular, is back to being dominant as ever, with just four runs allowed in the first five contests of this six-game swing at the Coliseum.
That's the fewest surrendered over a five-game stretch in Oakland history.
"Really they've been consistent all year," manager Bob Melvin said of his staff. "Everybody's going to have their hiccups from time to time, but that's kind of what we're built on, the confidence that you have in the starting pitcher when they go out there and take the mound.
"Recently the starters have been outstanding. Beat Toronto four games, and hold them to four runs, that means your starters are doing the brunt of the work."
Chavez, coming off a pair of subpar outings, fired six scoreless innings in the win, allowing the Giants just four hits and two walks while compiling nine strikeouts, tying his career high.
There was speculation that the right-hander could be headed back to the bullpen with Samardzija and Hammel joining the rotation, but it was Tommy Milone who was optioned to Triple-A, allowing Chavez to continue proving his worth as a starter.
The A's are 13-5 on days he takes the mound this year.
"Chavy was lights-out tonight," said Donaldson. "He just did a great job. I looked up in the fifth or sixth inning and saw a bunch of K's and I was like, dang. I didn't realize it was that many. Quality start after quality start, it seems like, and he was just dominating tonight."
"Just finishing with two strikes, whereas the last two starts with two strikes I'd leave it over the middle of the plate a little bit, and those would end up being hits," said Chavez. "Today my main focus was finishing the at-bat if I got ahead, don't give back in, and I think that was a big key today.
"Yesterday watching Jeff pitch is something that I wanted to feed off of."
Donaldson, hit by a pitch in the left hand in the sixth, stuck around to score one of two runs in the inning, then contributed with an RBI single in a two-run seventh to pad the A's lead.
Oakland went 0-for-8 with runners in scoring position through the first four frames against Giants righty Ryan Vogelsong, finally breaking through in the fifth when Coco Crisp laid down a bunt single to move Craig Gentry to third and put runners at the corners for John Jaso, who brought in the first run of the game on an RBI groundout.
Fernando Abad, Dan Otero and Ryan Cook combined for three scoreless innings to put the finishing touches on the shutout, the Giants' fourth in their last nine games.
For the A's, it was their 10th win over the Giants in Oakland in their last 12 tries. They lead the all-time series, 51-46.
"It's always fun," said Chavez. "And it's good baseball. Two good teams going together in a city that's great, and I think that's good for baseball."
Jane Lee is a reporter for MLB.com. This story was not subject to the approval of Major League Baseball or its clubs.